---
Thursday, May 27, 1999
KAMEHAMEHA ALUMNI GROUP LOOKS TO THE FUTURE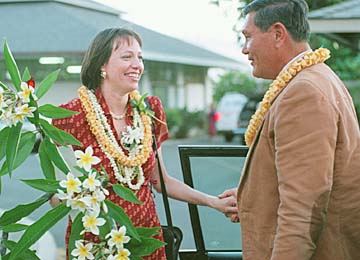 By Kathryn Bender, Star-Bulletin
Michael Chun, president of Kamehameha Schools, stopped
his car on his way out of Kawaiahao Church last evening to talk
with Margery Bronster, the former attorney general. Both
attended a meeting in the church with a group of alumni,
students and staff.
---
Kamehameha
Schools' President
Chun says it is
time to heal


He tells alumni, students
and staff that it is time to move
the school forward

By Craig Gima
Star-Bulletin

In his first public comments since the ouster of the Bishop Estate trustees, Kamehameha Schools' President Michael Chun told a group of alumni, students and staff that now is a time to heal and to move the school forward.

"We're looking at the horizon that lies in front of the canoe, not the wake in the back of the canoe," Chun told Na Pua Ke Ali"i Pauahi last night.

Na pua was also looking to the future in its first meeting since the temporary removal of four of the trustees and the permanent removal of trustee Lokelani Lindsey.

The group last January filed court documents proposing a new selection process for the trustees. State Supreme Court justices in December 1997 announced they would no longer be involved in selecting trustees.

"We want to take the lead," Na Pua president Toni Lee said.

Interim Bishop Estate trustee Robert Kihune told Na Pua members that a selection process must be in place soon to find a replacement for Lindsey. He said new trustees may need to be selected to replace other board members in six months or less, depending on the outcome of permanent removal proceedings now before the probate court.

"It seems the enemy is gone and there is nothing to fight for," said Leroy Akamine, a member of Na Pua's legal and selection process committees. But he said there is still a lot for Na Pua to do. The group is still seeking beneficiary status before the probate court and a major role in the selection of new trustees.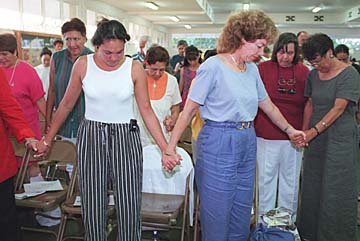 By Kathryn Bender, Star-Bulletin
Before the Na Pua meeting last evening at Kawaiahao Church,
a prayer session was held. The group discussed possible
recommendations for a process to select Bishop Estate trustees.
---
Kihune said the interim trustees will make recommendations to the probate court for the selection of new trustees. But he said they will not propose a specific process. Kihune declined to say what recommendations are being considered.

He suggested it may be unworkable to have a trustee selection process that involves representatives from every Hawaiian group, but he believes Na Pua should have some role.

"I think they should have a representative in the selection process. I think that's absolutely essential," Kihune said.

Among other things, Na Pua would like to see all Hawaiian and other community organizations involved in the selection process; a process that involves Hawaiian values; and trustees familiar with native Hawaiian culture. The group would also wants trustees' terms limited to five years.

Na Pua suggests that nominees to the board be reviewed by a committee headed by the group's president and that a final nominee be submitted to the probate court judge. Lee said the Na Pua board will meet with Kamehameha Schools alumni groups to see if they can come up with a joint trustee selection proposal to present to the court.

Na Pua has also hired the law firm of Love, Yamamoto & Motooka for the group's effort to get beneficiary status and to have a role in the selection process.

Lee said Na Pua will also be involved in next year's elections, making sure voters know which senators voted against the reconfirmation of Attorney General Margery Bronster.

Bronster, "Broken Trust" co-author Randy Roth, Chun, former Bishop Estate trustee Oswald Stender and Nona Beamer also received ho'okupu, or gifts, from Na Pua for their roles in the group's two-year struggle with the former Bishop Estate trustees.

---



E-mail to City Desk
---
---
© 1999 Honolulu Star-Bulletin
http://archives.starbulletin.com