---
Tuesday, May 25, 1999
Sales higher again at
most Oahu malls

Star-Bulletin staff

Major Oahu shopping centers posted higher sales in March, continuing a trend that started this year for those retailers not as dependent on tourists.

Only the Royal Hawaiian Shopping Center in Waikiki had a decline, compared with March 1998.

For other retail centers -- including Ala Moana Center -- this is the third straight month of sales increases in 1999. Royal Hawaiian Shopping Center center was up 1.3 percent in January, but down 6 percent in February.

Statewide retail sales, meanwhile, were at $1.574 billion for the month, up 10.3 percent from $1.412 billion in March 1997, according to state Department of Taxation records.

Here's a look at the major malls' results for March, the most recent month available, provided to the Star-Bulletin by the malls.

Royal Hawaiian Shopping Center: Sales fell 5 percent, said Charlian Wright, marketing director. She said this was partly due to a decrease in visitors.

Despite the decline, some categories within the mall increased: speciality retail rose 24 percent and jewelry was up 17 percent.

Ala Moana Center: Sales advanced 3.19 percent, said Dwight Yoshimura, general manager. "The U.S. mainland visitors have increased in numbers and the Japanese visitors are coming back, though not spending at the level they were before."

Strong categories included the food court, up 12.2 percent. Yoshimura said the food court is now completely back, following renovations that closed some outlets.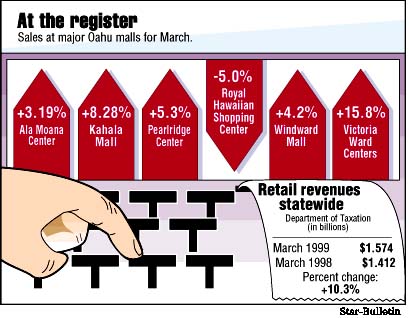 Victoria Ward Centers: Sales soared 15.8 percent, said Valery O'Brien, managing director of marketing. An environmental expo and ukulele musicians helped lure shoppers, she said.

The biggest gainer was the stationery and gifts, up 40 percent.

Kahala Mall: Sales rose 8.28 percent, said Laurie Hara, marketing director. "This year was the first year we had an Easter show," Hara said. "It was called Springtime Review and had children performing."

Top gainers were: specialty retail, up 55 percent; family apparel, up 31 percent and children's apparel, up 21 percent.

The Panda Express food outlet opened in March.

Pearlridge Center: Sales were up 5.3 percent, said Holly Laser marketing manager. "March sales increases were driven by a strong schedule of promotions, including a spring fashion show, Easter Bunny photos and events and entertainment that showcased local talent and community organizations."

Top gainers were: Women's accessories, up 34.4 percent; stationery, cards, gifts, novelty, up 24 percent; and children's wear, up 19 percent.

Windward Mall: Business was up 4.2 percent, said Sandi Oguma, marketing director. "All of the apparel (categories) continues to trend ahead, and its been that way for the past year," Oguma said. "The trend is to khaki and everything is moving to dress down and be more casual."

Strong categories were: jewelry, up 37 percent; and unisex apparel, up 21 percent.

Oguma said construction has started on a new Panda Express outlet, which should open in July or August.
E-mail to Business Editor
---
---
© 1999 Honolulu Star-Bulletin
http://archives.starbulletin.com