---
Monday, May 24, 1999






A Star-Bulletin/NBC Hawaii
News8 survey also finds the
state Democratic Party's
reputation tarnished

By Rick Daysog
Star-Bulletin

Nearly nine out of 10 local residents approve of a state judge's recent decision to temporarily remove four of the Bishop Estate's five trustees, according to a new survey.

And more than half of the isle's local residents believe the 2-year controversy surrounding the $6 billion estate and the trust-run Kamehameha Schools has tarnished the reputations of the state Supreme Court, which selected the board members, and harmed the reputation of the state Democratic Party, which has dominated isle politics for decades.

Those are some of the findings of a statewide poll of 428 registered voters conducted by Mason-Dixon Polling and Research Inc. of Washington, D.C., for the Honolulu Star-Bulletin and NBC Hawaii News8. The margin for error is plus or minus 5 percentage points.

The survey -- based on telephone interviews May 13-17 -- was conducted about a week after Circuit Judge Kevin Chang's historic decision to temporarily remove four of the estate's five trustees from their $1 million-a-year posts and accept the voluntary resignation of a fifth trustee, Oswald Stender.

Chang's removal order represents what many see as the beginning of the end of the controversy that has plagued the 114-year-old Bishop Estate and Kamehameha Schools.

Estate has pooh-poohed polls

The estate in the past has dismissed similar poll findings, saying the results reflect the negative news coverage that the estate and the trustees have received during the last two years.

A Star-Bulletin/KHNL poll conducted in March found that eight out of 10 isle residents believed that some or all of the five trustees of the Bishop Estate should be removed from office.

The Bishop Estate controversy has not only been damaging to the reputations of the estate's five trustees, but also has shaken many local residents' faith in the isles' political and legal establishment.

Sixty percent of the poll's respondents said they believed that the Democratic Party has been harmed by its association with the estate, reflecting a common view that the estate's board is dominated by political appointees.

High court seen as harmed

More than half -- 54 percent of the poll's respondents -- believe that the state Supreme Court has been harmed by the Bishop Estate controversy.

The high court selected the trustees of the Bishop Estate for more than 100 years but ended the practice in the wake of the public outcry. The current Supreme Court justices, who have selected several of the current trustees, had presided over numerous appeals involving the Bishop Estate before recusing themselves recently.

Trustees' salaries 'amaze'

"I think it was a good idea that (the trustees) were removed," said Big Island resident Perry Miles.

"They weren't so much taking care of indigenous people, but they were taking care of themselves and their friends."

The 52-year-old Miles, an Army retiree, said the controversy taints much of the isles' political and legal leadership, since trustees appear to be political appointees who rewarded themselves and their friends. The judicial system, he said, also deserves blame because it appointed them.

Honolulu resident Bill Thompson said he also agreed with Judge Chang's decision to oust the trustees.

The 65-year-old Thompson, who works part time as a radio personality, said he was "amazed" that the board members received $1 million each last year despite the turmoil in which the estate and its trustees were under investigation not only by the attorney general's office but also by the Internal Revenue Service.

"Basically, they've been given a free ride," Thompson said. "I think they have taken advantage of the situation."

Should alumni choose board?

Like many isle residents, Thompson believes that future Bishop Estate trustees should be selected by the Kamehameha Schools alumni association, which has a better understanding of the needs of the school than a judge would. It also would eliminate the taint of political influence.

Some 37 percent of Hawaii's residents believe the alumni association should select the next trustees, whereas 20 percent believe that successor trustees should be named by the state probate court. Fourteen percent believe that the state Supreme Court should continue selecting the trustees.

"The court is doing it now, but the court has friends," Thompson said. "I think the alumni would act in the best interest of the school."

---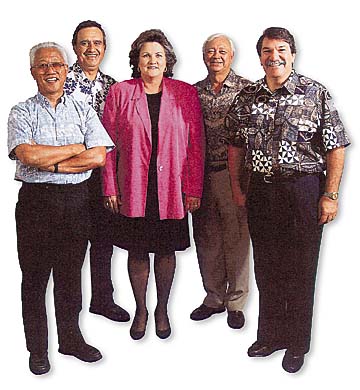 Ex-trustees' approval
ratings at rock bottom

A polling firm director says he's
never seen a rating as low as that
of Lokelani Lindsey's

By Rick Daysog
Star-Bulletin

Even a hatemonger like David Duke did not receive this kind of unfavorable rating.

According to a recent poll conducted for the Honolulu Star-Bulletin and NBC Hawaii News8, more than 83 percent of Hawaii's residents have an unfavorable opinion of former Bishop Estate trustee Lokelani Lindsey.

The telephone survey -- conducted May 13-18 by Washington, D.C.-based Mason-Dixon Polling & Research Inc. -- found that only 1 percent of the isles' residents had a favorable opinion of the embattled former trustee, whose alleged micromanagement of the Kamehameha Schools touched off a two-year controversy that brought the board of trustees to the brink of destruction.

Brad Coker, Mason-Dixon's managing director, said Lindsey's 83 percent unfavorable rating is the highest he's seen since his company began conducting statewide polls more than 15 years ago.

Coker, whose company has been conducting polls for the Star-Bulletin since 1989, said it's extremely rare for a political candidate to receive an unfavorable rating higher than 60 percent. He noted that former Ku Klux Klan leader Duke received a 60 percent unfavorable rating in his native Louisiana when he ran for the U.S. Senate several years ago.

Former Louisiana Gov. Edwin Edwards also had a 60 percent unfavorable rating during his gubernatorial tenure, which was marked by a series of indictments on corruption charges, Coker said. The poll has a margin of error of plus or minus 5 percent.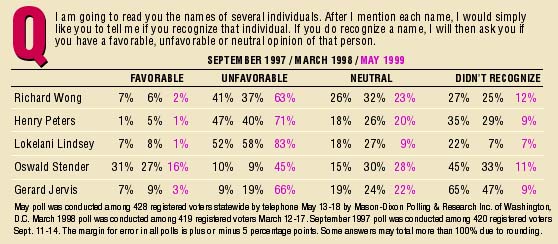 "I've seen a few 60 percent ratings before for folks who raised taxes or were caught stealing money from the public till," Coker said.

"I've never seen anybody with an 83 percent negative rating in a public office ... This is probably as bad as it gets."

Lindsey could not be reached for a response, and her attorneys, Michael Green and David Gierlach, were not available for comment.

A previous poll conducted in March 1998 by Mason-Dixon found that 58 percent of Hawaii's residents had an unfavorable opinion of Lindsey. But that poll was conducted prior to a highly publicized, five-month trial over allegations that Lindsey had breached her fiduciary duties, intimidated Kamehameha Schools students and staffers and was unfit to serve as a board member of the 114-year-old charitable trust.

Earlier this month, Circuit Judge Bambi Weil permanently removed Lindsey as a trust board member.

Seventy-one percent of the isles' residents have an unfavorable opinion of trustee Henry Peters, who recently was indicted on theft charges last November and was temporarily removed as a trustee along with Lindsey, Richard "Dickie" Wong and Gerard Jervis by Probate Judge Kevin Chang.

Only 1 percent of the poll's respondents said they had a favorable opinion of Peters, while 20 percent said they were neutral.

Meanwhile, trustee Gerard Jervis -- who in March was embroiled in a sex-and-suicide scandal with a female Bishop Estate attorney -- received a 66 percent unfavorable rating. Only 3 percent of the survey's respondents said they had a favorable opinion, while 22 percent were neutral.

Wong -- who was indicted by an Oahu grand jury on a theft charge in April -- received a 63 percent unfavorable rating, while Stender, who voluntarily stepped down as a trustees, had an unfavorable rating of 45 percent.

"At this point, people are throwing all of them overboard," Coker said.

---



E-mail to City Desk
---
---
© 1999 Honolulu Star-Bulletin
http://archives.starbulletin.com