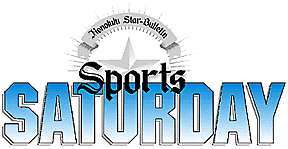 ---
Saturday, May 22, 1999



P R E P _ B A S E B A L L _ C H A M P I O N S
---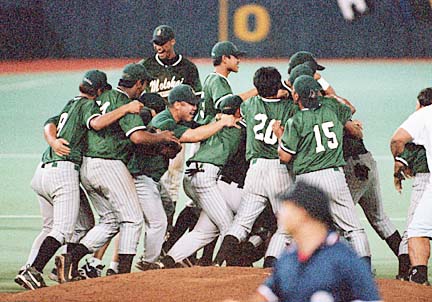 By George F. Lee, Star-Bulletin
The Molokai Farmers celebrate their state baseball tournament
championship game victory over Mid-Pacific Institute
at Rainbow Stadium last night.
---



The Farmers' baseball team
harvests the school's first state
championship in any sport

By Cindy Luis
Star-Bulletin

Has the cheering stopped?

Not yet.

Not for a while.

It took 1 hour and 50 minutes for Molokai to win its first state high school championship. Sixty years after the school was founded, the bridge across the Kaiwi Channel was finally crossed.

The Farmers rode the arm of freshman pitcher Ikaika Lester and the bats of sophomore Kelii Alcon and freshman Kekahi Rawlins into history last night. Youth won over experience as No. 2 seed Molokai downed top-seeded Mid-Pacific, 6-2, for the title of the 41st Wally Yonamine Foundation Hawaii High School Athletic Association Baseball Championship in front of 2,531 at Rainbow Stadium

"My feeling is the cheering's going to go on forever," said Ken Nakayama, the Farmers' coach of some 25 years. "This is the first time for the island of Molokai. This is for the whole island. All of Molokai is family."

Molokai became the fourth neighbor island team to win the state baseball title, joining Baldwin, Hilo and Maui on the elite list.

Alcon had hit an inside-the-park home run before, but never a grand slam. He also had never run faster than when he scooted around the bases after his hit rolled all the way to the warning track in left to give Molokai a 4-0 lead in the top of the third.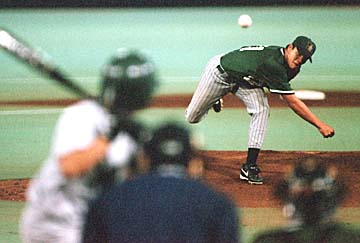 By George F. Lee, Star-Bulletin
Molokai Farmer pitcher Ikaika Lester delivers a pitch.
---
Rawlins, the winning pitcher in Thursday's semifinal victory over Hilo, had never hit a ball farther than the 1-0 fastball from Mid-Pac reliever Bryan Lee. It cleared the left-center wall at around 385 feet - with room to spare - to push Molokai's lead to 6-2 in the top of the sixth.

"I thought it was going to stay in the ballpark," said Rawlins. "But when I was rounding second, there was a lot of noise. I looked up at the fence and it was gone."

Lester was only 5 months old the first and only time the Farmers reached the semifinals in 1984. He had never pitched a complete game. In fact, he had never even started.

Yet the hero of Wednesday's 10-inning quarterfinal victory over Iolani was ready to do it again. He held the Owls to four hits and two fourth-inning runs - an RBI triple by Jacob Flick and a sacrifice fly by Lee.

In the bottom of the seventh, three outs away from the championship trophy, Lester walked Lee to open the inning. He got a brief visit from Nakayama who told his pitcher, "not to worry about the batters," said Lester, named the tournament's most outstanding player. "He said to let them hit the ball and let my defense do the work."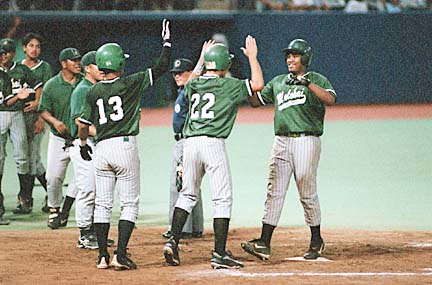 By George F. Lee, Star-Bulletin
Molokai's Kekahi Rawlins crosses the plate after hitting a
400 foot home run over the left center field
wall at Rainbow Stadium.
---
Nakayama was a prophet. Four pitches after his little chat with Lester, Mid-Pac's Rex Rundgren chopped a hard-hit ball toward second that Keiki Albino backhanded, stepped on second to get Lee then threw to first to get Rundgren with the double play.

One out left. Molokai right fielder Jason Misaki was ready.

After Bryan Tanabe singled to keep Mid-Pac's hopes alive, pinch-hitter Marc Nakasuji drilled a 1-0 pitch to right. Misaki lost the ball in the lights but found it in time to make the game-ending catch.

"I wanted to be the one to catch it," said Misaki, one of only three seniors on the Molokai roster. "I wanted to finish my career by getting the last out.

"These guys have the opportunity to win it next year because they have all the tools, the whole starting cast back."

That's the plan.

"We're going to work harder next year so that it happens, said Albino.

For the second year in a row, the Owls' finished second. Mid-Pac loses 14 seniors from a team that won 10 of its last 11 games before last night, a team that beat all odds just to get to a state berth.

"Say all you want about coming a long way but it's still hard to take," said Mid-Pac coach Dunn Muramaru, whose team also lost in 1994 to Baldwin, the last time a neighbor island team was champion. "It was quite a ride that we didn't finish. It's hard for these guys after coming close last year and this year."

MOLOKAI 6, MID-PACIFIC 2

Molokai						Mid-Pacific
		ab	r	h	bi			ab	r	h	bi
Albino 2b	4	0	1	0	Kuwahara cf	3	0	0	0
Kaahanui lf	3	0	1	0	Takaki 2b	2	0	0	0
Nakayama c	4	1	1	0	Takanishi lf	3	1	0	0
Dudoit 3b	3	2	1	0	Flick c		3	1	1	1
K.Rawlins 1b	1	2	1	2	Lee 1b-p	1	0	0	1
Ke.Alcon ss	3	1	1	4	Rundgren ss	3	0	0	0
Ka.Alcon dh	2	0	0	0	Tanabe dh-1b	3	0	1	0
Misaki rf	2	0	0	0	Asato rf	2	0	1	0
Bicoy cf	3	0	1	0	Nakasuji ph	1	0	0	0
						Marcoullier 3b	2	0	1	0
	Totals	25	6	7	6		Totals	23	2	4	2

Molokai		000 402 0-6
Mid-Pacific	000 200 0-2

LOB-Molokai 6, MPI 3. DP-Molokai 1 (Albino-Rawlins). MPI 1 (Rundgren-Takaki-Lee).

2B-Marcoullier. 3B-Flick. HR-K. Rawlins, Ke. Alcon. SB-Ka. Alcon. S-Lee. CS-Bicoy.

		IP	H	R	ER	BB	SO
Lester (W)	7	4	2	2	2	1
Fujimoto (L)	4	5	4	4	3	3
Lee		3	2	2	2	2	2

HBP-Dudoit (by Lee).

U-Cho, Uyeda, Okimoto, Miyasaki (3). T-1:50. Att-2,531.
E-mail to Sports Editor
---
---
© 1999 Honolulu Star-Bulletin
http://archives.starbulletin.com