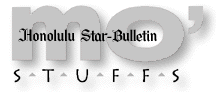 ---
Thursday, May 13, 1999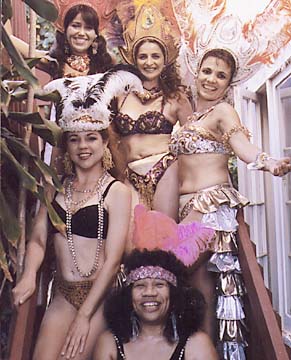 The Afro Jazz Dancers will perform Afro Caribbean
jazz dance and samba in tomorrow's dance party.
The dancers have performed the choreography of
Adela Chu in parades and Carnaval events
throughout Honolulu.
---
Celebrate the dance
and music of Carnaval
season on the beach
It's time for Carnaval as dancers and musicians gather to "Dress Up, Dance Down and Party" at Ala Moana Beach Park's McCoy Pavilion from 6 to 9 p.m. tomorrow.

Performing will be Espiritu Libre, jazz and R&B artists Tree of Life, percussionists Batucada de Mar, the Afro Jazz Dancers, Tahiti To'a and KA'U.

A $10 donation is requested for the fund-raiser, which will help send 25 of Hawaii's dancers and musicians to the 20th anniversary celebration of the San Francisco Carnaval, which was founded by Marcus Gordon and Honolulu resident Adela Chu.

San Francisco's Carnaval is observed in May, for its warmer weather, instead of the traditional month of February.

The Hawaii contingent will be called "Return to Paradise," and will ride a float dubbed "Pacific Voyager," representing a fusion of Polynesian and samba themes. "Pacific Voyager" is a 28-foot replica of a Polynesian voyaging canoe designed and created by sculptor Kim Duffet.

The Hawaii performers traveling to San Francisco are Chu, Tahiti To'a, performing Tahitian dance and music, and Afro Jazz Hawaii, performing samba.

For more information about the McCoy Pavilion kick-off party, call 988-5176.

Na Leo sings at alma mater
Na Hoku Hanohano Award winners Na Leo Pilimehana will be the special guests when the Kamehameha Schools Performing Arts Department presents its annual benefit concert Saturday.

The concert begins at 7:30 p.m. in the Ke'elikolani Auditorium on the school campus.

Na Leo's members Nalani Choy, Angela Morales and Lehua Kalima are Kamehameha graduates. The group recently made the nation's Billboard Top 20 Adult Contemporary music chart, reaching No. 18 with "Poetry Man," a remake of Phoebe Snow's 1975 hit.

Na Leo's albums, "Colours" and "Anthology I" have both been on Billboard magazine's Top 15 World Music Chart.

The Kamehameha Schools Hawaiian ensemble will perform ancient and contemporary Hawaiian music and dance. Proceeds from the concert will help defray costs of the ensemble's summer European concert tour.

Tickets are $15 and $20 for reserved seats; $10 general admission and $5 for students up to 18. For information, call 842-8542.

'Star Wars' tickets now being
sold at two chains
Tickets for "Star Wars Episode I -- The Phantom Menace" are on sale at Wallace Theatres' Enchanted Lake box office as well as select Consolidated theaters, which announced advance sales yesterday.

Rival chain Signature is still in negotiations.

Hawaii is one of the last locations in the United States to strike a deal with 20th-Century Fox, distributors of the film. LucasFilms, the film's producer, and Fox, have insisted on unusally stringent quality demands from theaters to improve the experience for audiences, such digital sound and screen-size ratios.

The long-awaited film is scheduled to open here May 19, the same day as the rest of the country.

Tickets are available at the following Consolidated Theatre locations: Kahala, Kapolei, the new Ko'olau Theatres in Temple Valley, Mililani, Pearlridge West, Waikiki Twins, Kukui Mall Theatres in Maui and Keauhou Theatres in Kona on the Big Island.

Tickets are available at regular prices for the opening day and beyond. No passes will be accepted.

There is a limit of 12 tickets per person, and tickets must be purchased at the specific theater where the film will be viewed.

'N Sync concert set
for New Year's eve
Hawaii's millennium card is filling up with the announcement that the pop group 'N Sync will perform 8 p.m. Dec. 30 and 31 at Blaisdell Concert Hall.

The group has performed in Hawaii before at the OIA Championship and Pro Bowl.

Tickets -- $40 for the Dec. 30 show and $65 for New Year's Eve -- go on sale Saturday at the Blaisdell box office and may also be charged by phone by calling 526-4400. For more information, call 591-2211.

Ballet at Leeward
The Sacramento Ballet will present classical and contemporary works by George Ballanchine, Marius Petipa and the ballet's artistic director Ron Cunningham at Leeward Community College Theatre at 4:30 p.m. Sunday.

The concert will include the premier of a new ballet by Peter Rockford Ututau Espiritu to the music of Keali'i Reichel. Also featured will be a tribute to swing.

Tickets are $18 for adults, $12 for students with I.D. and seniors 60 and older. Charge by phone by calling Ballet Hawaii at 521-8600.






Click for online
calendars and events.
---
Send WatDat? questions, stories
or any other story ideas or comments to:
Features, Honolulu Star-Bulletin, P.O. Box 3080,
Honolulu, HI 96802 or send a fax to 523-8509
or E-mail to features@starbulletin.com.
Please include your phone number.
E-mail to Features Editor
---
---
© 1999 Honolulu Star-Bulletin
http://archives.starbulletin.com