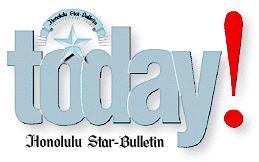 ---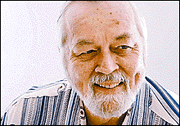 Hawaii

By Dave Donnelly
Thursday, May 13, 1999
---
Harris happy
about changes

STOPPING by Havana Cabana for lunch this week was Mayor Jeremy Harris and managing director Ben Lee. No, they weren't breaking up their leisurely day by smoking a stogie -- the mayor was there to address a meeting of a group of young (under 40) business entrepreneurs and share stories of problems. The biz boys and girls weren't the only ones with problems -- Harris pointed out some of his own, at least with Mufi Hannemann as chairman of the City Council, something that he's pleased is about to change. Harris was understandably proud that he'd pared the mayor's office down to a staff of five, with him making six. One proposal would eliminate everyone in his office, leaving him to answer his own phone, write his own letters and, oh yes, all those other little duties only he can do. He forecasts brighter days ahead with Jon Yoshimura taking over as chairman of the Council ...

WHILE I wasn't there to sit in on the mayor's event, he did permit me to ask a question about permits. Specifically, I asked why a restaurateur I know is facing a problem opening a new eatery because some rule book somewhere states he needs nine more parking stalls. Mayor Harris agreed the restaurateur had everything to lose, should he wind up with parking inadequate to make a go of the place, but that it ought to be his call. He indicated he's long been opposed to mandatory parking requirements and indicated the restaurateur might have better luck now that City Councilwoman Donna Mercado Kim will no longer be in charge of that area ...

Theater capitol

IT'S not enough that Maui boasts the multimillion dollar Arts Center and Theater, probably the finest theatrical facility in the state. Now the $9.5 million state-of-the-art 700-seat Maui Myth & Magic Theater is readying to open its doors in July in Lahaina. The Steve Au-designed theater reportedly doesn't have a bad seat in the house, and owner Roy Tokujo is determined to make it the finest theater not only in Hawaii, but the entire Pacific Rim. The opening show will be "Ulalena," a musical extravaganza created by a team composed of artists from ARRA-Montreal with local musician Keola Beamer and his mother, historian, singer and composer Nona Beamer. "Ulalena," dealing with cherished legends and myths of Hawaii, will be performed twice a night, five nights a week, indefinitely ...

MOST deserved award of the year will come when the Alfred Preis Award for lifetime commitment to the arts is presented to Ronnie Bright. The Castle High drama teacher has inspired many young performers over the years to pursue their dreams in the theater. Bright will accept his honor as part of the Hawaii Alliance for Arts Education "Alliance Awards" at the Hawaii Theater May 29 ...

Pa's a grandma

WINDWARD Community College grad Inga Pa will have lots of family in attendance when she accepts her diploma Saturday. Included in that group will be her children, grandchildren and great-grandchildren. Pa, who is 70, grew up in Maui where she learned English as a second language and raised five kids as a single mom. She'll be a featured speaker at commencement exercises Saturday and will probably tell how she's continuing her education by studying psychology at UH's West Oahu campus with a minor in art. This grandma is a grand Pa as well ...

---




Dave Donnelly has been writing on happenings
in Hawaii for the Star-Bulletin since 1968.
His columns run Monday through Friday.

Contact Dave by e-mail: donnelly@kestrok.com.
E-mail to Features Editor
---
---
© 1999 Honolulu Star-Bulletin
http://archives.starbulletin.com