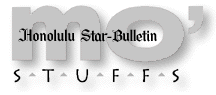 ---
Wednesday, May 5, 1999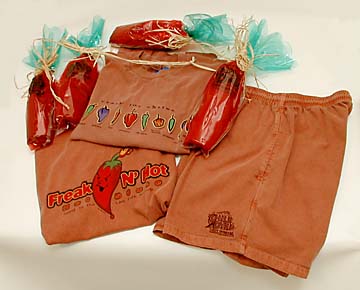 By Craig T. Kojima, Star-Bulletin
Chiles color the latest line of Crazy Shirts
food-dyed shirts and shorts.
---
Chiles spice up
casual wear
Like Christmas, Cinco De Mayo -- today to gringos -- arrives sooner every year.

And while the day that celebrates the victory of the Mexican Army over the French at the Battle of Puebla is often celebrated with tequila and spicy food, how many of us actually don something representative of the memorable day?

Crazy Shirts has introduced a new line of tops and shorts dyed in real CHILE PEPPERS in a unique orange-red color, branded "Chile Dyed Hot Threads" on the sleeve, and finished with a tag that explains the dyeing process. Yes, real chiles are used in the dyeing process but mild ones to prevent irritation.

Imprinted on the shirts are designs like "Los Picosos," two virtual labels for "Dragon Brand Chile Sauce," and "Freak n' Hot Sauce."

The crew neck T-shirts are $24; the shorts with the embroidered logo are $36.

Lei fest winners named
Following are the winners of the 72nd Lei Day Celebration Na Lei O Na Loke (The Leis of the Rose) that took place at Kapiolani Park Saturday. The contest is sponsored annually by the City & County of Honolulu's Department of Parks & Recreation.
Mayor's grand prize: Bill Char
Theme lei: Randy Akau, 1st; Norberto Cabugon, 2nd; Happy Tamanaha, 3rd
Masters, blue: Happy Tamanaha, 1st; Gail Wong, 2nd; Norberto Cabugon, 3rd
Masters, red: Happy Tamanaha, 1st; Leonore Sato, 2nd; Norberto Cabugon, 3rd
Masters, yellow: Happy Tamanaha, 1st; Gail Wong, 2nd; Ray Wong, 3rd
Masters, mixed: Roselani Oga, 1st; Happy Tamanaha, 2nd; Leonore Sato, 3rd
Masters, hat: Bill Char, 1st; Lyn Fujii, 2nd; Ray Wong, 3rd
Novice, green: Randy Akau, 1st; Pauline Hong, 2nd, Lavaina A. Lindsey, 3rd
Novice, orange: Randy Akau, 1st; Laure Adaro, 2nd
Novice, mixed: Randy Akau, 1st
Novice, hat: Hokuaonani Beatty, 1st; Randy Akau, 2nd; Alice S. Chun, 3rd
Seniors, mixed: Kenneth Chun, 1st; Lavaina A. Lindsey, 2nd; Lita L. Cook, 3rd
Winners received cash prizes of $60 to $200.

Here comes the bridal show
You are cordially invited to The Kahala Mandarin Oriental's Maile Ballroom for Hawaii's 3rd annual Bridal Showcase, taking place 2 to 6 p.m. May 16.

The goal is to meet the photographers, videographers, floral designers, wedding coordinators and entertainers who can help to make your perfect day a reality.

Perspective brides and grooms can also tour the property, with its dolphin lagoon, chapel by the sea, waterfall and two gazebos that may provide the setting for the, hopefully, once-in-a-lifetime event.

The Kahala Mandarin is at 5000 Kahala Ave. Parking will be validated for Bridal Showcase guests. For information, call 739-8711.

Celebrity service at Pacific Cafe
A Pacific Cafe celebrates its third anniversary with a benefit for The Contemporary Museum tomorrow.

Executive chef/owner Jean Marie Josselin will create a menu featuring such such dishes as Smoked Duck Pastrami, Shiitake Salad with Walnut Olive Croutons, Porcini-Crusted Boneless Rack of Lamb, Green Tea Soba with Grilled Duck Breast and Profiteroles with Chocolate Ice Cream.

Meals will be served by local celebs including Pamela Young, Gary Sprinkle, Emme Tomimbang and Kim Gennaula.

Adding to the ambience of the room will be the sounds of Don Tiki and a display of art by Timothy Ojile.

The cost for the fund-raiser dinner is $75. For reservations, call the museum at 526-1322.

A Pacific Cafe is at Ward Centre. Valet parking is available.

Go Meatless
Sample and learn to make tasty vegetarian dishes from around the world every Saturday, 2 p.m., at the Down to Earth Lifestyle Center at 2525 South King St. Admission is free. Call 955-7182 for more information.

Tea and the
Strawberry Connection:
"Hawaii Cooks With Roy Yamaguchi," 7:30 p.m. Sunday on KHET, drops in on the gourmet grocery Strawberry Connection to watch chef Nick Sadaya prepare his signature dish, "Warm Duck Salad." The program will explore the store's offerings, including the wide selection of teas at the Way of Tea within the store.

Back in the studio, Yamaguchi incorporates the flavor of tea in a shrimp and vegetable saute.

Cookbook offer
Quick dishes for the busy home cook can be pulled together with the help of a free 96-page cookbook, "French's One-Dish Meals and More." Recipes for Crispy Onion Chicken, Confetti Pineapple Baked Ham Steak, southwester Skillet Macaroni, Beef Caesar Salad and other easy to make soups, casseroles, side dishes and entrees are presented by the manufacturer of French's brand mustards, french fried onions, potato sticks, Worcestershire sauce and hot sauce.

To get a copy, type or print your full name, mailing address and the cookbook name typed on a 3-by-5-inch index card and send it to: Favorite Brand Name Recipes, P.O. Box 8093, Dept. 738, Wisconsin Rapids, WI 54495-8093. Include a $2.50 check or money order payable to Favorite Brand Name Recipes to cover shipping and handling costs.

AHA measures stroke risk
May is hypertension and stroke awareness month and the American Heart Association is offering free blood pressure screenings, stroke risk assessments and body fat analysis.

The AHA suggests three "Rs" when it comes to reacting to strokes: reduce the risk, recognize the signs and respond immediately by calling 911.

Following are the locations where AHA representatives will be performing the screenings and distributing educational materials:
Saturday -- Sacred Hearts Church, 1701 Wilder Ave., 7:30 to 11 a.m.
May 11 -- Times Super Market-Beretania, 11 a.m. to 2 p.m.
May 16 -- St. Augustine by the Sea, 130 Ohua Ave., 7:30 a.m. to noon
May 18 -- Times-Waipahu, 11 a.m. to 2 p.m.
May 22 -- The Women's Fair, Richards Street YWCA, 8:30 a.m. to 2 p.m.
May 25 -- Times-Kaneohe, 11 a.m. to 2 p.m.
May 29 -- Wal-Mart, Royal Kunia store, 1 to 4 p.m.
For more information, call the AHA of Hawaii office at 538-7021.

'A' is for asthma
"Sesame Street" characters are helping pre-school kids understand their asthma through a free program, "Sesame Street: A is for Asthma."

The program is open to children ages 3 to 6, with a kit offered that includes a video introducing a new character named Dani, who has asthma. The kit also includes a caregiver's guide, information for families and a colorful asthma action-plan poster.

Hawaii has the highest rate of deaths in America from asthma according to the American Lung Association of Hawaii.

For more information about the program, call 537-5966.





Click for online
calendars and events.
---
Send WatDat? questions, stories
or any other story ideas or comments to:
Features, Honolulu Star-Bulletin, P.O. Box 3080,
Honolulu, HI 96802 or send a fax to 523-8509
or E-mail to features@starbulletin.com.
Please include your phone number.
E-mail to Features Editor
---
---
© 1999 Honolulu Star-Bulletin
http://archives.starbulletin.com