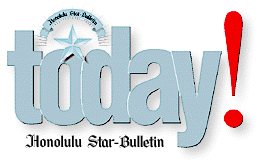 ---
Wednesday, May 5, 1999

Makaha Elementary
Children at Makaha Elementary grow their own veggies.

---




Down on the farm

At Makaha Elementary they're growing vegetables, herbs, tilapia and honeybees -- along with young minds. Students work the land at Hoa Aina O Makaha, a non-profit farm adjacent to their school, absorbing science concepts while planting, weeding, caring for animals, even building farm structures.

Saturday they'll show off what they've learned at the school's annual Farm Open House, 2-5 p.m. Stop by this remarkable learning center and here's what's in it for you:

An education: Students will explain the farm's projects, among them a hydroponics shed built from the ground up by by sixth-graders in 1996.
Free stuff: Take home bunches of basil, as well as seedlings for tomato, lemon grass, eggplant and edible hibiscus plants.
Shopping: Buy farm-raised ducklings, rabbits, gold fish, corn, honey and spaghetti mix. Orders will be taken for woodcrafts from the farm's carpentry workshop (built by last year's sixth-graders).
Food: Chefs Roy Yamaguchi and Alan Wong plan cooking demonstrations. Yamaguchi will serve up the farm's tilapia.
Plant your own: 1-foot square "gardens" may be planted by families. They'll be tended by fifth-graders and when the crops are ready, the families come back to harvest.

For your part in this, bring spare change for the penny drive to build a hale, a traditional Hawaiian structure that will be a community meeting place, a home for the school's halau and a center for teaching Hawaiian culture.

And bring a rock for the Piko, a collection of stones that symbolizes the connection of students to the land. Visitors from around the world have left rocks at the Piko.

For information, call the school, 695-7900. If you can't make it, the students sell some of what they grow after school on Mondays, Wednesdays and Fridays. Over the last few weeks they've raised $300 for relief efforts in Kosovo.

The point, says principal Ed Oshiro, is not to raise a lot of money, but to make the farm a community experience.






Click for online
calendars and events.
E-mail to Features Editor
---
---
© 1999 Honolulu Star-Bulletin
http://archives.starbulletin.com