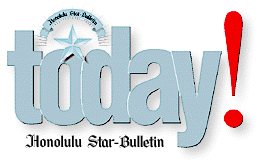 ---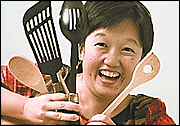 By Request

By Betty Shimabukuro
Wednesday, May 5, 1999
---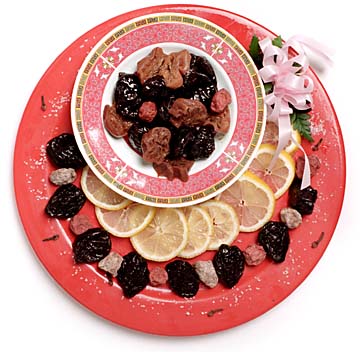 By Dennis Oda, Star-Bulletin

A dish of prune mui is surrounded by some
of the ingredients that go into the treat.
---
Pucker up
for prune mui

Today's recipes are designed to make your mouth water, literally. They were requested by Eileen Anderson, an expatriate in Carpinteria, Calif., who was born in Honolulu and lived here during World War II. She was but a child attending Kapalama School, but has clear memories, especially of the crack seed her mother used to make.

"The crack seed I remember had prunes and lemons it it. As I remember, my mom used to leave it out in the sun for some time and it was SOOOO good," Anderson writes.

As close as I can figure, she's talking about a prune mui that includes preserved lemon. It's the lemon that's aged in the sun.

To find the right formula I went to MY mother, Betty Zane Shimabukuro, a retired home economist. (She once told me that I was named for her and she was named for Betty Boop. It's a dubious distinction). She has a voluminous collection of recipes -- many of them (like this Prune Mui recipe) preserved on hand-written index cards -- and local cookbooks, many of them now out of print, such as the one that included this Preserved Chinese Lemon recipe. If you try it, be prepared to pucker up.

Prune Mui

1 pound light brown sugar
2 tablespoons Hawaiian salt
3 tablespoons whiskey
1 teaspoon Chinese 5-spice
10 whole cloves
1-1/2 cups lemon juice
6 ounces preserved lemons (recipe follows)
4 ounces seedless li hing mui
6 pounds prunes

Mix ingredients and place in a large glass jar. Soak at least 4 days, turning the jar over twice a day.

Preserved Chinese Lemon

"Oldies But Goodies, Volume I" the
Kamehameha Schools Alumni, 1983

1-1/4 gallon thin-skinned Chinese lemons
1-1/2 cups Hawaiian salt

Wash lemons thoroughly and place on a flat bamboo basket. Dry lemons in the sun for three days, but bring them in right away if it starts to rain or they will rot.

Each night bring in and add a handful of salt (about 3 tablespoons). Press and gently roll lemons with palm of your hand to cover with salt.

After the third day, place the lemons in a glass gallon jar in layers -- each layer covered with a sprinkling of salt (about 1 cup total). Place bottle in the sun, shaking and turning often, 2-3 days.

Nutritional information unavailable.

Can you help?

Still looking for the recipe for bran muffins from the Alexander Young Hotel.
Anybody out there have a formula for homemade fish cake, the patties sold in stores as ten?
Also seeking a recipe for dried opelu that could be used to dry mackerel.





Send queries along with name and phone number to:
By Request, Honolulu Star-Bulletin Food Section,
P.O. Box 3080, Honolulu 96802.
Or send e-mail to features@starbulletin.com




Asterisk (*) after nutritional analyses in the
Body & Soul section indicates calculations by
Joannie Dobbs of Exploring New Concepts,
a nutritional consulting firm.







E-mail to Features Editor
---
---
© 1999 Honolulu Star-Bulletin
http://archives.starbulletin.com