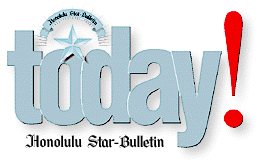 ---

Hawaii

By Dave Donnelly
Wednesday, May 5, 1999
---
Radio stations
buy loyalty

BACK in my days as a K-POI disc jockey, shortly after crystal sets were replaced, we managed to keep audiences listening by playing music they requested and we liked. Occasionally we had a contest and gave away a few 45 rpm records. Things are different today -- now stations give away cash, and lots of it. KRTR has thus far had four winners in its "Million Dollar Lottery," netting Dave Wagner of Kapolei, Charlani Kalama of Waimanalo, Virgie Leong of Kapolei and Helen Demata of Honolulu $5,000 each. The contest will continue for three months ... Meanwhile, KSSK had twenty winners of $1,000 each in a contest last month ...

I LUNCHED with Emme Tomingbang at L'Uraku on Kapiolani last week. Just to show she harbors no hard feelings, even 30 years or so after the event, she brought along a guest, Colleen Sotomura. The later won the Miss K-POI Pageant back in 1968, which is eventful since she edged out Emme, who was first runner-up. Hard to believe, but back in those days, the Miss K-POI Pageant outdrew the Miss Hawaii Pageant -- another example of how radio has changed ...

Long way from Broadway

SHE'S traveling a mighty long way in order to reprise her role in "42nd Street," but Tony Award nominee Wanda Richert is doing so out of her friendship to Diamond Head Theatre artistic director John Rampage. Richert will appear in the role of Peggy Sawyer, the role she created on Broadway. A selling point in luring her so far from home was the promise that her 12-year-old daughter, Candace, can appear as an urchin in the production. It'll be good experience for the youngster, who plans a career in theater like her mom ...

VISITING in town at the moment are the Louis Finnamores. He used to be the G.M. at the Kahala Hilton Hotel (now Kahala Mandarin), so why is is staying at the Hilton Hawaiian Village? ... The Maui Riviera? That's what they'll be calling the Valley Isle during the 1999 French festival, expanding to Maui for the first time this year. Vicky Cayetano made the opening announcement of this year's dates (Oct. 22 to Nov. 4) at Aloha Tower Marketplace yesterday, accompanied by a French choir, models with French Poodles and news that MOMIX will return to Hawaii Theatre with a French-themed show. French pastries from the Hawaiian Village were served along with cafe au lait from, you should pardon the expression, Bad Ass Coffee. Wonder how that translates into French? ...

SO there's this lawyer around town who's far less talkative these days than usual. We'll respect his anonymity because his jaw is wired shut, courtesy of a client's volatile reaction when the attorney tried to collect money owed him ...

Shrewd production

DIRECTOR Jerry Tracy is closing his less-than-traditional staging of Shakespeare's "The Taming of the Shrew" at Kealakekua's Aloha Theatre, a production of Aloha Performing Arts Center. He took generous liberties with the Bard, such as changing the genders of the major characters so the shrew is now a man and is tamed by a woman -- more true to life? Apparently, as seen by former Hawaii resident Susie Burke, now a playwright in L.A., who adapted the script. The show is set in the year 2098, after Y2K has destroyed technology as we know it. This "Shrew" was designed by Jonathan Chapman Hagans, an actor on Fox's "Babylon Five" and the yet-to-be-aired sequel, "Crusade." He lives in Honokaa when not in Hollywood ...

---




Dave Donnelly has been writing on happenings
in Hawaii for the Star-Bulletin since 1968.
His columns run Monday through Friday.

Contact Dave by e-mail: donnelly@kestrok.com.
E-mail to Features Editor
---
---
© 1999 Honolulu Star-Bulletin
http://archives.starbulletin.com