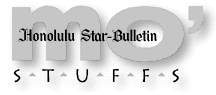 ---
Friday, April 30, 1999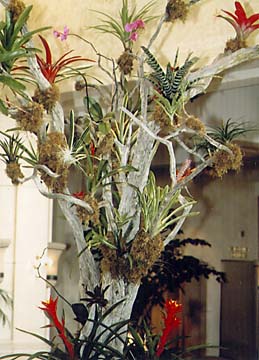 Courtesy Ron Parkhurst
Renaissance Wailea Beach Resort "tree."
---
Bromeliads adrift
Bromeliad expert Ron Parkhurst, of Hanalei Nursery, has come up with a way to use driftwood that comes ashore, while displaying some of his colorful plants.

Adding real and artificial "branches" to the driftwood, he fashions sculptures that give the illusion of a real and blossoming tree. The largest of these trees is on view at the Renaissance Wailea Beach Resort on Maui.

The resort's director of landscape, Emmanuel Angel, had seen some of Parkhurst's small creations, and enlisted him to design one for the hotel lobby. There are more than 40 species of bromeliads growing on the sculpture.

The tree, or smaller versions of it, is easy to duplicate at home. Bromeliads are ideal indoor flowering plants. Most are epiphytes, or air plants, that need little water to survive.

Symphony presents Spanish music
Classical music of Spain comes to the Blaisdell Concert Hall Sunday and Tuesday when conductor Max Bragado Darman and pianist Dickran Atanian perform "The Magic of Spain."

The program includes Turina's La Oracion del Torero, "Prayer of the Bullfighter"; Saint-Saens' Piano Concerto No. 2 in G minor, Op. 22; Capriccio Espagnol, Op. 34; El Sombrero de Tres Picos, Three-cornered hat: Three Dances (Suite No. 2).

The concert is at 4 p.m. Sunday and 7:30 p.m. Tuesday. Tickets are $15-$50. For information call the Honolulu Symphony box office at 538-8863.





Click for online
calendars and events.
---
Send WatDat? questions, stories
or any other story ideas or comments to:
Features, Honolulu Star-Bulletin, P.O. Box 3080,
Honolulu, HI 96802 or send a fax to 523-8509
or E-mail to features@starbulletin.com.
Please include your phone number.
E-mail to Features Editor
---
---
© 1999 Honolulu Star-Bulletin
http://archives.starbulletin.com