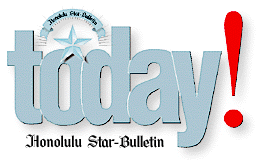 ---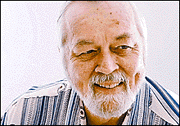 Hawaii

By Dave Donnelly
Friday, April 30, 1999
---
Weather shifts
at KHNL

THAT early morning news anchor slot on KHNL must be a bear. First Lee Cataluna was taken off the evening news and moved to the 5 a.m. slot -- goodbye, nightlife, goodbye -- and shortly thereafter tendered her resignation. She hasn't surfaced elsewhere that I've noticed, but apparently is, as they say, pursuing other interests. She has been busy as a playwright of late ... Now comes word that her replacement on the early morning news, Patti Lee, has accepted a slot at WJW in Cleveland, a Fox owned and operated station -- she should fit right in. For one thing, Lee is happy to be nearer her parents and in a much bigger market. Channel 8's co-anchor/weatherman Guy Hagi must be getting some kind of complex ...

SPEAKING of foxes, Jules Wright celebrated her birthday with friends at Nicholas Nickolas and as the champagne toasts were being made, fireworks went off in the nearby sky, making her natal day that much more memorable ... Keola Dalire collects titles the way some people collect POGS -- remember them? Dalire, who was named Miss Aloha Hula at the Merrie Monarch Festival, already had the titles of Miss Hawaii Teen and Miss Island Oahu, one of the prelims for the Miss Hawaii pageant June 18. A win there would give her a fourth title and make Keola Dalire-eous ...

Polished Apple

SHE'LL be using a cane due to a recent stroke, but Virginia McDonald Apple is determined to walk center stage at Dallas May 7 to accept her award as a Fellow of the American Institute of Architects. She's only the second woman from Hawaii to win that prestigious honor. Hawaii, with more than 600 architects, has had only 22 AIA Fellows overall. Apple, widow of National Park historian Russ Apple, has designed Volcano area homes on the Big Isle that have withstood numerous earthquakes generated by volcanoes. Her stroke last month caused her to relocate to the Pohai Nani retirement residence ...

ENGLAND'S Chewton Glen may have ranked No. 11 in the world according to Conde Nast Traveler, as reported yesterday, but in a Gourmet magazine reader's poll, the Halekulani was named No. 1 hotel in the world. Now that's impressive. Also impressive was the fact that the same issue of Gourmet gave a whopping 15 pages of coverage to the Mauna Lani Bay Hotel & Bungalows ... Many thanks to all who called and e-mailed responses to my three columns on England, particularly the one about my old pal Simon Cardew. One of those affected by it was Sharon Clark, another old friend of Simon's and former wife of actor Peter Clark who, she reminds me, has no "e" on the end of his name ... Scott Shirai of Hawaii Electric reports he and his bride, Michelle Jerin Shirai (PR for Straub), were also in a standing ovation for Richard Dreyfuss and Marsha Mason in "Prisoner of Second Avenue" in London recently ...

Upside down cake?

MATTEO'S crack staff recognized Al Haynes when he and his wife came in for dinner. Haynes was captain on the commercial flight that lost its rear engine near Sioux City, Iowa. He took the controls and somehow brought the plane in with just two engines, albeit in a crash landing. Though there were fatalities, more than 100 survived thanks to Haynes' skills. He and his crew were trapped upside down in the cockpit for 45 minutes before being rescued. Haynes hasn't retired and does about 100 speaking engagements a year, including the one which brought him to Hawaii ...

---




Dave Donnelly has been writing on happenings
in Hawaii for the Star-Bulletin since 1968.
His columns run Monday through Friday.

Contact Dave by e-mail: donnelly@kestrok.com.
E-mail to Features Editor
---
---
© 1999 Honolulu Star-Bulletin
http://archives.starbulletin.com