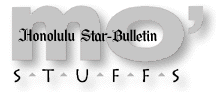 ---
Wednesday, April 28, 1999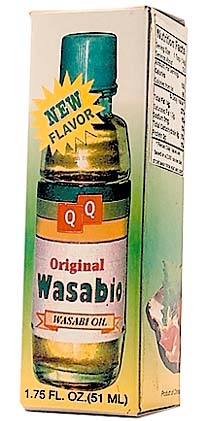 Pass the wasabi oil, please!
---
Wasabi oil packs a
pleasant punch
Now here's a food product you can have fun with. Wasabio is a tiny bottle of pungent wasabi oil, a product just showing up in stores.

Wasabi is that hot green horseradish paste that often gets snuck into sushi. It's also served with sashimi. But there is a world of other things you can do with wasabi, and wasabio makes it a bit easier than working with powder or paste.

Screw off the lid and take a whiff of this stuff -- it's the real deal. Breathe deep and it'll go straight up your nose, clear up any of those lingering sinus problems.

Anyway, based on a weekend of experimentation, here are some ways to use this new product:

Shake a few drops on noodles, somen especially. The wasabi taste blends through the noodles more consistently than it would with a dab of wasabi paste.

Add it to salad dressing, any type, for some zing. Shake the dressing well and pour.

Add to soy sauce for sashimi dipping, but mix well and use it fast, as it tends to separate.

Shake directly onto sushi (a drop is enough). This makes your sushi more portable than if you had to carry shoyu and wasabi paste around.

Add directly to fish or chicken on a sandwich. It packs a pleasant punch.

Mix it with vegetable or sesame oil when you stir-fry. Go easy in the beginning, though, maybe a 1/4 teaspoon, and work up to your ideal temperature. This stuff is concentrated.

Add it to soup in place of Chinese mustard. Try saimin, wonton soup, even oxtail. It blends nicely through the broth.
If you're a hot-sauce fan, add this to your arsenal. Imagine the possibilities.
Wasabio comes from China. It's available at Star Markets and at It's Chili in Hawaii on King Street. Cost is $3-$4 for a pretty tiny bottle (the picture here is about life-sized), but a little goes a long way.

Halau hosts Family Fair
This year's Merrie Monarch Festival overall winner, Halau Na Mamo O Pu'unahulu, led by kumu Sonny Ching, will host a Family Fair fund-raiser 10 a.m. to 4 p.m. Sunday on the Bishop Museum's Great Lawn.

The fair will feature crafts and food booths, games, a keiki carnival, lucky number drawings and entertainment by Pure Heart and Pai'ea, former Hoku Award winners Ho'okena with Robi Kahakalau, Maui's Uluwehi Guerrero, Mahiehie, Tihati Productions and the Hyper Squad.

Tickets are $5; free for children under 5. (Museum admission is not included in the ticket price.)

Halau Na Mamo O Pu'unahulu this year earned its second consecutive overall title at the 36th annual Merrie Monarch festival, in addition to placing first in kane overall, second in wahine overall, first in kane kahiko, second in wahine kahiko, first in kane 'auana and third in wahine 'auana.

Funds raised will be used toward expenses of participating in November's 'Oe E Ka La fest in Pleasanton, Calif., and next year's Merrie Monarch fest.

For more information, call 848-7780.
Bag a deal at YWCA
The YWCA Women's Resource Center will sponsor a super sale from 10 a.m. to 2 p.m. Friday and Saturday, with women's clothing, accessories and clothing sold for "a buck a bag" to accommodate new donations to the center's Clothes Closet store.

Proceeds benefit the center and programs such as "First Impressions," a class for women re-entering the work force, and "Women on Wall Street," an introductory course on financial matters for women.

The Women's Resource Center opened its doors two years ago as a drop-in information and referral service to assist women in finding employment, housing and other social, economic and educational opportunities.

For more information about the Clothes Closet project, call 538-7061 ext. 235, or call the center at 532-5630.
Don't miss 'Saigon' tickets
Tickets for the Cameron Mackintosh production of "Miss Saigon" will be available at the Blaisdell box office beginning Saturday, from 9 a.m. to 5 p.m.

Prices will range from $29 to $88 for the Tony Award-winning musical tale of love and sacrifice between a young Vietnamese girl and an American soldier during the fall of Saigon in 1975.

"Miss Saigon" will run Oct. 7 through Nov. 14 at the Blaisdell Concert Hall. The production will be staged at 8 p.m. Tuesdays through Saturdays and 7:30 p.m. Sundays, with matinees at 2 p.m. Saturday and Sunday.

To charge tickets by phone, call Ticket Plus at 526-4400.
Opals on display
One-of-a-kind black opals mined from Lightning Ridge, New South Wales, will be on display through May 8 at The Rainbow Collection.

Karla Brom will give free talks on how to buy the gems associated with good luck, at 6 p.m. Friday and 10 a.m., 2 and 6 p.m. Saturday and Sunday.

The Rainbow Collection is at The Ward Warehouse, 1050 Ala Moana Boulevard. Call 592-0020 for more information.
MORSELS

Culinary tour of the Middle East: Discover Middle Eastern food, and explore fine wines and gourmet breads, 7:30 p.m. Tuesday on "Hawaii Cooks With Roy Yamaguchi" television program on KHET/PBS.

Yamaguchi will also create the Mediterranean dish "Tuscan Style Pasta with White Beans and Pork."

Introducing the HawaiiDiet: Dr. Terry Shintani to give a brief presentation on the HawaiiDiet, followed by a cooking demonstration by executive chef Andy Nelson, noon, May 7, Kahea'ai Cafe, Room 203B&C, University of Hawaii at Manoa. Free. Call 956-7327.

Vegetarian way: The Vegetarian Society of Hawaii annual membership meeting next month will feature a cooking demonstration by Alyssa Morceau using two grains that can be prepared in 10 minutes and recipes involving utapan, an Indian pancake.
Club business will also be addressed at the meeting 7 p.m. May 10, Ala Wai Golf Course recreation facility. The public is welcome and admission is free. Call 944-VEGI (944-8344) for information.


Click for online
calendars and events.
---
Send WatDat? questions, stories
or any other story ideas or comments to:
Features, Honolulu Star-Bulletin, P.O. Box 3080,
Honolulu, HI 96802 or send a fax to 523-8509
or E-mail to features@starbulletin.com.
Please include your phone number.
E-mail to Features Editor
---
---
© 1999 Honolulu Star-Bulletin
http://archives.starbulletin.com