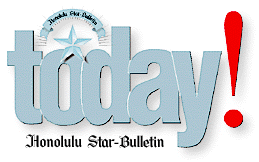 ---
Wednesday, April 28, 1999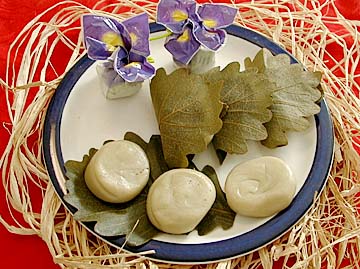 By Craig T. Kojima, Star-Bulletin
Kashiwa-mochi, wrapped in oak leaves, is traditional for
Boy's Day, as are iris. Thus, the shobu-mochi, wrapped
to look like iris blossoms, are appropriate as well.
---
Boy's Day sweets
reflect traditions

The fifth day of the fifth month, just a week away, is set aside to honor the young males of the household.

Japanese tradition dictates that we fly carp, pay homage to samurai dolls and eat some special treats.

Shirokiya is selling the traditional soft, green kashiwa-mochi, wrapped in oak leaf, as well as shobu mochi with walnuts. The shobu mochi has a delicate paper wrapping that makes it look like a shobu, or iris, a symbol of the spring season. A box of seven pieces of mochi sells for $18.50.

Also for sale at Saint Germain Bakery inside Shirokiya is a strawberry cake decorated with little edible Boy's Day dolls and iris blossoms. The cakes sell for $19.50 and are available only from today through the holiday. Call 955-1711 at Ala Moana or 488-4967 at Pearlridge to place an order.

---

Star-Bulletin






Click for online
calendars and events.
E-mail to Features Editor
---
---
© 1999 Honolulu Star-Bulletin
http://archives.starbulletin.com