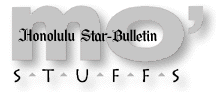 ---
Friday, April 16, 1999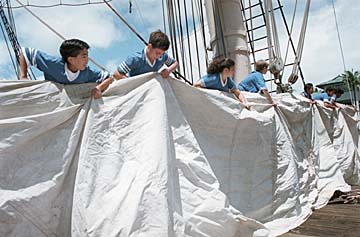 By Kathryn Bender, Star-Bulletin
Holy Nativity school 6th graders get involved in Boat Day
activities on the Falls of Clyde at Hawai'i Maritime Center.
---
Boat Day docks at
Honolulu Harbor
It's Boat Day again at Honolulu Harbor, with a celebration taking place tomorrow at Pier 7.

The Boat Day Celebration, hosted by the Hawai'i Maritime Museum to honor waterfront workers, will feature 11 a.m. and 1 p.m. search and rescue boat and helicopter demonstrations by the U.S. Coast Guard; a tugboat "hula" at noon; sea tales and waterfront stories told by author Bob Krauss and ILWU historian Ah Quan McElrath at 11:30 a.m. and 2:30 p.m.

Also featured will be living history tours throughout the day aboard the Falls of Clyde, the world's only surviving four-masted full-rigged tall ship. Tour guides will be dressed in 19th-century garb befitting the Falls colorful past.

Admission to the Hawai'i Maritime Museum and all activities is free from 10 a.m. to 4 p.m. for kama'aina and military with I.D. Non-resident admission is $7.50 for adults, $6 for seniors, and $4.50 for youths ages 6 to 17. Keiki under 6 are admitted free.

Arriving in the harbor at 5 p.m. will be the Royal Viking Sun.

For $5 ($3 for children) guests will also be able to take a one-hour narrated tour of Honolulu Harbor aboard the 62-foot motor yacht Vida Mia. Tours will be given at 10:30 a.m., 1:30 and3 p.m. Seating is limited and will be taken on a first come, first serve basis.

For more information, call Bob Moore at 523-6151.
---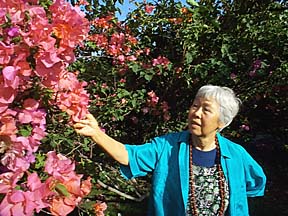 File photo
Geraldine King-Tam's love of nature is
reflected in her drawings and
illustrations of Hawaii plant life.
---
Book signing with King-Tam

Living Treasure Geraldine King-Tam will be at Borders Ward Centre at 2 p.m. Sunday to sign copies of her new book, "Paradisus: Hawaiian Plant Watercolors."

King-Tam is recognized as a musician, gardener and expert chef, but it is her paintings and illustrations of Hawaiian flora that have gained her world recognition.

Her art work, with their botanical accuracy and artistic aesthetic, reflects her passion for the natural world. Her new book is a collection of her best works.

The event is free. For more information, call 591-8995.

Read All About It

Read All About It presents news and notices on Hawaii's literary scene. Send items to Read All About It, P.O. Box 3080, Honolulu, Hawaii 96802.

AUTHOR SIGNINGS

GARDNER MCKAY
Borders/Waikele, 676-7820
Author of "Toyer," noon tomorrow.

WALTER JUDD AND WILLIAM DORRANCE
Mutual Publishing, LLC; 732-1709
Authors celebrate their new releases at book launch party and signing, 1-2 p.m. tomorrow, Bookends, Kailua. Call 261-1996.
Book signing 3-4 p.m. April 25, Barnes & Noble.

LAURIE IDE
732-1709
Author of "Hawaiian Lei-Making Step-by-Step Guide," signings and lei display
1-2 p.m. Sunday, Local to da Max, Pearlridge Center
1-2 p.m. April 24, Barnes & Noble

KIMO ARMITAGE
Waldenbooks/Kahala Mall, 737-9550
Author of "Limu, The Blue Turtle," 6 p.m. April 23.

READINGS

POETRY READINGS
Honolulu Academy of Arts theatre, 586-0769 or 586-0307
Cathy Song, Wing Tek Lum, Kathy Banggo, Lois-Ann Yamanaka, Mahealani Kamauu, Eric Chock, Lisa Kanae, .7:20 p.m. today, tomorrow, April 22, 24, 30 and May 1. Film showing follows.

EWA BEACH PUBLIC & SCHOOL LIBRARY
689-1204
Book review and discussion program, "Dogs as Pets," 3 p.m. today, Hawaiian Room.

PEARL CITY PUBLIC LIBRARY
453-6566
Rich Budnick seminars: "How to Get the Job You Want in Hawaii," 10:30 a.m. tomorrow, and "How to Self-Publish Your Book," 11:30 a.m. tomorrow. Free.

JOSEPH STANTON
Borders/Waikele, 676-7820
Reads from his new book, "Imaginary Museum: Poems in Art," 4 p.m. tomorrow.

"MAKANA AKAMAI"
536-4174
Friends of the Library needs book donations to help the library's book budget. Call for a brochure listing books wanted. Books may be donated to a favorite library.

CONTINUING

CRAFTS AND STORIES
Barnes and Noble, 737-3323
Meets 10 a.m. and 4:30 p.m. Tuesdays and Thursdays.

GET IN TOUCH WITH YOUR CREATIVE SIDE
678-0561
Two groups focus on books by Julia Cameron, 6:30-8:30 p.m. Wednesdays, discuss Cameron's book "Artist Way"; and on Thursdays, discuss Cameron's "The Vein of Gold." Call Sue for locations.

ONLINE FUN
(212) 414-6157
Barnes and Noble author chat group at barnesandnoble.com and barnesandnoble@aol (keyword: bn). Call Elke Villa or e-mail her at evilla@bn.com.

OPEN MIC
Barnes & Noble, 737-3323
Poets and writers are welcome to share their works, 7 p.m. third Friday of each month.

PROFESSIONAL WRITERS GROUP OF HAWAII
941-1768
Meets 4-6 p.m. second and fourth Saturdays of each month. Call Susan.

SCIENCE AND FANTASY FICTION READING GROUP
Borders, Ward; 591-8995
Meets 7 p.m. last Wednesday of each month.

WRITERS SUPPORT GROUP
Borders, Waikele; 676-6699
Meets 2 p.m. first Friday of each month.






Click for online
calendars and events.





---





Send WatDat? questions, stories
or any other story ideas or comments to:
Features, Honolulu Star-Bulletin, P.O. Box 3080,
Honolulu, HI 96802 or send a fax to 523-8509
or E-mail to features@starbulletin.com.
Please include your phone number.
E-mail to Features Editor
---
---
© 1999 Honolulu Star-Bulletin
http://archives.starbulletin.com