---
Thursday, April 15, 1999

Hundreds line
up for 'Baywatch'
exposure


Have you ever wanted to
be a star? A bounty of isle 'bods'
lined up to try for a shot at
fame on 'Baywatch Hawaii.'

By Tim Ryan
Star-Bulletin

They came with stars in their eyes, hope in their hearts and the dream of being part of the world's No. 1 syndicated-action drama.

More than 60 men and women -- most with no acting experience -- lined up at Ward Warehouse as early as 4:30 a.m. today hoping to convince casting personnel that they're right for two regular "local" roles for "Baywatch Hawaii," to start filming here this summer.

The auditions, which began at 7 a.m., called for people 18 to 28 years old, in good physical condition and with excellent ocean skills.

By 9 a.m. more than 200 hopefuls -- including a Labrador retriever named Tombo -- had gotten their two-minute interviews with April and Al Masini, promotion coordinators for the show, and Robert Pennybacker, KHON TV2 promotions director. The station broadcasts "Baywatch" Sunday afternoons.

Another 400 lined up outside.

Hans Saito, originally from Oahu and now of Los Angeles, was one of those who arrived outside the audition room at 4:30 a.m.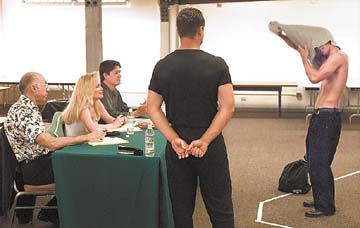 By Ken Sakamoto, Star-Bulletin
Al and April Masini and Robert Pennybacker, KHON promotions
director, ask Kalapana Kollars to take off his shirt during the
"Baywatch Hawaii" auditions. Others, below, started waiting
in line as early as 4:30 a.m. today.
---
"I'm an actor, this is what I do," said Saito, a Screen Actors Guild member who currently is appearing in an IMAX film shooting on Kauai.

Saito, who would only give his age as "more than 28" -- technically the upper limit -- said he also has plenty of ocean expertise. "Let's just say if the surf is big, I'll come back safely."

Lorna Tubania, 25, a nurse, was number five in line this morning, but the first woman who arrived, at 4:45 a.m. "Isn't it everyone's dream to be on television or in the movies?" the Pearl City resident said. "I've never acted before, but I'm a quick learner and I think it would be fun to have this kind of exposure."

Wannabe Baywatchers arrived in shorts, T-shirts, slippers, sarongs, jeans and skirts. One woman wore a see-through hapi coat that covered a thong bikini. One sign of early success in an audition was if a man was asked to remove his shirt to show muscles, or a woman removed clothing to show off her swimsuit.

Kalapana Kollars, 22, of Makakilo, not only took off his shirt but did a pirouette when asked to turn around.

"This is an opportunity I didn't want to slip by," he said. "I tried to make most of my time."

Sporting short purple hair and several facial piercings -- including ones through an eyebrow and chin -- Chaz Peters, 20, of Pearl City, hopes to land a role "because it would be so cool to hang out with the stars and meet David Hasselhoff."

One of the oldest and sturdier hopefuls was mortgage broker Bob Reiner, 37, of Hawaii Kai.

"You never know," said Reiner, who stopped by the audition on his way to the dentist.

The most unique audition was by Tombo, the 3 1/2-year-old, lei-wearing Lab escorted by owner Don Hawn.

Auditions will continue through Saturday.
E-mail to City Desk
---
---
© 1999 Honolulu Star-Bulletin
http://archives.starbulletin.com