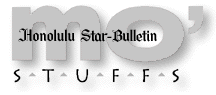 ---
Tuesday, April 13, 1999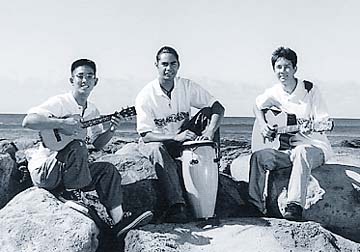 File photo
Pure Heart performs at Iolani's fair Saturday.
---
The spirit of Mardi Gras
visits Iolani Family Fair
Frank De Lima is among the special guests lined up to perform at Iolani School's Family Fair this weekend.

"Mardi Gras Madness" is the theme of the event, running from noon to 10 p.m. Friday and Saturday on the school grounds. Look for a Jester's Midway, Cajun Food Row, celebrity cooking demonstration, white elephant sale, fresh produce sale, arts and crafts, bead bazaar, and more.

Some of the Friday highlights include a 12:30 p.m. performance by the Iolani Dancers; 1:30 p.m. Iolani Band concert; 3 p.m. pie-eating contest, 4:30 p.m. talent contest; plus music by Hawaiian Time at 7 p.m. and music by Chant at 8:30 p.m.

Saturday highlights include 2:30 p.m. talent contest finals; cooking demonstrations by Russell Siu of 3660 on the Rise, Gordon Hopkins of Roy's, and Elmer Guzman of Sam Choy's Diamond Head from 5 to 6:30 p.m.; Frank De Lima's performance at 7 p.m. and music by Pure Heart at 8:30 p.m.

Admission is free. Call 943-2269 for more information.

Hagiwara's homecoming
Coming back to Hawaii to perform with the Ensemble Galilei Saturday and Sunday is Jan Hagiwara, filling in for the group's regular percussionist.

The veteran of the Kaimuki Intermediate Band, Punahou Orchestra and Honolulu Youth Symphony has been performing in New York with the "Phantom of the Opera" orchestra.

Hagiwara, a 1976 Punahou graduate, also attended Juilliard.

The ensemble performs at 7:30 p.m. Saturday and 2:30 p.m. Sunday at Sacred Hearts Academy Auditorium. Tickets are $20 general and $15 for students. Call 956-3836 for reservations.

Preview
Three movies begin their Oahu run Friday.

Cookie's Fortune

Rated PG-13

A pipe-smoking Southern dowager named Cookie (Patricia O'Neal) commits suicide in order to join her beloved late husband. Stumbling upon the body, Cookie's slightly crazed niece, Camille (Glenn Close), eats the suicide note and concocts "evidence" to make the death look like murder -- because "suicides don't happen" in their family. The concocted evidence unintentionally points to Cookie's handyman (Charles S. Dutton).

Goodbye, Lover

Rated R

Set in contemporary Los Angeles, Sandra Dunmore (Patricia Arquette) is at the center of a storm of overlapping relationships and betrayals. She is the wife to one brother played by Dermot Mulroney and mistress to another (Don Johnson)

Life

Rated R

Eddie Murphy and Martin Lawrence are wrongfully convicted of murder in the 1940s and sent to life imprisonment in Mississippi.

On air today
"Dear America: Dreams in the Golden Country," 7:30 p.m., HBO. Fictional story about a young Russian immigrant and how she adjusts to New York in the early part of this century.

"NYPD Blue," 9 p.m., KITV/ABC. Sorenson and his girlfriend have an emotional crisis; Sipowicz succeeds in securing a murder confession. Parental advisory.

"Frontline," 9 p.m., KHET/PBS. "The Terrorist and the Super Power" examines the bombings of U.S. embassies in Kenya and Tanzania last August and what may have been a flawed investigation that led the U.S. to identify Osama bin Laden as the mastermind of the attacks.






Click for online
calendars and events.
---
Send WatDat? questions, stories
or any other story ideas or comments to:
Features, Honolulu Star-Bulletin, P.O. Box 3080,
Honolulu, HI 96802 or send a fax to 523-8509
or E-mail to features@starbulletin.com.
Please include your phone number.
E-mail to Features Editor
---
---
© 1999 Honolulu Star-Bulletin
http://archives.starbulletin.com