---
Saturday, April 10, 1999



Grand jury
hears Wong's side
of land deal story


The Bishop Estate chairman
will testify again on Monday about
alleged kickbacks from his
brother-in-law

By Rick Daysog
Star-Bulletin

Bishop Estate Chairman Richard "Dickie" Wong has testified before an Oahu grand jury for more than two hours but will return to the witness stand Monday for further questioning.

The 65-year-old Wong, who declined to appear before the secret panel Thursday, appeared at Circuit Court yesterday to answer the panel's inquiries about a Bishop Estate land deal involving a partnership that included his brother-in-law Jeff Stone.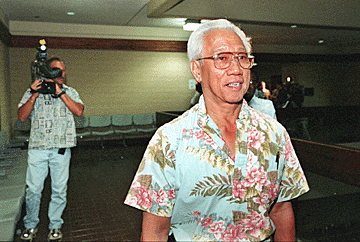 By George F. Lee, Star-Bulletin
Bishop Estate trustee Richard "Dickie" Wong had no comment
yesterday as he left Circuit Court following his closed-door
testimony before the grand jury. He is scheduled to return
to the witness stand Monday.
---
Wong, accompanied by his attorney Eric Seitz, had no comment yesterday following his closed-door testimony.

Seitz previously said the attorney general's office, which convened the grand jury, had informed them they could bring an indictment against Wong last Thursday.

The attorney general's office also indicated that Wong's wife, Mari Stone Wong, could be indicted by the grand jury, Seitz said.

The state has alleged that Wong and trustee Henry Peters received kickbacks from Stone, who, along with partner National Housing Corp., paid the estate $21.9 million for the fee interest to the Kalele Kai condominium complex in 1995.

Wong has denied wrongdoing in the land deal, saying he recused himself from all negotiations involving Kalele Kai. He has argued that the Kalele Kai deal benefited the estate immensely.

Last November, a separate grand jury indicted Peters for theft over the same Kalele Kai deal. Peters has pleaded not guilty.

Deputy Attorney General Lawrence Goya had no comment yesterday as he left the courthouse.

---



E-mail to City Desk
---
---
© 1999 Honolulu Star-Bulletin
http://archives.starbulletin.com