---
Friday, April 9, 1999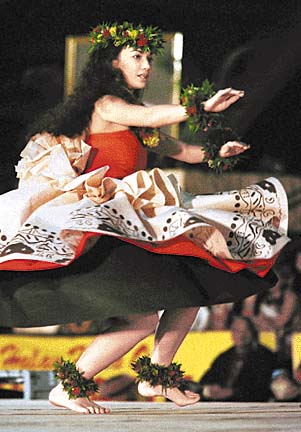 Associated Press
Keolalaulani Dalire, 18, of Kaneohe, danced her way to
first place yesterday in the Miss Aloha Hula competition at
the Merrie Monarch Festival, Hawaii's premiere hula event.
Dalire became the fourth member of her family to win the award
for her two solo performances of ancient and modern hula.
---
Dancing across
the generations


Miss Aloha Hula carries on
a family tradition

By Cynthia Oi
Star-Bulletin

HILO - Keolalaulani Dalire felt a great weight lift from her slender shoulders.

So did her mother, kumu hula Aloha Dalire.

The elder woman first carried that load when competing in and winning the first Miss Aloha Hula contest 28 years ago. She felt it again when her first daughter prevailed in the same contest in 1991, and a third time in 1992 when her second daughter took the Merrie Monarch Festival title.

Last night, it was Keolalaulani's turn to feel the pressure cut loose, after she was judged the best of 10 dancers. Her shining green eyes reflected the pride in her hula heritage and the great relief of being able to carry on that heritage.

"It is a great accomplishment not only for me but for everybody who loves to dance the hula," she said, as she was surrounded by her sisters and mother, all of them from Keolalaulani Halau 'Olapa 'O Laka.

"I've dedicated all of this to the young people of Hawaii to show what can be done. And I'm done, and it's a great relief."

Her mom also was able to breathe freely again.

"It is wonderful for her," Dalire said, her wide smile nudging her cheeks. "She worked hard for this. She wrote her kahiko by herself - did the work herself. She's the winner."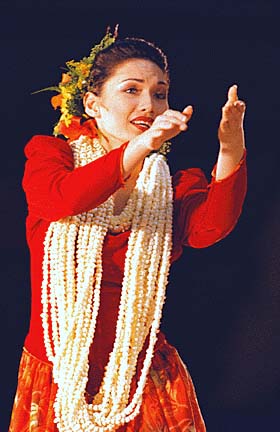 By Ken Sakamoto, Star-Bulletin
Keolalaulani Dalire, the Merrie Monarch Festival's
Miss Aloha Hula, dances in the Auana portion
of the competition.
---
The judges agreed. The young Dalire scored 1,124 points, with first runner-up Misty Mahealani Aina of Halau Hula 'O Kahikilaulani gathering 1,101.

Leina'ala Kalama Heine, one of seven judges, said Keolalaulani was "outstanding. She showed charisma, discipline."

Judge Victoria Holt-Takamine said choosing a Miss Aloha Hula was especially difficult this year.

"All of them danced very well," the kumu hula said. She prefers to look at the 10 competitors as the future of hula because so many are so good.

"Judging is always exciting because you see these young women enjoying their dances and if you love the hula, you are watching those who will come after."

If those like her are the future, the 18-year-old is up for it. She says winning the title is just a first step in what will be a lifelong quest to gain more knowledge about hula.

"This is a reawakening for me and for all of us, the Hawaiian people, to regain what they have lost in the past."

Her kahiko, which recounted her ancestors' crossing of the Pacific to Hawaii, drew great applause as she stepped on the stage. Her 'auana was graced with a sweet innocence as she paid tribute to the pikake lei, a favorite of her family's.

She was poised and mature in her performance, but the teen-ager that she is became evident off stage as she squealed and laughed with her friends. The three tiny earring pierces in her left ear also attest to her youth.

The Dalire name counts for a lot in the realm of hula. But the kumu hula gives all the credit to her daughter.

"It wasn't the name that won," Aloha Dalire said. "It was the girl."

Other award winners:

2nd runner-up: Lisa Lei Makaonaona Wuest, Halau Kealakapawa, 1,098 points.

3rd runner-up: Dawn Napua'ala Abrams, Halau Mohala 'Ilima, 1,084 points.

4th runner-up: Jaime Lyn Kahanakekukuiokalani Pele, Moana's Hula Halau, 1,081 points.
E-mail to City Desk
---
---
© 1999 Honolulu Star-Bulletin
http://archives.starbulletin.com