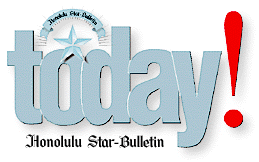 ---
Thursday, April 8, 1999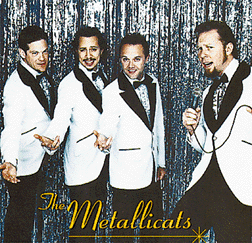 Elektra Entertainment
Metallica as the Metallicats, lounge lizards.
---
The many faces
of Metallica

By John Berger
Special to the Star-Bulletin

Many bands play lip service to the ideal of versatility and being open to new ideas. Few carry through like Metallica. The Elektra records quartet whose name has been synonymous with high-speed, high-decibel metal for almost 20 years will perform with the San Francisco Orchestra later this spring.

"Any time there's a chance to do something musically that's totally off Metallica's map we have a tendency to jump at it," drummer Lars Ulrich said earlier this week in a call from a West Coast recording studio.

"Being musically adventurous is a lot of fun. Michael Kamen, who has done a lot of stuff with Eric Clapton and Pink Floyd, thought our music lent itself to symphonic interpretation and being embellished by a symphony orchestra. Now that we have the time we're going to do it.

"To spend about six months playing with symphony orchestras all over the world would be wonderful. If we could come to Honolulu (to play) with the symphony there it would be a fun thing to follow up with."

In the meantime, Metallica returns to Hawaii for two nights at the Blaisdell Arena Sunday and Monday. It's a long-awaited encore to their 1993 two-nighter here, and the landmark "... And Justice For All" 1980 tour that included the dramatic collapse of a statue of "blind justice" during the show.

This time, Metallica is touring in support of its "Garage, Inc." album. The two-disc anthology contains every non-original song Metallica recorded in the past and 11 new "covers" of songs by groups ranging from Discharge and Blue Oyster Cult to Black Sabbath. One of the most familiar songs getting radio play is the band's rendition of Bob Seger's "Turn the Page."

Many artists fall back on "covers" (hits by other artists) when their original material is failing. Metallica doesn't have that problem. The group's last album, "Reload," was a multiplatinum success. So was the album before that, and all but one of its Elektra albums before that.

Ulrich points out all young musicians start out playing someone else's material, but Metallica did it in a different way.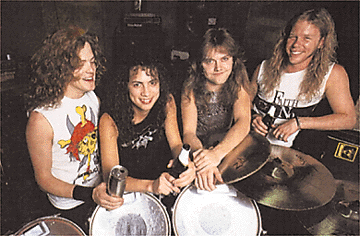 Metallica as Metallica, the way they were playing pure metal.
From left, Jason Newsted, Kirk Hammett, Lars
Ulrich and James Hetfield.
---
"When we were doing cover songs, we always chose songs by bands nobody had ever heard of, because that was cooler. We'd play these obscure metal songs and a lot of people didn't know that they weren't our songs.

"When we got bored doing that it became fun to take songs that were better known and really try to create different interpretations of them. As far as covers are concerned, it's sort of like pretty cool that we have that ability to make these things our own. I think at the end of the day that's what people hang on to."

Metallica underscored the "cover band" concept of the new album with a photo of the "Metallicats" in lounge-band attire.

"We were trying to bring the cover band situation down to sort of its most naked form. When you've stayed in as many Holiday Inns in the midwestern United States as we have, you see them all over the place," says Ulrich.

A booklet that accompanies "Garage, Inc." details the history of Metallica and the significance of the songs and the artists who first recorded them.

"I think musicians and writers appreciate that information a lot more than kids do at the end of the day," Ulrich says. "You think that everybody's just so interested in where it all comes from, but there are a lot of 16-year-old kids who are into Metallica who don't care, and that's also OK."

Those kids weren't even born when Ulrich, vocalist James Hetfield, bassist Cliff Burton, and guitarist Dave Mustaine formed Metallica in 1981. Kirk Hammett replaced Mustaine in 1982. Burton died in a tour bus crash in Europe and was replaced by Jason Newsted in 1986. Ulrich says the secret to staying together can be condensed to a single word.

"Tolerance. As you get older and grow as people you continue to move further apart from each other. It's never going to be that 'gang' type of thing that it is when you're 21, so what happens is that either the whole thing just blows up because of egos ... or you find a way to tolerate each other'squirks.

"We were lucky enough to never be part of one specific thing. We were always doing our own thing. We were never afraid to take steps in different musical directions. Most of the fans who enjoy what we do understand the fact that we need to keep exploring different musical territory and trying all these weird, wacky things. It keeps it fresh for us and fresh for the people who are into what we're doing."

And so Metallica is following "Garage, Inc." with a DVD album titled "Cunning Stunts," shot during its 1997 "Load" tour. Ulrich says Metallica will spend much of the year touring before starting work on an eighth studio album.

"We've always been a serious band, but we've always tried to find the right balance between a lot of different elements. I'd like to think that we've had a sense of humor about certain things, and that at the end of the day people understand that in some ways rock 'n' roll should never be taken that seriously.

"We're here playing music and obviously that's great for a lot of people and makes us very happy, but at the same time, without turning into Bono or something, there's thousands of people being executed in Kosovo every day. I think we're pretty level-headed about that stuff."

Metallica

In concert: 7:30 p.m. Sunday (Monday concert is sold out)
Place: Blaisdell Arena
Tickets: $29.50 to $39.50
Call: 591-2211
Also: KPOI hosts "Official Metallica Post-Party" 9 p.m. to 4 a.m. Sunday and 11:30 p.m. Monday. Admission free with Metallica ticket stub (otherwise $5 cover; free before 10 p.m.). Must be 21.






Click for online
calendars and events.
E-mail to Features Editor
---
---
© 1999 Honolulu Star-Bulletin
http://archives.starbulletin.com