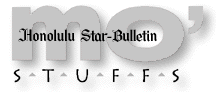 ---
Wednesday, April 7, 1999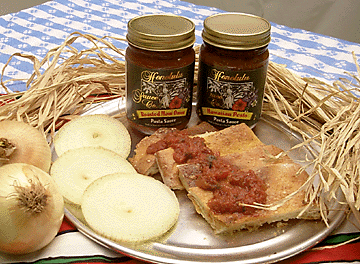 New products coming to Ag Day: Roasted
Maui Onion Pasta Sauce and Hawaiian Pesto
Pasta from Honolulu Sauce Co., and
Kunia onions.
---
Celebrate food
and farming
at Ag Day Fest
Eat, shop, entertain the kids, learn something new and support a good cause all with one weekend activity -- the Hawaii Ag Day Festival, Saturday at the Urban Garden Center in Pearl City.

This yearly celebration of food and how it's grown will feature more than 50 exhibitors and a host of other participants. They will:
Feed you: Six restaurants, including Sam Choy's and Indigo, will serve up specialty dishes.
Tempt you: Dozens of made-in-Hawaii products will be sold, some of them brand new. These include onion pasta sauces from Honolulu Sauce Co.; Molokai Island Princess, a dark roast vanilla coffee from Coffees of Hawaii; North Shore Nitro hot sauce by Arturos. Fresh produce will include Ulupalakua strawberries, Waialua asparagus and other veggies, Big Island hearts of palm and Kunia onions.
Educate you: Lectures through the day include a session with soil and plant experts who will examine specimens you bring in and help solve your gardening problems.
Entertain you: Pony rides, petting zoo, garden tours, music, demonstrations, more.
Help you do good: Bring canned goods for the Hawaii Food Bank. Plus, admission fees benefit the Agricultural Leadership Foundation of Hawaii, a group that supports and trains agricultural entrepreneurs.
Festival hours are 10 a.m. to 3 p.m. Presale tickets are $10, available at Safeway stores. Admission at the door is$15; $10 for children 6-16. Call 532-7483 or visit the website, www.hawaiiag.org.

Nutty oil good for you
If you're going to put fat in your body, it may as well be a fat with redeeming qualities. Enter MacFarms of Hawaii's new, 100 percent pure macadamia nut oil.

Macadamia nut oil is high -- 80 percent -- monounsaturated fats, which are the fats that have a positive effect on lowering cholesterol. Olive oil, the other "good fat," is just 74 percent monounsaturated.

The oil is good for cooking and for salad dressings. One way to use it: Roll fish cutlets in flour, then dip in egg and roll in chopped mac nuts. Fry in mac oil (3 tablespoons for 4 cutlets) until light brown. Add 2 tablespoons lemon juice and cook another 5 minutes. Yum.

The oil sells for $5.99 for 17 ounces at Longs Drug Stores, Daiei and Hilo Hattie.

Koop heads rally to snuff out smoking
Former U.S. Surgeon General C. Everett Koop will be the keynote speaker at a free public meeting Saturday on the subject "No Smoking in Paradise."

The meeting, sponsored by Straub Foundation, Coalition for a Tobacco Free Hawaii and American Cancer Society-Hawaii Pacific, takes place at the State Capitol Auditorium. Registration takes place at 7:30 a.m., followed by opening ceremonies and talks on "Tobacco in Paradise," "The Ethics of the Tobacco Industry," "Tobacco Intervention -- The Most Cost-Effective Medical Service," and "What the Tobacco Settlement Can Mean for Hawaii."

Koop will speak at 10:30 a.m. on "The Magnitude of the Tobacco Problem." A panel discussion will follow at 11:15. The program is scheduled to end at noon.

The organizations seek to improve the health of Hawaii's people, in part by reducing tobacco use.

Space is limited, and registration is being taken in advance by the Straub Foundation. Call 524-6755 to reserve a place.

Japanese Center hosts health fair
More than 50 organizations that provide health services and assistance to senior citizens will participate in the 15th Anniversary Seniors' Health Fair taking place 8:30 a.m. to noon tomorrow at the Japanese Cultural Center of Hawaii.

Among those represented will be the City and County of Honolulu Elderly Affairs Office, the Moiliili Community Center Senior Center and Elder Care Program, AARP chapters, Bodytherapy by Akua and Hawaii Senior Lifestyles.

Admission is free; validated parking is $2. The event will take place in the Manoa Grand Ballroom at 2454 S. Beretania St.

The event is sponsored by the Honolulu Japanese Chamber of Commerce in cooperation with the Japanese Cultural Center of Hawaii and Manoa Grand Ballroom.

Call 949-5531.

Morsels

Dinner with Cecilio: Cecilio Rodriguez performs a dinner concert 8-10:30 p.m. Saturday, at 3660 On The Rise. A buffet featuring prime rib and Alaskan king crab precede the concert.

Cost for the buffet, tax, tip and concert is $50. Call 737-1177.

Love, French-Mediterranean style: Feed your gourmet soul with French-Mediterranean bistro cuisine at the opening of Padovani's Bistro & Wine Bar 4:30-10:30 p.m. April 14-16, Doubletree Alana Waikiki Hotel.
Cost is $150, $45 of which is tax-deductible. Proceeds benefit the Kapiolani Community College Culinary Institute of the Pacific, the Honolulu Academy of Arts, and Ballet Hawaii. Call 946-3456.

Secretary's treat: What do you give a terrific secretary who has everything? Offerings from a special luncheon menu at Cascada, compliments of the boss.
During Secretaries' Week, April 19-23, the menu will feature Alaskan crab legs and shrimp cocktail with citrus dijonnaise; grilled seafood ravioli with sauteed wild mushrooms in a garlic cream sauce; grilled New Zealand seabass with tart cherry, plum brandy and butter sauce; and Asian panache with saffron rice.
Cascada, on the first floor ofThe Royal GardenHotel at Waikiki, was recently named a "Restaurant of Distinction" by Honolulu Magazine's Hale Aina awards.
For reservations, call 943-0202.

BACARDI Recipe Classic: Professional chefs, educators and members of the food service industry, ages 21 and up, can compete for $27,000 in cash prizes in a Johnson & Wales University-sponsored contest.
The submission deadline is May 15 for the Oct. 2 contest. Typed recipes must be for 10 portions; list ingredients in sequence of use, weight, measure, method of preparation and preparation/cook time; use BACARDI Light-Dry, Gold, Spice, Select, 151 or Limon; be accompanied by a 4-by-6-inch color photo of the prepared dish and a 4-by-6-inch color, head-and-shoulders photo of the entrant.
One recipe may be entered per category: hot or cold appetizers or entrees, or hot or cold plated desserts.
To receive an entry, call Johnson & Wales University at (401) 598-2666, or fax (401) 598-2665. Call Jack McKenna at (401) 598-4609 with questions.

Introducing vegetarian cuisine: Learn to make meatless dishes from around the world at 2 p.m. every Saturday, Down to earth Lifestyle Center, 2525 South King St. Call 944-3389.

For chocolate lovers: Elvira Chocolate Candy Store has moved from Kona Street to 826 Queen Street, on the second floor. To celebrate thenew location as well as the 10th anniversary of the store, owner Elvira Lo is offering a 10 percent discount on candy purchases through May.
Hours are 9 a.m. to 5 p.m. Monday through Friday. Telephone 947-5585.

Give it a giggle: Get your best giggle in gear for a chance to win $50,000 in the Pillsbury Company's Doughboy Giggle-Of Contest.
From April 21 through May 31 people of all ages are invited to enter by calling toll free (888) WE-GIGGLE (934-4445) and recording their giggle. The contest is seeking the funniest, most original, unique and outrageous giggles.
Ten finalists will be selected for a three-day trip to Los Angeles and the contest finals. Professional voice talents are ineligible.


Click for online
calendars and events.
---
Send WatDat? questions, stories
or any other story ideas or comments to:
Features, Honolulu Star-Bulletin, P.O. Box 3080,
Honolulu, HI 96802 or send a fax to 523-8509
or E-mail to features@starbulletin.com.
Please include your phone number.
E-mail to Features Editor
---
---
© 1999 Honolulu Star-Bulletin
http://archives.starbulletin.com