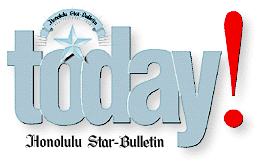 ---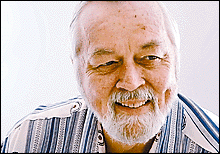 Hawaii

By Dave Donnelly
Wednesday, April 7, 1999
---
No magic, just
a friendly act

WHILE other kids at Waipahu Intermediate School were worrying about algebra and the like, the students at Kim Yamane's classroom were enjoying one of illusionist John Hirokawa's rare appearances outside his Magic of Polynesia showroom. Easily identified by the kids from his Burger King commercials, Hirokawa first gave a motivational talk about how hard work took him from $25 birthday parties in his hometown of Waipahu to his present big-bucks star status. One highlight of the visit was when Hirokawa relieved 15-year-old Sean Young of a dollar bill -- his lunch money -- and turned it into a C-note. But before Young could dream of how he'd spend his newfound $100, the illusionist turned it back to a buck. Bummers, thought Young. But he and the others left cheering when Hirokawa invited them all to be his VIP guests at his Waikiki show. By the way, once again it's not what you know, but who you know. John's gig came about because his son Bryson and Yamane's son, Kim-su Royce, are classmates at Mililani Baptist ...

SWING Tiki, the swing dance event put together by young promoter Erin Sweeney, moves from the Wave to Coconuts in the Ilikai beginning Sunday. Since swing lessons are provided, even those with two left feet can leave having demonstrated how "cool" they've become, jitterbugging the evening away just like their grandparents ... Two-faced: Debby McGraw has new business cards for her marketing services, and I, for one, found the e-mail address fascinating. It reads, "Debadgal@aol.com." I naturally read it as a localized version of "the bad gal," but she insists it stands for "Deb, adgal." Okay, but don't be surprised if you get some strange e-mail ...

Lumpy strikes again

SHE'S received lots of acclaim for her books, "Wild Meat and the Bully Burgers" and "Blu's Hanging," and only recently came out with "Heads by Harry," but Lois-Ann Yamanaka has already struck again. This time she's stepped away from previous publisher Farrar, Straus and Giroux and due out imminently is "Name Me Nobody" on Hyperion Books for Children, a division of Disney. Her coming-of-age story scarcely sounds Disneyesque, however, dealing as it does with adolescent sexuality and identity. The heroine sounds a bit autobiographical, an estranged 14-year-old girl teased at school with "fat" nicknames like Lumpy. She, and seemingly all of Yamanaka's characters, speak pidgin ...

THE Honolulu Symphony has long felt its piano technician, Yoshi Nishimura of Mozart House, is the best there is. And others agree. World renowned pianist Vladimir Ashkenazy,for one. He's flying Yoshi to Europe again this summer to work on pianos at his homes in Switzerland and France. It's been an annual trip for Nishimura since the two met during an Ashkenazy appearance with the Symphony 15 years ago ...

THIS is the 25th bed race for Bill Soenksen. Long after Carole Kai stepped aside, volunteer Soenksen persevered on behalf of several charities and on April 24 will celebrate his quarter-century mark ...

Nick's at Nite

MAUI has long been a refuge from La-La Land for rock stars, and their new hangout in Lahaina seems to be Nick's Fishmarket. Stopping in to enjoy Chef Michael Miho's cuisine have been the likes of Rod Stewart and family, Stephen Stills, rockers Lisa Loeb and Dweezil Zappa and '70s pop star David Cassidy ... I'm off to Blighty, and will returnApril 27 ...

---




Dave Donnelly has been writing on happenings
in Hawaii for the Star-Bulletin since 1968.
His columns run Monday through Friday.

Contact Dave by e-mail: donnelly@kestrok.com.
E-mail to Features Editor
---
---
© 1999 Honolulu Star-Bulletin
http://archives.starbulletin.com