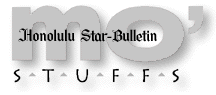 ---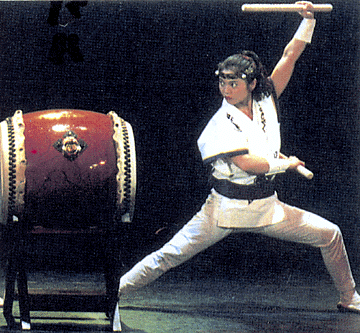 Courtesy of Kapiolani Community College
Amanojaku of Tokyo will perform at the 47th Annual
Cherry Blossom Festival's Taiko Festival.
---
Expect a bang-up job
at Cherry Blossom fest
Boom. Boom. Boom.

The Blaisdell Concert Hall will reverberate with taiko sounds from three groups today during the 47th Cherry Blossom Festival's Hawaii International Taiko Festival.

Scheduled to perform is Hawaii's Kenny Endo Taiko Ensemble, Japan's Amanojaku and Los Angeles' Zenshuji Zendeko.

Amanojaku features a combination of traditional taiko drumming with modern music. The well-known contemporary group from Japan was formed in 1996 by Yoichi Watanabe and they have toured the world performing in Thailand, New Zealand, El Salvador and Europe.

Zenshuji Zendeko, dubbed "one of the premier" youth-oriented cultural performing art groups in the United States, was formed in 1986. Members range in ages from 10 to 26 and in addition to taiko drums, members perform on other percussion instruments. The group performed at the closing ceremonies of the World Cup Soccer.

Kenny Endo Taiko Ensemble also graces the stage with their traditional and contemporary Japanese drumming and event-goers will be able to meet the 15 Cherry Blossom contestants.
Hawaii International Taiko Festival

Date: 8 p.m. today

Place: Blaisdell Concert Hall

Tickets: $18.50 and $27.50 at the Blaisdell Box office or by calling 591-2211. Part of the proceeds benefit the Hawaii Foodbank.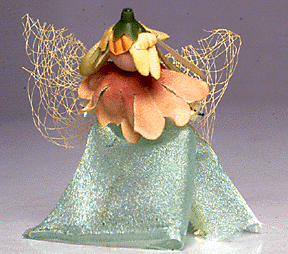 Star-Bulletin photo
Children can make this spring flower fairy at the fair.
Fun and games for
kids at fair
Little princesses and princes can make fairy wands or crowns, play with popsicle puppets or ride ponies tomorrow at the Honolulu Waldorf School's annual fair.

"A World of Fun for Children" will take place from 9 a.m. to 4 p.m. and features games for the youngsters, a plant sale for the adults, and food and entertainment for everyone. There also will be an Amazing Maze to stroll through, a science magic show to watch, and fortune telling and facepainting to enjoy.

The school is at 350 Ulua St. and admission is free.

For information, call 377-5471.

Travel to Tahiti
with Keali'i Reichel
The second installment of "Hawaiian Pathways: Keali'i Reichel in Tahiti" will be shown at 9 p.m. today on KHON/Fox.

The special follows Hawaiian musician, singer and songwriter Reichel as he explores the islands of Moorea and Tahiti. He visits sacred sites, attends rehearsals of a Tahitian dance troupe as they prepare for an annual dance festival, spends time with his godmother, singer Melveen Leed, and spends a day in the country with poet Samuel Tuahu.

The program will be rebroadcast 2 p.m. Saturday.

Sheila E. and Pete Escovedo
join Cinco De Mayo lineup
Hit vocalist Sheila E. will join her father, Pete Escovedo, and his orchestra at the Cinco De Mayo Latin Music & Dance Festival.

The festival will take place May 5 at 7 p.m. at the Neil Blaisdell Center Arena.

Sheila E. has recorded and toured with Prince, now know as The Artist, and Lionel Ritchie. She also recorded the hit single "Glamorous Life."

Escovedo, a band leader and timbale player, toured and recorded with Santana for three years.

Also on the festival bill are Tito Puente and the local Latin dance band Rolando Sanchez and Salsa Hawaii.

Three dance floors are being constructed in the arena for the event.

Tickets will be available beginning Monday at the Blaisdell Center Box Office. Reserved premium seating will cost $35, general admission to the lower level $25 and reserved seating upper level $20.

Call 591-2211 for more information.






Click for online
calendars and events.
---
Send WatDat? questions, stories
or any other story ideas or comments to:
Features, Honolulu Star-Bulletin, P.O. Box 3080,
Honolulu, HI 96802 or send a fax to 523-8509
or E-mail to features@starbulletin.com.
Please include your phone number.
E-mail to Features Editor
---
---
© 1999 Honolulu Star-Bulletin
http://archives.starbulletin.com