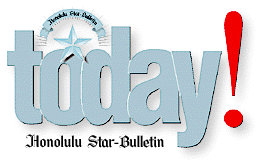 ---
Hawaii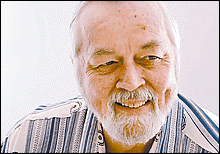 By Dave Donnelly
Friday, March 12, 1999
---
Sedaka charms
karaoke patrons

KARAOKE bars are not to everyone's taste, especially if you have an ear and can distinguish whether an enthusiastic participant can carry a tune. But sometimes you get a surprise. Such as the people in a Waikiki karaoke bar when a family fresh from having dinner at Suntory happened in, and the daughter took the mike and sang. She then talked her dad into taking over and he sang "Laughter in the Rain" to much applause. One woman sitting near them asked the chap, "Do you know 'Breaking Up Is Hard to Do'? You sound just like Neil Sedaka." It was Sedaka, of course, and his daughter Dara who'd preceded him in song. The whole family leaves today after a vacation at the Kahala Mandarin, and tomorrow Sedaka celebrates his 60th birthday ...

YOU couldn't make this up: Lani and Morris Kalamau of Waianae bought a new Kia Sportage from Bill van den Hurk's dealership, the first for Kia in Hawaii. Later in that same week, Lani gave birth to the couple's son in the parking lot of the hospital - in the front seat of the Kia. The Kalamaus must have taken it as a good sign, because they named their newborn boy Kia Lee Francis Kalamau. Both new Kias are doing just fine ...

Friochadh Gaelach, anyone?

THEY'RE getting a head start on St. Patrick's Day tomorrow beginning at 10 a.m. at Murphy's Bar & Grill when owner Don Murphy puts on an "Irish Fry" breakfast - that's Friochadh Gaelach in Gaelic. The farmhouse breakfast consists of Galtee bacon, bangers, corned beef hash, soda bread, black and white pudding, fried tomatoes and eggs, accompanied by Guinness or Harp and Irish Coffee, all inclusive at $20. Proceeds from the breakfast go to Eye of the Pacific, to help match a guide dog with a sightless Hawaii resident. Big question: How much work can get done on an Irish farm after the workers start their day with such a feed? At last year's breakfast, over 350 were served with proceeds to St. Francis Hospice ... FOR those who consume a feed such as Murphy's tomorrow, it might be wise to take a nap before attending a closed-circuit screening of the Evander Holyfield-Lennox Lewis heavyweight match. Promoter Tom Moffatt has screens set up at Rumours, Snappers and Players for the 4 p.m. telecast ...

THE death of Joe Dimaggio brought back memories for Lucille Nelson Inn, a girl of 20 in 1944 who'd been set up by old Dimaggio buddy Carl Machado, the Star-Bulletin sports writer, to go on a date with the Yankee Clipper. She knew nothing about baseball, but trusted Machado and sure enough, she reports she and Joe sat together in the backseat of a car but he was a perfect gentleman and didn't even kiss her goodnight. In those days, she recalled, "If a boy kissed me, he married me." Just think, she could have been Marilyn Monroe ...

Strengthen that stage

FOR the first time, all four of Hawaii's sumo champs will appear together in Hawaii for a special tribute from the Japan-America Society of Hawaii. Joining forces will be the former Takamiyama, Akebono, Mushashimaru and Konishiki. The tribute will take place March 31 at 6 p.m. at the Sheraton Waikiki. There'll be a cocktail hour so guests can mingle with the big boys, Larry Price will look slender as emcee, there'll be tributes from the governor, mayor and Japanese consul general, plus the traditional breaking of the sake barrel and kanpai. Plus, the sumotori will do a sumo jinku, a traditional rap song. Somebody should record that for the David Letterman show ...

---




Dave Donnelly has been writing on happenings
in Hawaii for the Star-Bulletin since 1968.
His columns run Monday through Friday.

Contact Dave by e-mail: donnelly@kestrok.com.
E-mail to Features Editor
---
---
© 1999 Honolulu Star-Bulletin
http://archives.starbulletin.com