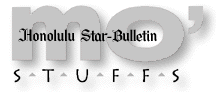 ---
Wednesday, March 10, 1999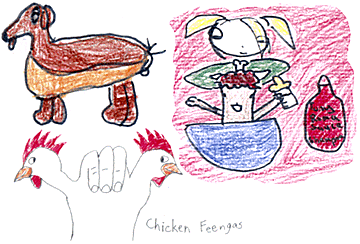 Winning work included chicken fingers by Ian Araki
of Lunalilo School, Roma dog by Tae McCash of Waialae,
and baby back ribs by Julia Tokuhama of Alvah Scott.
---
Kids put fun
on the menu
What's a baby back rib, anyway? It's a rib that wears diapers and says "goo-goo," obviously. And chicken fingers do the shaka.

Things like this happen to food when kids are in charge, and that's what Tony Roma's Famous for Ribs restaurants did with a recent art contest.

Schools in the vicinity of the four Hawaii Tony Roma's were invited to have their students illustrate the restaurant's keiki menu items: ribs, chicken "feengas," burgers-in-a-basket, barbecued chicken and the Roma jumbo hotdog.

First-place winners claimed iMac computers for their schools and $200 Sports Authority gift certificates for themselves. Winning entries will be displayed at the restaurants through the year.






Click for online
calendars and events.
---
Send WatDat? questions, stories
or any other story ideas or comments to:
Features, Honolulu Star-Bulletin, P.O. Box 3080,
Honolulu, HI 96802 or send a fax to 523-8509
or E-mail to features@starbulletin.com.
Please include your phone number.
E-mail to Features Editor
---
---
© 1999 Honolulu Star-Bulletin
http://archives.starbulletin.com