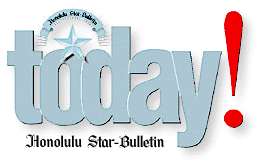 ---
Hawaii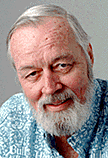 By Dave Donnelly
Wednesday, March 10, 1999
---
Alan Wong has
a heart

IT has the makings of a novel: A bar, a chef, a buffet/Grill and romance. The bar would be the one at Alan Wong's, where bar manager Sean Nakamura has been planning his March 28 wedding. Since he's getting married in the morning and holding a wedding luncheon, Wong allowed he didn't have to report for work that evening ... And romance is in the air at Chef Mavro's. George Mavrothalassitis opened his eatery in December and early diners quickly made reservations at the romantic eatery for Valentine's Day. It sold out a month in advance. So while everyone is making plans for New Year's Eve leading into the new millennium, Chef Mavro has already taken his first reservations for Valentine's Day 2000 ... And finally, Pierre Grill, who's working on a new CD with cabaret star Matt Yee, predicts people will love it. Yee, who did a show for KHPR called "Co-Dependent Show (A Timeless Look at Love)" is thinking of a reprise. This time, in tribute to those who get hitched and let themselves go, he'll call it "Co-Dependent Show part II (Body by Buffet)" -- and he doesn't mean Guy Buffet ...

Mojo working

THE former lead singer and harmonica player for Mojo Hand, until its breakup one of Honolulu's top blues bands, is still working. Mark Prados now lives in Lancaster, Pa., but with another ex-isle musician, bassist John Schatt, has formed a blues band called Honolulu Slim and the Diamonds. When he's not performing in clubs or at blues fests, Prados works at a local music store and performs at local schools ... Sorry to hear of the death in Florida last week of Tilda Brown, widow of Bob Brown, former owner of Honolulu Magazine ...

LOTS of top politicos at the Alzheimer's Association fund-raiser including Gov. and Mrs. Ben Cayetano, Mayor Jeremy Harris and former Gov. George Ariyoshi with wife Jean, who cut a dashing figure on the dance floor to a Dixieland tune -- if you can imagine that. But the guy who came up with the bucks to buy the 27-inch Sony TV in the silent auction was former GOP chairman Jared Jossem. In a display of generosity, he turned around and donated the TV to the Alzheimer's special education center. Also on hand was the cast of MTV's "Real World," with a crew getting them on film ...

ST. PATRICK'S Day is just a week away. Got an e-mail from the head of the Friendly Sons of St. Patrick in Harrisburg, Pa., a 1981 grad of St. Louis High who read about plans for the day in Honolulu in my online column. The chap with the only-in-Hawaii name Sean Chang Connelly reports, "The Star Bulletin website is an oasis for us Mainland exiles raised in Hawaii." They'll be celebrating the day a bit early there -- on Friday, in fact, to be followed by the St. Patrick's Day Parade in Philadelphia on Saturday. And while some Friendly Sons in Harrisburg want to visit Ireland for the festivities next year, Connolly is pushing for Waikiki. Says he, "With six inches of snow on the ground on this cold March day, it might not be too difficult to argue for Oahu over Ireland" ...

A non-Paddy's Day event

NOT everything happening on March 17 relates to the Irish. For instance, there'll be a benefit concert for Leimomi Golis, a single mother with a severely handicapped child, who now has been diagnosed with cancer. The 5-hour concert will begin at 4:30 p.m. at the Ocean Club in Restaurant Row and donating their talents will be BB Shawn, Ben Vegas, Guy Cruz, Imua, John Cruz, John Feary, Opihi Pickers, Pure Heart, Rocky Brown, Typical Hawaiians and 96744. Tickets are $10 at the door ...

---




Dave Donnelly has been writing on happenings
in Hawaii for the Star-Bulletin since 1968.
His columns run Monday through Friday.

Contact Dave by e-mail: donnelly@kestrok.com.
E-mail to Features Editor
---
---
© 1999 Honolulu Star-Bulletin
http://archives.starbulletin.com