---
Monday, March 1, 1999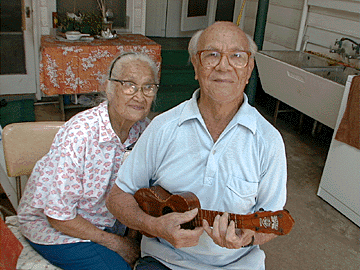 By Craig T. Kojima, Star-Bulletin
Jonah Kumalae Jr., with his wife, Eunice, strums one of
the ukuleles manufactured by his father.
---
Sounds of the koa
ukulele evoke historic
home's past

Once home to a ukulele maker,
Dreier Manor also was the St. Louis
Alumni Association's clubhouse

By Rod Ohira
Star-Bulletin

At age 94, Jonah Kumalae Jr. strums a koa ukulele that's nearly as old as he is.

He doesn't recall exactly when his father gave him the ukulele, but knows it's one of the few existing links to a storied cupola mansion on Isenberg Street that was torn down after being damaged by fire in July 1950.

Before Dreier Manor became the St. Louis Alumni Association's first Moiliili clubhouse, it was the family home of Jonah Kumalae, an award-winning ukulele manufacturer, publisher and colorful political figure.

The house, built in the 1880s for Hawaiian Commercial and Sugar Refining Co. founder Claus Spreckels, was purchased by Kumalae in 1921 for about $1,400.

Remarkably, he dismantled the three-story structure by sections in order to move it from Punahou Street to Moiliili, where it was reassembled.

There goes the neighborhood

Kumalae then moved his wife and eight children from Liliha into their spacious new nine-bedroom home.

"Moiliili was like bare ground in those days," recalled Kumalae Jr. "There was hardly any stores and maybe three or four houses down the road near Kapiolani (Boulevard).

"There was no stadium yet but we used to watch football and baseball at Moiliili field."

His father had four employees making ukuleles in a small factory in back of the house, Kumalae Jr. said. His ukulele was made there, he added.

Kumalae ukuleles were never made of leftover wood from the Spreckels house, Kumalae Jr. said dispeling a popular myth. He says the koa came from Kona.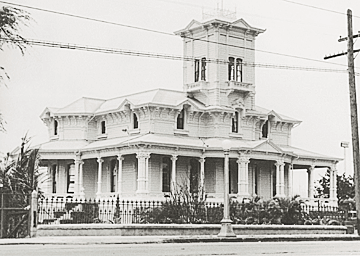 By Craig T. Kojima, Star-Bulletin
The ukuleles were made in the back of Kumalae's childhood
home, pictured here in a 1950 file photo, before the structure
was bought by the St. Louis Alumni Association.
---
Kumalae ukuleles were popular, even before the family moved to Moiliili. In 1915, a Kumalae ukulele received top honors at the Panama-Pacific International Exposition in San Francisco. A model of the award-winning ukulele is on display at Bishop Museum.

The family stopped making ukuleles when Jonah Kumalae died in May 1940 at age 65.

Ukuleles for $7.50

His father made several different kinds of ukuleles, Kumalae Jr. says.

"They called it A,B,C and O," he added. "The O had only three strings. The price depended on the grade of wood -- the cheapest one sold for $7.50 and the most expensive one was $20."

Kumalae Jr., a former mail carrier, still plays in public.

"There's about eight of us that go to Lunalilo Home and play for the shut-ins," he said. "I'll play whenever they ask."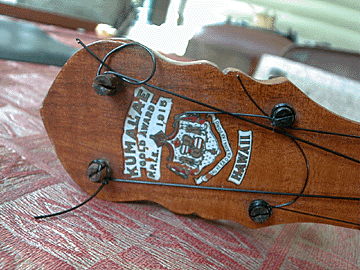 By Craig T. Kojima, Star-Bulletin
The Kulumalae crest adorns this old ukulele.
---
Sometimes he thinks about the old house while playing the ukulele.

"The happiest times was when we got together to sing at parties or church," Kumalae said. "My father never played, he was too busy with politics.

"When they built (Honolulu Stadium in 1926), we had the best seat. We watched all the football and baseball games from the second floor."

The St. Louis Alumni Association purchased the Kumalae home in June 1937 for $18,500. It was named Dreier Manor, in honor of philanthropist August Dreier, who founded Oahu Ice & Cold Storage Co.

Dreier 30 years earlier had purchased a downtown building on Union Street (which is now a mall) as a gift for what was then called the St. Louis College Alumni Association. The title was vested in the name of Bishop Libert Rubert Boeynaems, the vicar apostolic of Hawaii, with the understanding that it be used as a clubhouse.

'It's still a nice place'

The property was leased and when the trusteeship was dissolved in 1929, the alumni association had $50,000 in the bank.

The acquisition of the Kumalae home brought with it 71,000 square feet of property. After Dreier Manor was torn down, the alumni association eventually replaced it with the current clubhouse.

"It's still a nice place," says Kumalae, who lives nearby on Coyne Street.
E-mail to City Desk
---
---
© 1999 Honolulu Star-Bulletin
http://archives.starbulletin.com