---
Monday, March 1, 1999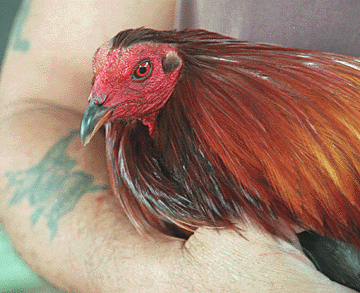 By Craig T. Kojima, Star-Bulletin
A fighting cock of Waianae. "It's in them to fight. You don't
force them to fight," said owner Paul Romias.
---



Game bird advocates are pushing
a bill that would allow cockfighting
in a licensed testing facility
on the Big Island

By Craig Gima
Star-Bulletin

Paul Romias picked up a fighting cock, cradled it in his arms and stroked it like a pet. The bird's black, red and yellow iridescent feathers shimmered under the Waianae sun. It cooed as he put it down.

"You gotta love them," he said, explaining that not all game birds are aggressive.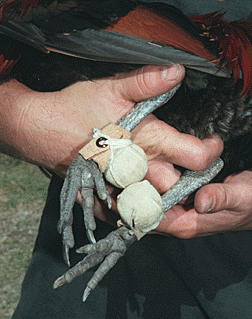 By Craig T. Kojima, Star-Bulletin
"Gloves" are placed over the birds' clipped
spurs to minimize injury.
---
The birds, he said -- like those who raise them -- are misunderstood by the public.

"They make you look like a criminal, like a person who doesn't go work. It's not true," Romias said. "We want the public to understand we are good guys, too."

But those opposed to cockfighting say there is no misunderstanding.

"Cockfighting is cruel and it's uncivilized," said Dorothy Bobilin, chairwoman of the Hawaii Coalition Against Legalized Gambling.

"Whenever you have cockfighting you have gambling. When you have gambling you have all of the social and economic problems that that brings," she added.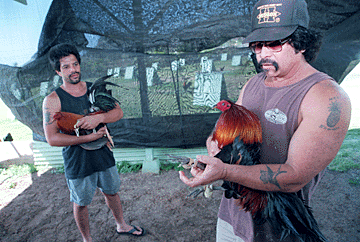 By Craig T. Kojima, Star-Bulletin
Duce Romias, left, and Paul Romias place "gloves" over the
cocks' clipped spurs to prevent the birds from seriously injuring
each other during a practice run at the Romias' farm
in the back of Waianae Valley.
---
Romias and others who raise game birds are pushing a bill in the Legislature that could allow cockfighting in a licensed testing facility on the Big Island. The bill would set up a Game Bird Testing Facility Licensing Board to make rules, and license and select a company to build and run the facility.

The state's cruelty to animals statute, which outlaws cockfighting, would not apply in the facility.

The bill passed the Senate Economic Development Committee and now must have a hearing before the Ways and Means Committee if it is to advance.

Humane Society responds

The Hawaiian Humane Society last week wrote a letter to Senate President Norman Mizuguchi asking him to send the bill to the Judiciary Committee, where it would likely die.

Proponents say the bill is not about legalizing cockfighting -- it's about the economy. They say raising game birds could be a multimillion-dollar business if the testing facility can be built.

"If we are to get things going on the Big Island, it's better that we focus on individuals to start the businesses rather than wait for some big mega-company to come," said game-bird farmer Ken Fujiyama.

Fujiyama said the raising and selling of the birds is an industry that small farmers easily could enter.

He said the testing facility would attract game-bird fanciers from all over the world and would help in marketing the birds. Rather than staging actual cockfights, the facility might just spar the birds or perhaps showcase them on their appearance and breeding "like a dog show," he said.

But opponents say they are not fooled. The facility, they said, would be for cockfighting, and allowing cockfighting or even sparring would be bad for tourism.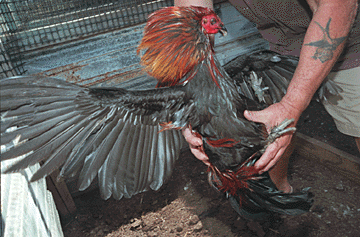 By Craig T. Kojima, Star-Bulletin
Paul Romias handles a breeding cock.
---
"It could drive tourists away," Bobilin said. "Hawaii means something more than having a bloody, cruel sport."

Romias doesn't believe cockfighting is cruel. He said it's part of nature.

"It's not chicken fight. It's game fowl," Romias said. He said there's a difference between barnyard chickens and fighting cocks.

"It's in them to fight. You don't force them to fight," he said.

To make his point, at his Waianae farm, Romias and his son took two birds and placed "gloves" over their clipped spurs, sharp claws in the back of their legs that the birds use as a weapon. Breeders cut off the spurs to prevent the birds from seriously injuring one another.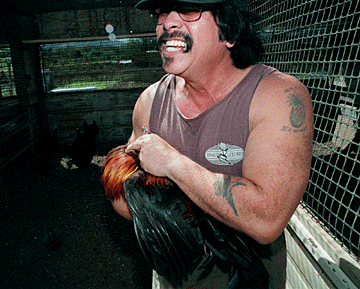 By Craig T. Kojima, Star-Bulletin
Romias grimaces as a cock bites him on the arm. The bird
was aggressive because Romias was in the pen that
houses the cock's hens.
---
The birds stared at each other and, when Romias and his son let them go, went at each other in a blur of feathers.

In less than a minute, Romias and his son separated the birds. He said a trained eye can tell which bird would win an actual fight by the way it flies and attacks.

All in the family

Raising game birds is not illegal. Romias has about 400 birds on his farm in the back of Waianae Valley. It's a family operation, he said. His children and grandchildren help. His father on Maui also raised game birds.

Romias believes there are 200 to 300 medium- to large-sized game-bird farms in Hawaii.

If the bill passes, Romias said his part-time vocation would become full time. He estimates he could make $100,000 a year raising and selling birds locally and to other Pacific Island nations.

Raising game birds has already helped his pest control business because of contacts he has made through his hobby. He has been able to expand his company to Guam, Saipan and the Philippines.

Romias said he knows he will not change the minds of those who oppose cockfighting.

Holding up both hands to make a point, Romias said on one side are game-bird advocates who believe the animals could be a big industry for Hawaii. On the other are the people who believe cockfighting is cruelty to animals.

The future of the bill, he said, lies with the people in the middle.
E-mail to City Desk
---
---
© 1999 Honolulu Star-Bulletin
http://archives.starbulletin.com