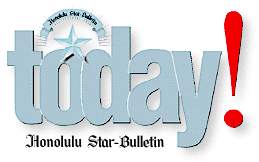 ---
Hawaii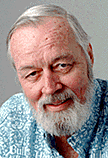 By Dave Donnelly
Monday, March 1, 1999
---
TV ads irk
ailing viewer

WHEN you're fighting a flu bug, as I almost never do, you find yourself sitting at home and watching an inordinate amount of television. Too much effort to read. In the space of three days I made certain observations about TV commercials I simply cannot abide. Top of the list are those that mention "10-10" anything! If it isn't 10-10, it's masked in a "1-800" form. Two, any commercial -- and there are many -- when one character unveils a discovery of a product with a magicianlike "Ta-daaaaah!" Three, any commercial in which someone splashes, sprays, spritzes or otherwise inundates someone else with water, to the grand amusement of splasher and splashee alike. If someone were to do that to me, especially in a flu-induced ill-temper, I'd smack 'em. Four, that guy in the local auto commercial who's in drag, and five, the laidback guy who's in nearly every Ford spot on the air, and whose look and sound send me leaping for a tranquilizer. There, I feel better already ...

THERE ought to be a chef's weigh-in when Big Brothers/Big Sisters presents Big Chefs in "The Big Easy," a gourmet feast April 3 at the Hilton Hawaiian Village. In one corner, New Orleans chef Paul Prudhomme and in the other, Hawaii's own "Opu Nui," Chef Sam Choy. Oh, and the food promises to be as big a treat as those preparing it ...

Straight 'A' kids

PASTOR Don Eads of the Big Island is understandably proud of his kids, Michael and Angel, both straight "A" students in their second year of college. It helps if you know they are 15 and 13 respectively. Pastor Don says the students are classified in such a way that they can't apply for financial aid, so he's hoping some generous souls will help further the education of these two bright teen-agers by sending contributions in any amount to Aloha Christian Fellowship, P.O. Box 437143, Kamuela, HI 96743. Checks can be made out to Aloha Christian Fellowship, Scholarship Fund for Michael and Angel Eads ...

FUNNY, but after watching the first half of the UH-Fresno State game Saturday night, and seeing the 20-minute 'Bows with a six-point lead, an inescapable feeling came over me that the local team didn't have a chance. Sure enough, they went on to lose by 12. You have to wonder what Coach Riley Wallace tells his team at half-time, and if they might not be better served if he just went out for a hot dog ... Tonight's a big one for Kimberly Higuchi of Aiea. In a KQMQ contest she won a date to have dinner and see the SOS with Jason Lent from DisGuyz of the "Yes!" show at the Polynesian Palace ...

CONGRATS to Melissa Wyman, winner of the 1999 Shakespeare Competition sponsored by the English-Speaking Union. For the second year in a row, the judges, who don't know what school the contestants represent, awarded first prize to a Mililani High student. She beat students from all other participating schools in the state and will represent Hawaii in the national competition in New York ...

A grandpa again

LEGENDARY isle barkeep Tommy Velasco (Palm Tree Inn, Zebra Room, Sparkies) is a grandpa for the second time in three months. Well into his 80s, Tommy and wife Rumelia figured they may never become grandparents, but daughter Rumelia gave birth Nov. 27 to Noah Kalei, and now his second daughter, Adelaida, and her husband, national newsman Barry Severson, have welcomed a son, Lars, on Feb. 25, three months to the day after her sister. Needless to say, the Velasco clan is ecstatic ...

---




Dave Donnelly has been writing on happenings
in Hawaii for the Star-Bulletin since 1968.
His columns run Monday through Friday.

Contact Dave by e-mail: donnelly@kestrok.com.
E-mail to Features Editor
---
---
© 1999 Honolulu Star-Bulletin
http://archives.starbulletin.com