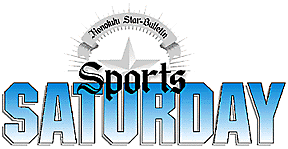 ---
H A W A I I _ S P O R T S

Notebook



Saturday, February 27, 1999

R A I N B O W _ B A S K E T B A L L
---



RAINBOW PLAYBOOK

Fresno State Bulldogs

Coaches: Fresno State's Jerry Tarkanian (4th year, 83-46); Hawaii's Riley Wallace (12th year, 181-171)

Season: Fresno State 19-10 (8-5 WAC); Hawaii: 6-19 (3-10 WAC)

Top players: Chris Herren, 6-3 senior point guard (11.3 ppg, 1.8 rpg), Courtney Alexander, 6-5 junior guard (21.4, 3.8 rpg), Terrance Roberson, 6-7 senior forward (13.2 ppg, 6.1 rpg), Melvin Ely, 6-9 sophomore center (11.1 ppg, 6.6 rpg), Willie Farley, 6-5 senior guard (12.4 ppg, 5.9 rpg).

Interesting facts: Tarkanian needs a win tonight to have his fourth straight 20-win season at Fresno State ... Bulldogs point guard Chris Herren, who is expected to be drafted by the NBA in June, was the subject of Bill Reynolds' book, ''Fall River Dreams" ...Fresno State leads the series, 11-4, and has won five of the last six games ...The last time the Bulldogs were here, they knocked Hawaii out of the NIT with an 85-83 victory ... After the game, Bryan Moeller, Casey Cartwright, Mike Robinson and Erin Galloway will be honored in traditional senior night ceremonies.

Keys to the game: Marquette Alexander, the Rainbows' leading scorer for 1998-99 (13.4 ppg), is suspended tonight ... Mike Robinson had a career-high 8 blocks Thursday against San Jose State ... Rainbows reserve guard Mike McIntyre has averaged more than 13 ppg in each of Hawaii's three WAC wins ... Herren missed five games this season due to injury and returned to the starting lineup Jan. 23 in a 79-75 win against BYU.

Tipoff: Today, 7:07 p.m., Stan Sheriff Center.

On the air: KFVE TV (Channel 5); KCCN radio (1420 AM).
W A H I N E _ B A S K E T B A L L
---



WAHINE PLAYBOOK

Fresno State Bulldogs

Coaches: FSU, Britt King (1st season, 9-17). UH, Vince Goo (12th season, 240-106).

Season: FSU, 9-17 (4-9 WAC). UH, 16-9 (WAC 8-5).

Top players: Tiffany Lewis, 6-0 forward, 13.1 points and 9.6 rebounds (tops in WAC) per game; Jessie Farias, 5-6 guard, 11.1 points, 5.9 assists, 2.7 steals per game, 40 percent 3-point shooter (41-of-102); Angel Hines, 6-1 forward, 6.7 rpg.

Interesting facts: Lewis makes 50 percent (140-of-280) of her field goal attempts ... UH's Raylene Howard leads the WAC in that category with a .570 percentage (170-of-298) ... Wahine lead the series, 15-6 ... Howard needs 17 points to move past Kendis (Leeburg) Paris into fourth place on the all-time UH scoring list. Howard has 1,250 career points. Four more field goals and the 5-foot-11 forward takes over seventh place on that list.

Keys to the game: "We want to finish the regular season with 17 wins. That's important to us," said Goo. "Fresno State is a tough place to play, always has been for us." ... The Bulldogs clinched a WAC tournament berth Thursday night and may experience a letdown. However, both teams want to have positive momentum entering the tournament ... UH center Hedy Liu sprained the lateral collateral ligament in right knee in the San Jose State game. She is expected to play tonight, but Goo doesn't know for how long ... The teams score about the same number of points per game, but FSU gives up 10 more per game than UH ... The Wahine's defensive intensity has to be better than Thursday's effort ... Hawaii shoots better than the Bulldogs from the field, 3-point land and the free-throw line ... Wahine shooters have to be on because FSU holds rebounding edge.

Tipoff: Today, 5 p.m. HST at North Gym.

On the air: Today, live on KCCN radio (1420 AM).
E-mail to Sports Editor
---
---
© 1999 Honolulu Star-Bulletin
http://archives.starbulletin.com