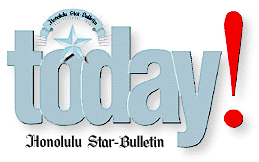 ---
Friday, February 26, 1999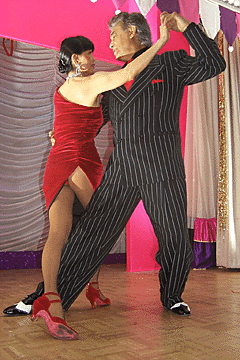 By Craig T. Kojima, Star-Bulletin
Mariko Lyons and Felix Chavez will perform in the 44th
Annual Mardi Gras Follies at Pearl Harbor.
---
Language of Tango
speaks volumes

By John Berger
Special to the Star-Bulletin

MARIKO Lyons was raised in Japan where cultural mores dictate internalizing emotions and keeping her feelings hidden. These principles defined her life even after years spent living in America. It wasn't until she discovered the sensual Argentine tango 10 years ago that she learned to express her emotions.

"I'm still shy, and (the dance is) very sensual, but when you dance it, you have express yourself whether you like it or not. At first, when we were dancing I would look away. Now I'm coming out of my shell. It's wonderful," Lyons said.

Her dance partner is Felix Chavez, a Los Angeles-based professional dancer and dance instructor. Chavez was referred to her last year by a mutual friend and Lyons spent some vacation time taking classes from him in L.A. Now Chavez is taking a "working vacation" in Hawaii to dance the Argentine tango with Lyons in the 44th Annual Mardi Gras Follies show at Pearl Harbor. Their duet, "La Comprasita," is one of the production's most spectacular numbers.

"Argentine tango is not a dance per se but an emotion expressing some kind of life as it is at that moment," Chavez says.

"Every time you dance, the music may be the same but you may feel it completely differently. You may have a routine but you still need that element to create the emotion. It can be the same movement but a different feeling.

"Her culture says she should hold back the expression, but she has that spark, and when she gets to express it she's going to be dynamite."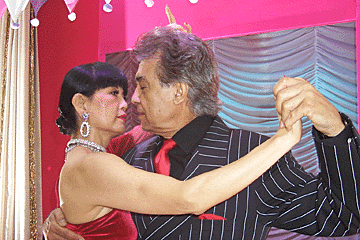 By Craig T. Kojima, Star-Bulletin
"Argentine Tango is a romance, an emotion," says dancer
Felix Chavez, pictured here with partner Mariko Lyons.
---
Chavez came to Hawaii for the first time as a sailor in 1952. He settled in Albuquerque after leaving the Navy and became a dance instructor almost by accident. A woman who liked to dance told him that he danced "like an ox." The insult stung.

So, when a friend mentioned that a local dance studio was looking for instructor-trainees he signed up. Chavez has been dancing and teaching dance professionally for more than 40 years.

"Anyone who can walk can dance if they have the desire to do so and the willingness to work at it," Chavez says, adding one of the secrets is dancing "in the music" rather than dancing "to the music."

"Balance has no weight. How much does the Earth weigh? Nothing, because it's well balanced in the cosmos and floating. It's the same thing with our bodies. If we understand the balance within the interval (of each movement) then there's no weight and it's easy to move on the dance floor or even walk."

Chavez and Lyons bring these principles to the Follies. Lyons' slinky tango gown is complimented by Chavez' custom-designed, double-breasted black chalk-stripe suit. Their performance is a seductive and supremely graceful interlude in a colorful cross-cultural show.

The women of Les Tap Hot! contribute a bright splash of color in "Until Now," Cassandra Garcia and Jose Lucio celebrate the folk dance traditions of Mexico, and Peiping-trained Sing Sing Bliss gets competent support from Danny Woo and Ken Ru as she stars in a traditional Chinese dance.

Follies veteran Mary Barbosa's poignant interpretation of "Maybe This Time" establishes her as the show's most compelling vocalist. She also pairs off beautifully opposite Jess Robbins on "You Don't Bring Me Flowers." Robbins adds his impression of Neil Diamond to good effect elsewhere in the show. Denise Bee evokes memories of oldtime burlesque with her faux-innocent rendition of "Everybody's Girl," and Sacci Lupica sparkles with promise in "Give Me the Spotlight."

Production values elsewhere are sometimes uneven. On some numbers the "singers" appear to be lip-syncing. On others, it is obvious the performer is miming into a dead mike. The obvious enthusiasm of the cast helps smooth over such moments.

Credit Jack Cione (writer/director/choreographer), Bill Doherty (costume design), Susan Tejada (makeup), and the volunteer cast with once again staging a community fund-raiser in the best traditions of community theater. (The Pearl Harbor Performing Arts Association donated more than $23,000 to local charities last year).

And credit Lyons and Chavez with bringing the Argentine tango.

"Argentine tango is a romance, an emotion," Chavez says. "The American or international tango is expressive in its own way, but when you dance it you're dancing together but looking away from each other. It's like a couple staying together because of the kids!"

On Stage

What: "Mardi Gras Follies 1999": Presented by the Pearl Harbor Performing Arts Association
When: Fridays and Saturdays through March 27, with 6:30 p.m. buffet and 7:45 p.m. show. Also, 1:30 p.m. matinees March 7 and 14, with noon buffet. The March 13 and 26 performances are sold out
Where: The Banyans at Pearl Harbor, enter base through Nimitz gate to get to the officers' club
Cost: $36 and $31 includes buffet.
Call: 473-1703






Click for online
calendars and events.
E-mail to Features Editor
---
---
© 1999 Honolulu Star-Bulletin
http://archives.starbulletin.com