---
Wednesday, February 24, 1999



Peters loses
bid to dismiss
criminal indictment


The court's ruling upholds
Bronster's right to conduct both
criminal and civil cases

By Rick Daysog
Star-Bulletin

A state judge today rejected Bishop Estate trustee Henry Peters' efforts to dismiss a criminal indictment against him, in a major victory for the attorney general's 18-month investigation of the estate's trustees.

Calling it a precedent-setting case in Hawaii, Circuit Judge Michael Town ruled that Attorney General Margery Bronster has the legal authority to bring the criminal case against Peters and local businessmen Jeffrey Stone and Leighton Mau.

Town also said Bronster does not have a legal conflict of interest in conducting simultaneous civil and criminal investigations of the Bishop Estate.

The decision will allow the state to take its criminal case against Peters, Stone and Mau to trial in May. It also reaffirms the attorney general's authority to conduct more criminal investigations relating to the Bishop Estate controversy.

Bronster's office recently convened a secret grand jury to investigate estate trustee Richard "Dickie" Wong, and the state is proceeding with a separate criminal case involving alleged campaign finance abuses by trust employees.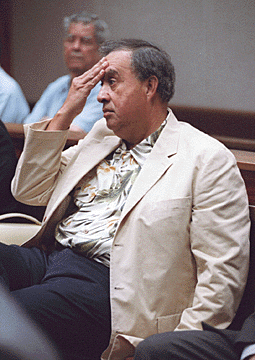 By Ken Ige, Star-Bulletin
Henry Peters today in court.
---
"What this does very clearly is resolve the issue of whether we have the authority and jurisdiction to prosecute (a criminal case)," said Lawrence Goya, deputy attorney general. "We are pleased with this decision."

Peters, in court today with Stone and Mau, was disappointed by the decision and said he plans to plead not guilty at his scheduled arraignment Friday.

Peters said he will discuss his options with his lawyer, Renee Yuen. John Edmunds, Stone's attorney, said he plans to appeal today's ruling to the state Supreme Court.

Peters, if convicted, could face up to 10 years in prison. Stone, a brother-in-law of trustee Wong, and Mau also face the possibility of 10-year terms.

"Any time innocent people are trampled upon . . . by the highest ranking law enforcement officer in the state of Hawaii, I consider that criminal," Peters said. "All of this is a sham as you well know, and given time, we will be able to prove that."

Today's ruling comes after a 16-member grand jury indicted Peters for theft on Nov. 25 for his role in an alleged kickback scheme. It also indicted Stone and Mau on conspiracy charges and for allegedly serving as accomplices to theft.

The nine-page indictment charged that in 1996 Peters sold his second-floor condominium in the 1015 Wilder Ave. complex in Makiki to a company affiliated with Stone for $192,500 more than it was worth. Peters later used the proceeds to acquire a 12th-floor apartment at the same building.

The apartment deals were in exchange for preferential treatment Stone and his business partners received when they bought the fee interest to the 229-unit Kalele Kai upscale condo project in Hawaii Kai, the indictment said.

The criminal allegations echoed some of the findings in a Sept. 10 probate court petition by Bronster to permanently remove Peters and fellow trustees Wong and Lokelani Lindsey.

The removal petition, which alleged that the three trustees engaged in a pattern of self-dealing and mismanagement, said both Peters and Wong received kickbacks from Stone. Wong has denied wrongdoing.

Town this morning said the attorney general's office did not supersede or usurp the local prosecutor's authority in handling this case and noted that Honolulu City Prosecutor Peter Carlisle had no problem letting the state handle the case.

Town also said Bronster had no real conflict of interest when it came to the dual role and that the defense only demonstrated a possible conflict of interest.

Bishop Estate fact-finder Patrick Yim:

Attorneys argued that bias and unnamed accusers were involved in his 1997 report criticizing trustee oversight of the school, but a judge has admitted it in trial.

---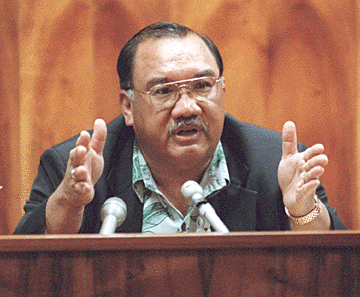 By Ken Ige, Star-Bulletin
Bishop Estate fact-finder Patrick Yim.
---
Yim's report on
Kamehameha allowed in
trial to oust Lindsey

The Bishop Estate fact-finder testifies
that he will keep his sources'
identities confidential

By Rick Daysog
Star-Bulletin

A state judge has ruled that Bishop Estate fact-finder Patrick Yim's critical report on the management of the estate-run Kamehameha Schools can be used in the removal trial of trustee Lokelani Lindsey, a setback for Lindsey's defense team.

Circuit Judge Bambi Weil yesterday admitted Yim's December 1997 report, which harshly criticized Lindsey's oversight of the Kapalama Heights campus, on the grounds that all five trustees had requested the report.

In petitioning the probate court for the appointment of a fact-finder in May 1997, the five trustees also delegated their authority to the fact-finder to sift through evidence surrounding the turmoil at the Kamehameha Schools, Weil said.

Yim's 46-page report said Lindsey, the estate's former lead trustee for education, intimidated students and staffers, fostered an environment of favoritism and undermined school President Michael Chun's duties and responsibilities.

The Yim report, based on 190 interviews and 1,300 questionnaire responses, recommended that Lindsey step down as lead trustee for education.

Attorneys for Bishop Estate trustees Oswald Stender and Gerard Jervis -- who are seeking Lindsey's removal from the estate's five-member board -- believe the report documents repeated breaches of fiduciary duty by Lindsey. They have also argued that she continues to harm the estate and the Kamehameha Schools through her actions as a trustee.

Lindsey has said the report is unbalanced and based largely on rumor and innuendo. Her attorneys have said that many of the witnesses interviewed by Yim were screened by a parent and alumni group, Na Pua a Ke Ali'i Pauahi, which her attorneys believe has a bias against Lindsey.

Lindsey has said she stepped down as lead trustee for education in August 1997 when the Kamehameha Schools completed its strategic plan. Lindsey's departure as lead trustee for education was not announced publicly until December 1997, after the report was released.

Lindsey's attorney, Michael Green, yesterday objected to the admission of the Yim report on the grounds that it was based on interviews with confidential sources. Green said he is unable to cross-examine many of Lindsey's accusers, depriving his client of due process.

Renee Yuen, Peters' attorney, joined Green's objections, saying much of the material in the report was gathered for a probate court proceeding.

She believes the material collected by Yim doesn't meet the more stringent guidelines for evidence in a civil case.

Under questioning by Green, Yim said he would not provide the identities of his sources because he had given a pledge of confidentiality.

Yim said many of his witnesses feared retaliation, and added that he had destroyed his interview notes.

Yim also testified that when he was hired to conduct his fact-finding report, he did not expect that it would be used in any civil investigation or a removal proceeding in probate court.

Yim's testimony continues today.

---



E-mail to City Desk
---
---
© 1999 Honolulu Star-Bulletin
http://archives.starbulletin.com