---
Friday, February 19, 1999
FBI seeks public's help
with unsolved 1998
bank robberies




Anyone with information about suspects
in these stories -- all considered
armed and dangerous
-- should call the FBI (521-1411) or
CrimeStoppers (955-8300).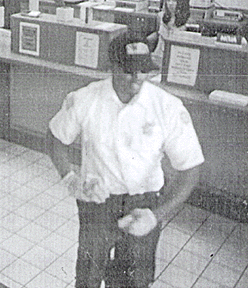 He staked out Mililani banks,
also stalked women in Waipio

Wearing an official-looking uniform and baseball cap bearing the word "security," the man attracted little attention as he staked out several Mililani banks last June 11.

At 12:40 p.m., the man entered the Central Oahu Community Federal Credit Union at 95-1249 Meheula Parkway, pulled a gun on three female employees and fled with an undisclosed amount of cash.

The man is not a suspect in any other Hawaii bank robberies, but police have linked him to several stalking complaints from women in the Waipio area from April to September 1998, said FBI supervisory special agent John Gillies.

The case is one of four unsolved 1998 bank robberies on Oahu, where 36 of the state's 40 holdups occurred.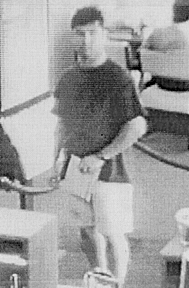 Thief hit Aina Haina bank the
day after Thanksgiving

On the day after Thanksgiving at 5:54 p.m., a slender man in his early 20s wearing a canvas fishing hat robbed American Savings Bank's Aina Haina branch of an undisclosed amount of cash.

The man had been seen outside the bank and walking along Kalanianaole Highway before the robbery, Gillies said.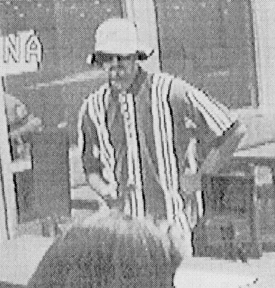 Man threatened bank teller,
fled in light-colored Toyota

The suspect in the Aug. 4 robbery of Central Pacific Bank's Mapunapuna branch is about 5 feet 8 inches and 160 pounds. He fled in a light-colored 1989 Toyota Corolla.

The man approached a teller about 12:15 p.m. and placed a note on the counter that read: "Do as I say -- nobody gets hurt -- fill this envelope with hundred and fifty dollar bills -- don't try anything -- I'm warning you."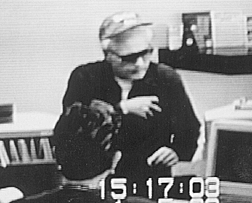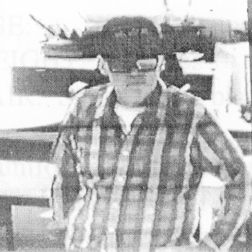 Gray-haired man fled on foot
in Pearl City, Pearlridge heists

An older man, possibly in his 50s or 60s, robbed the Pearl City branch of American Savings Bank on Aug. 8. The same man is also believed responsible for last month's robbery of the Pearlridge branch of Bank of Honolulu.

In both cases, the man mumbles something to a teller before presenting a demand note, Gillies said. No weapon was seen in either robbery.

Gillies says the suspect has managed to elude capture despite being chased on foot after each robbery.

The man is of medium build, between 5 feet 7 inches and 5 feet 10 inches, with medium-length gray hair.
E-mail to City Desk
---
---
© 1999 Honolulu Star-Bulletin
http://archives.starbulletin.com