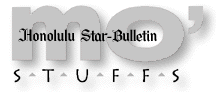 ---
Friday, February 19, 1999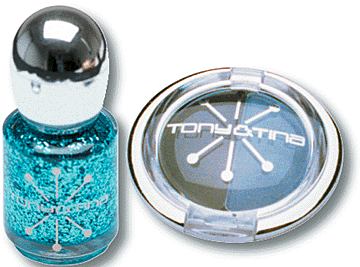 By Ken Ige, Star-Bulletin
Detox 2 sparkle nail polish at left, and Macro&Micro
wet/dry "frequency" eye shadow.
---
Got the blues? Colors
in new makeup line
may do the trick
Anthony Gill and Christina Bornstein -- the Tony and Tina of the cosmetics line Tony & Tina, will be appearing this weekend at Liberty House stores to introduce "Vibrational Remedies," their line of therapeutic cosmetics.

The eccentric line attempts to "realign your energy system through color therapy."

Oh, there's plenty of color all right. And glitter. All packaged in bottles with a Space Age design.

During the appearances, Tony and Tina will conduct "Color Energy Assessment Sessions," to determine what color your body is lacking or craving. They'll be talking anti-depressant lipstick -- formulated with lavender, bergamot, rosewater and rosemary essential oils -- that give an aromatherapy boost.

Appearances are as follows:

Today: LH Pearlridge cosmetics, 4 to 8 p.m.

Tomorrow: LH Ala Moana cosmetics, noon to 4 p.m.

Sunday: LH Kahala Mall cosmetics, noon to 4 p.m.

Monday: LH Kaahumanu, Maui, noon to 4 p.m.
Also, mark your calendars for Liberty House's annual Prom Fashion Show, taking place 1 to 2:30 p.m. March 6 at the Pearlridge store, second floor. Also featured will be hair and beauty makeovers and prize giveaways.
For more information, call 945-8144.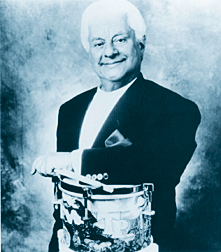 Berkely Agency
Tito Puente plays Hawaii in May.
---
Dance to Puente

It'll be a spicy Cinco de Mayo this year, with acclaimed Latin music artist Tito Puente and his band performing, 7 p.m. May 5 at the Neal Blaisdell Arena.

Joining four-time Grammy winner Puente for the concert will be Rolando Sanchez & Salsa Hawaii.

The arena will be set up with three dance floors to allow the audience to salsa, mambo, cha cha and merengue to the rhythms of the bands.

Tickets are $20 for reserved upper level seats, $25 for general admission lower level and dance floor seating, and $35 for reserved premium seating. They will go on sale March 15 at the Blaisdell box office, telephone 591-2211.

---




Hawaiian music
hall of fame show

An exhibit that explores the origins of Hawaiian music will be displayed Saturday through March 7 at Liberty House, Ala Moana.

The exhibit of the Hawaiian Music Hall of Fame and Museum will feature composers, musicians and vocalists through the last century.

The Royal Hawaiian Band will be honored as an inductee into the hall of fame and will give a free performance to open the exhibit at 10:30 a.m. Saturday on the store's third floor, next to the Garden Court Restaurant.

The hall of fame was begun in 1994. Previous honorees include Charles E. King (1995), Alvin Isaac and Alfred Apaka (1996-97); and Irmgard Aluli (1998.)

The Hawaiian Hall of Fame intends to inspire new generations of musicians to keep a rich tradition alive.






Click for online
calendars and events.





---





Send WatDat? questions, stories
or any other story ideas or comments to:
Features, Honolulu Star-Bulletin, P.O. Box 3080,
Honolulu, HI 96802 or send a fax to 523-8509
or E-mail to features@starbulletin.com.
Please include your phone number.
E-mail to Features Editor
---
---
© 1999 Honolulu Star-Bulletin
http://archives.starbulletin.com