---
Thursday, February 18, 1999



Kamehameha's
Chun testifies about
climate of fear


Schools' president is a
central figure in efforts to
remove Lokelani Lindsey

By Rick Daysog
Star-Bulletin

For nearly two years, Kamehameha Schools President Michael Chun has held his tongue as the campus turmoil devastated student, parent and teacher morale.

Yesterday, Chun spoke publicly for the first time about the controversy that has rocked the Kapalama Heights campus and divided the Kamehameha Schools ohana.

In testimony before Circuit Judge Bambi Weil, Chun described a climate of fear and intimidation that has cast a cloud over teachers' and administrators' day-to-day duties.

"There is a feeling that you don't want to attract attention to yourself even if there is something wonderful that you would like to share because you don't know what the consequences will be," said Chun, a 1961 graduate of the Bishop Estate-run school.

"When you attract attention to yourself, you become a nail and it's viewed that trustees walked around with a hammer."

Chun, Kamehameha Schools' president since 1988, is a key witness for Bishop Estate trustees Gerard Jervis and Oswald Stender, who are seeking to oust Lokelani Lindsey from the multibillion-dollar charitable trust's five-member board.

In a removal petition now in its fourth month of trial, Jervis and Stender allege that Lindsey breached her fiduciary duties, usurped Chun's authority and micromanaged Kamehameha Schools.

Lindsey believes Chun is a well-liked person who doesn't have the proper educational background to run the Kamehameha Schools.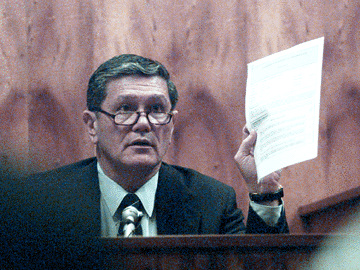 By Craig T. Kojima, Star-Bulletin
Dr. Michael Chun appeared in court yesterday to testify in
the trial to remove Lokelani Lindsey as Bishop Estate trustee.
---
She has argued that campus programs and students' academic performances have declined under Chun's management, forcing her to take a more hands-on role at the Kamehameha Schools.

Uncertainty over Chun's tenure has become a rallying point for advocates seeking to reform Kamehameha Schools and the 114-year-old Bishop Estate.

Under questioning by Stender's attorney Doug Ing yesterday, Chun said that before 1993 when Lindsey was named lead trustee for educational programs, he reported directly to the full, five-member board of trustees.

After Lindsey became lead trustee, Chun said he reported to Lindsey, who served as a new layer of management between him and the full board.

Chun's authority was reduced further in 1995 when the estate hired Rockne Freitas as vice president of operations. Whereas principals of Kamehameha's neighbor island campuses previously reported to Chun, they now report to Freitas, adding yet another layer of management.

Chun said the new organizational structure has allowed Lindsey to micromanage the affairs of Kamehameha Schools. For instance, Lindsey bypassed his command when she directed that Hawaiian language teachers only use traditional Hawaiian words in their lessons, according to Chun.

Lindsey's so-called Hawaiian language directive has been roundly criticized by Kamehameha Schools teachers and members of the local Hawaiian community.

"Prior to 1993, I had responsibilities and authority," Chun said. "After 1993, I had responsibilities."

Chun and Ing elicited some chuckles in the courtroom when Chun described his former position as a tenured University of Hawaii professor as having "job security."

"Are you contrasting that to your present situation?" quipped Ing.

Chun also responded to criticisms by Lindsey of Kamehameha Schools students' academic performance.

In her controversial December 1997 education report, Lindsey alleged that the longer students stayed at Kamehameha Schools, they worse they performed as measured by standardized test scores. Her report also said more than 30 students of Kamehameha's 1997 graduating class could barely read at 12th-grade levels.

Chun noted that college board test scores over the longer term have improved and that the number of Kamehameha Schools graduates accepted to four-year colleges has increased.

"I believe that the goals that we have outlined have been achieved," Chun said.

"Much has been accomplished and much more will be accomplished.

---



E-mail to City Desk
---
---
© 1999 Honolulu Star-Bulletin
http://archives.starbulletin.com