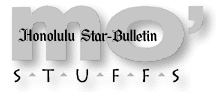 ---
Thursday, February 11, 1999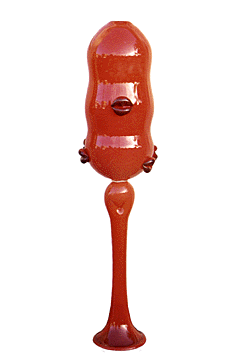 This blown glass sculpture by Cayn Thompson,
entitled "Kiss me, kiss me kiss me," will be part of the Heart
of the Matter exhibit at Pegge Hopper Gallery Feb. 12-19.
---
Heartfelt message
The work of more than 60 local artists will be showcased at the Pegge Hopper Gallery in an exhibit to benefit the Domestic Violence Clearinghouse and Legal Hotline.

The nonprofit Domestic Violence Clearinghouse aids victims of domestic abuse through legal services, case management, education and advocacy.

Heart of the Matter features works by Pegge Hopper, Sally French, Gaye Chan, Roy Venters and others that evoke the concept of heart through color or texture.

At the opening reception tomorrow from 5:30 p.m. to 8 p.m. all artwork will be up for bid. The exhibit will continue through Feb. 19.

There is no charge to view the exhibit, which looks to use art as a means to deliver a political message to a wider audience.

The Pegge Hopper Gallery is at 1164 Nuuanu Ave. Gallery hours are 11 a.m. - 4 p.m. Tuesdays through Fridays, 11 a.m. to 3 p.m. Saturdays.

Call 524-1160 for more information on the exhibit.

Wheel aloha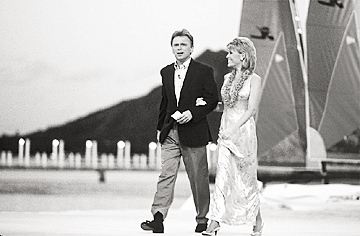 Steve Crise, Columbia Tri-Star
"Wheel of Fortune," with Vanna White and Pat Sajak,
presents two weeks of shows featuring island residents,
Monday through Feb. 26, 6:30 p.m. on KHON/Fox.
The station will air a backstage look at how the shows
were produced on "Wheel in Paradise," 6:30 p.m. Sunday.
---
Get in the swing of things

This town ain't swingin' enough for you? Well, get ready for Spring Swing '99, a marathon outdoor swing concert and festival that will take place April 3 at the Turtle Bay Hilton Golf and Tennis Resort.

Musical icon Tony Bennett, with the Count Basie Orchestra, will headline the event, which will also feature -- yet again! -- those young upstarts Royal Crown Revue and Cherry Poppin' Daddies.

Also performing some jitterbugging jams will be Indigo Swing; the all-female band The Camaros; the Las Vegas Bellagio Hotel's house band Jump, Jive and Wail; and Atlantic recording artists Atomic Fireball.

Doors for the concert will open at noon, with the concert starting at 1 p.m. Five video screens will be set up to give everyone a close-up view of the 9,600-square foot stage.

Tickets for the event are $20 general or $35 to $75 reserved, and go on sale Saturday. Call (800)-TICKETS (842-5387). Or log onto http://www.tickets.com.

Gung Hee Fat Choy!

The Lunar New Year officially begins Tuesday but celebrations have already begun. This week, there's something for dancers, healers and cooks.

"Chinese New Year: Year of the Rabbit" dance party: 9 p.m.-2 a.m. tomorrow, Kapiolani Community College Campus Center. Featuring house music by DJs Tricky Trevor, Murillo, Scottie Soul, Evillyn and DJ Evil; hip hop with Bumblebee, Kavet the Katalyst, DB, Delve and MC Jahmal; jungle with the Basement Addicts, Trinity Crew and Trek; and goa trance with JohnJohn, 5 Cubes, Archangel, Miklos and Pawan. There will be a surprise guest at midnight. Cost: $3, Kapiolani Community College students; $5, UH system students; and $7, general. Call 734-9577.

Cultural Plaza: Food, entertainment, firecrackers and an appearance by the Narcissus Court highlight this annual event, 5-11 p.m. tomorrow and noon-11 p.m. Feb. 13. A lion dance will take place at 6:30 p.m. tomorrow at the Chinese Chamber of Commerce Office, 42 N. King St. Call 533-3181.

Hawaii Kai Towne Center: Chinese New Year celebration, Saturday. Highlights include: martial arts demonstration, 11 a.m.; fireworks and traditional lion dance, noon; and ancient healing arts demonstration, 1 p.m. The Hawaii All Breed Rabbit Club will also have a live rabbit exhibit in honor of the "Year of the Rabbit." Call 262-0687.

Waikele Premium Outlets: Lion dance by the Sun Yat Sen Physical Culture Group, 9 a.m.-1 p.m. Saturday. Call 595-3254.

Beijing cooking: Beijing Chinese Restaurant will share its cooking techniques during Royal Hawaiian Shopping Center's celebration. There also will be the cultural favorites: lion dances, firecrackers, acrobats, Chinese beauty queens and entertainment, 5-8 p.m. Saturday, Royal Hawaiian Shopping Center. Call 922-2299.

Roaring celebration: Ala Moana Center will have 12 ornately decorated Chinese lions dancing to drums and cymbals, 2 p.m. Monday. The lions will begin their parade at Center Stage then travel to several stores. The Narcissus Queen and her court will also join in the festivities. Call 946-2811.

Brush painting: Members of the Precious Ink Chamber Association gives a mini demonstration on Chinese brush painting, noon Feb. 21 at Borders, Ward. Call 591-8995.






Click for online
calendars and events.





---





Send WatDat? questions, stories
or any other story ideas or comments to:
Features, Honolulu Star-Bulletin, P.O. Box 3080,
Honolulu, HI 96802 or send a fax to 523-8509
or E-mail to features@starbulletin.com.
Please include your phone number.
E-mail to Features Editor
---
---
© 1999 Honolulu Star-Bulletin
http://archives.starbulletin.com