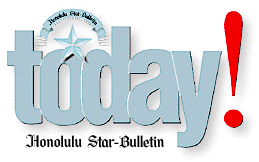 ---
Hawaii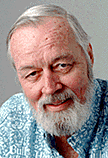 By Dave Donnelly
Thursday, February 11, 1999
---
Hirokawa draws
loyal fan

OLDTIMERS will recall the late night Jack Paar TV'er. For the benefit of our younger readers, Paar preceded Johnny Carson who went on to host the "Tonight Show" on NBC for 30 years. He left the show in a huff when he told a joke containing the words "Water Closet" and the network edited it out, substituting a news bulletin. Anyway, a woman named Mrs. Miller was in the audience for every single one of Parr's telecasts. She even kept coming when Carson became host. She was the country's biggest fan. Well, perhaps we've found Hawaii's biggest fan. Thomas Kuehu of Kalihi, 26-year-old custodian at the Federal Building, has taken in the John Hirokawa "Magic of Polynesia" show each Saturday and Sunday for the past seven years! He buys tickets each weekend and is given a front row seat in the middle table. Hirokawa's manager, Kimo McVay, plans to honor the young fan by having a plaque with his name on it emblazoned on a chair, which they'll bring out for him every weekend ...

DIEHARD fans of "Hawaii Five-O" were disappointed when Jim MacArthur, who played Danno on the show, didn't show up for the "Five-O" 30th reunion. Actually, it should have come as no surprise since he'd notified the promoter he had no intention of showing up and wasn't even comfortable with the idea of a reunion. To top it off, MacArthur had his gall bladder removed the same day as pal Herman Wedemeyer's funeral ...

Ball games

BACK from an age-group tennis tourney (for old guys) in the desert is attorney Rick Fried. He normally does quite well in these tournaments and was doing fine until he fell to the No. 1 seed in the semi-finals ... And Waikoloa Land Co. president Thos Rohr was also in California, partnering with PGA pro Brandel Chamblee in the AT&T Pebble Beach Pro-Am. After battling off 45-degree cold, 50- knot winds and a hard rain, both dreamed of being back in the sun at Waikoloa. Still, Rohr had a great time at the 19th hole with such buddies as Paul Spengler, Gary McCord, Clint Eastwood and Waikoloa touring pro Peter Jacobsen ... And while Rohr was knocking around Monterey, singer Celine Dion was enjoying a round at Waikoloa, where golf director Dennis Rose pronounced she swings as good as she sings ...

IT looked like a succession of quarterback sneaks at Duke's Canoe Club with a variety of qb's such as John Elway, Joe Montana, Steve Young, Vince Ferragamo and Joe Theisman taking hits ... And as is his custom, Matteo's owner Fred Livingston welcomed players in the NFL Hall of Fame here for the Pro Bowl into his eatery. Billy Shaw of the Bills, Tom Mack of the Rams and Packer Dave Robinson stopped by, the latter wearing his Super Bowl ring from the very first Super Bowl in 1967 ...

Ball Four

WE'VE had items on tennis, golf and football, so how about baseball, our National Pasttime? Not every athlete in town is suffering pigskin-mania. Buck Martinez, who was the catcher for the Kansas City Royals when George Brett was MVP there, was enjoying a visit to Aloha Tower Marketplace Monday night. He and wife Arlene were at Gordon Biersch, where they mentioned they flew into town to support son Casey, a catcher with Sacramento State. Brett is Casey's godfather. Buck, who's the announcer for the Toronto Blue Jays, still does some work for ESPN, and even won an Emmy for his work there during the playoffs. If that's not enough credentials for you, Martinez has also written a book called "From Worst to First." ...

---




Dave Donnelly has been writing on happenings
in Hawaii for the Star-Bulletin since 1968.
His columns run Monday through Friday.

Contact Dave by e-mail: donnelly@kestrok.com.
E-mail to Features Editor
---
---
© 1999 Honolulu Star-Bulletin
http://archives.starbulletin.com