---
Monday, February 8, 1999



P R O _ B O W L
---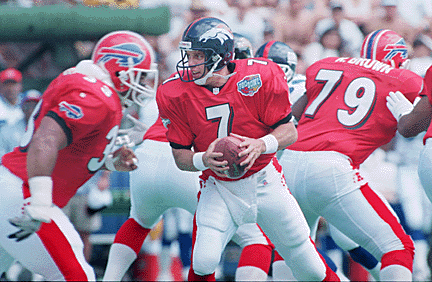 By Dennis Oda, Star-Bulletin
John Elway's appearance was brief but he led the AFC
to a score on their opening drive.
---
Pro Bowl kids'
play for AFC


They follow old-timer
John Elway's lead in a rousing
win over the NFC

See also: Notebook

By Paul Arnett
Star-Bulletin

Eric Dickerson took only a few steps across the field -- acknowledging the crowd for his Hall of Fame selection -- when it hit John Elway like a blind-side sack.

They were from the class of '83.

"You know, it's funny, but I thought about I knew I was old when a guy walking down there to get enshrined is drafted the same year I was," Elway said. "Eric and I came out the same year. So, it made me feel a little old."

Whether he's old enough to retire, only Elway knows for sure. But if yesterday's opening drive of the Pro Bowl was any indication, the old boy still has a few good moves left in him.

Several times he deftly stepped out of harm's way to complete 4 of 5 passes for 55 yards and a touchdown to Buffalo's Sam Gash.

After completing perhaps his last scoring pass, the 16-year-veteran took a coach's stance and watched the new-and-improved American Football Conference wax the name-brand National Football Conference, 23-10, before a sellout Aloha Stadium crowd of 50,075.

"I saw a lot of young players flying around out there," Elway said of the AFC's 18 first-time Pro Bowl nominees. "The next generation of stars were out hitting guys and it was fun to watch."

It was also fun to coach as New York Jets assistant Bill Belichick said after directing the AFC's third consecutive victory -- a first in Honolulu.

"We had some young players who showed a lot of intensity," said Belichick, who stood in for an ailing Bill Parcells. "The defense did a good job of matching up with their big-play receivers."

Over the course of the afternoon, it was New England cornerback Ty Law who came up big-time with a game-turning 67-yard interception return for a touchdown.

Sitting back, baiting NFC quarterback Randall Cunningham to throw the hitch, Law saw it was a go the second Green Bay's Antonio Freeman stopped just beyond the sticks.

"As soon as I let it go, I wanted it back," Cunningham said. "Ty sat right down in there and waited. It was a great gamble. I was the only one who could stop him."

And, of course, he didn't.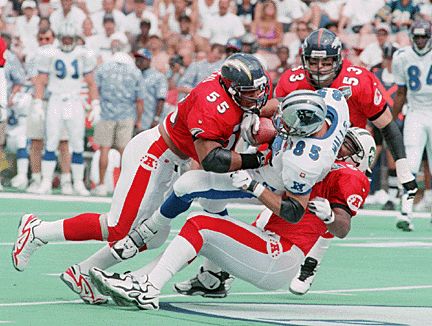 By Dennis Oda, Star-Bulletin
Wesley Walls gets sandwiched by Junior Seau and
Mo Lewis as Bill Romanowsk closes in.
---
"Unless he had wheels like Randy Moss, he wasn't going to catch me," said Law, who was named the Co-MVP with Jets wide receiver Keyshawn Johnson.

"Part of the fun of this game was going against guys like Jerry Rice, Cris Carter and Randy Moss. That's a great group of receivers. Coach Belichick challenged us and we responded."

Law discovered that firsthand last Friday morning. After staying out all night with friends, the first-time Pro Bowl player showed up at practice, asking if he could sit it out. Belichick not only said no, but made Law go hard the entire workout.

"You see something like that and you know that Coach is for real," said rookie defensive back Charles Woodson. "I think that kind of approach won the game for us."

That, and the leg of former Hawaii kicker Jason Elam, who scored nearly half the AFC's points on three field goals of 23, 26 and 46 yards, and two PATs.

Law and Gash rounded out the scoring. For Gash, the 3-yard pass from Elway was -- as Mick Jagger would say -- a gas-gas-gas.

"I tried not to think too hard as the pass came toward me," the former Penn State standout said. "I'll never forget catching a pass from a legend, especially if it's his last one."

It was a first for Dallas Cowboys running back Emmitt Smith when he crossed the goal line from 2 yards out to score the NFC's only touchdown on a fourth-down play.

"That's a good question," Smith said, when asked if that was his first score. "I'm pretty sure it was. It's nice to get it."

Minnesota's Gary Anderson rounded out the scoring for an ineffective NFC on a 23-yard field goal in the first quarter.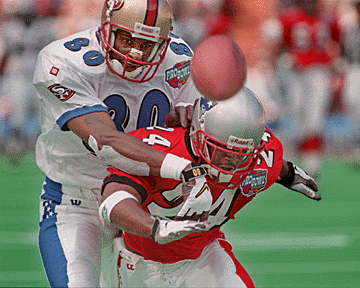 By Dennis Oda, Star-Bulletin
Patriots' defensive back Ty Law breaks up a pass intended
for the 49ers' Jerry Rice during the AFC-NFC Pro Bowl.
---
Seattle cornerback Shawn Springs kept San Francisco quarterback Steve Young from finding Freeman on a third-down play from the AFC 5. It set the tone for the day.

"We were well-prepared for what they were trying to do," said Springs, who had four tackles and three pass breakups. "I think we showed their big-play receivers that we can make big plays, too."

Johnson had as good a day as any receiver with seven receptions for 87 yards. He also set up two AFC scores.

Minnesota's Randy Moss countered for seven catches of his own for 108 yards. He made one nice grab of 48 yards on a wobbly pass from Cunningham.

It was slightly underthrown and to the outside of Moss, who was running a post route on the play. He quickly adjusted to the ball by breaking to the outside, leaving Law looking silly.

The NFC rookie went down to get the pass, then did a nice tip-toe before going out of bounds. It set up Smith's touchdown run.

"We had some fun out there," Moss said. "This kind of game is fun for the players and the fans. You're just trying to make some plays to help your team win."

And with youth on his side, that's just what Elway was able to do.

"It's always fun to win," Elway said. "That's what you want to do in any game. I came out here to have a good time with my family, and to have fun in this game. And that's exactly what I did."

Box Score

AFC 23, NFC 10

AFC	7	3	10	3 -- 23
NFC	3	0	7	0 -- 10

First quarter
AFC--Gash 3 pass from Elway (Elam kick), 10:51.
NFC--FG Anderson 23, 5:49.

Second quarter
AFC--FG Elam 23, 3:29.

Third quarter
AFC--Law 67 interception return (Elam kick), 9:42.
NFC--E. Smith 2 run (Anderson kick), 6:31.
AFC--FG Elam 46, 2:22.

Fourth quarter
AFC--FG Elam 26, 13:58.
A--50,075.

			AFC	NFC
First downs		19	17
Rushes-yards		33-108	18-55
Passing			222	223
Punt Returns		3-20	4-32
Kickoff Returns		3-40	5-100
Interceptions Ret.	3-70	3-102
Comp-Att-Int		18-35-3	19-46-3
Sacked-Yards Lost	0-00	3-16
Punts			4-47.8	4-52.0
Fumbles-Lost		1-1	2-0
Penalties-Yards		10-80	5-28
Time of Possession	32:08	27:52

Rushing--AFC: George 12-33, Faulk 7-33, C. Martin 8-29, Gash 3-14, J. Lewis 1-1, Flutie 2-(-2). NFC: J. Anderson 4-21, E. Smith 8-19, Alstott 3-10, R. Smith 2-7, Chandler 1-(-2).

Passing--AFC: Elway 4-5-0 for 55 yards, Testaverde 10-16-3 for 87 yards, Flutie 4-14-0 for 80 yards. NFC: Young 5-12-0 for 35 yards, Cunningham 5-8-2 for 71 yards, Chandler 9-25-1 for 133 yards, Turk 0-1-0 for 0 yards.

Receiving--AFC: K. Johnson 7-87, Faulk 3-12, Gash 3-8, Moulds 1-39, Coates 1-36, George 1-23, McCaffrey 1-17, C. Martin 1-0. NFC: Moss 7-108, Rice 5-60, Alstott 3-31, Carter 2-16, Bates 1-18, Walls 1-6.

Missed field goals--None.
E-mail to Sports Editor
---
---
© 1999 Honolulu Star-Bulletin
http://archives.starbulletin.com