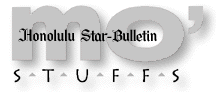 ---
Monday, February 8, 1999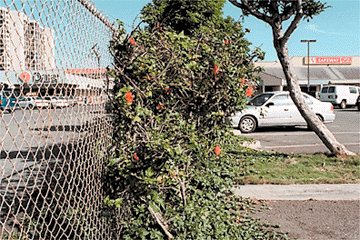 By Kathryn Bender, Star-Bulletin
A fence built by Daiei puts Kailua shoppers so close
and yet so far from Safeway next door.
---
Shoppers fenced into
a lot of legal jargon
Good fences make for good neighbors, or so the saying goes. But the chain-link fence dividing the parking lots of Daiei and Safeway in Kailua makes life difficult for citizens.

To go next door, the fence forces customers to walk nearly a quarter of a mile. Most don't. Instead, they drive, a situation exacerbated by sinkhole repair on nearby Hamakua Drive. Several years ago, the Kailua Urban Design Task Force identified the fence as one of Kailua's most significant traffic problems. "It's our position that fences between store fronts make the environment pedestrian-unfriendly, and lead to unecessary traffic congestion," says KUDTF head Don Bremner.
Built by Daiei, the fence prevents easy access from one store to another. The stated reason, according to Daiei manager Ron Watabayashi, is "liability concerns. Customers parking in one lot and shopping in another store create legal problems. Besides, why should Safeway benefit from our (larger) parking lot?"
The liability excuse is valid, but, like anything else in business, can be solved with negotiation and cash, according to Kaneohe Ranch manager Randy Moore. Kaneohe Ranch leases the property to both stores, but can't control use.
"Business is shown to increase when you have easy access to stores," said Moore. "Imagine if Ala Moana had fences every hundred feet. Stores that share parking spaces have joint-use agreements, like Liberty House and Longs do in Kailua, but the Safeway and Daiei parking lots were constructed at different times. They have no such agreement."
Moore suggests that a pedestrian walk-through would aid both stores, while relieving Daiei concerns about through traffic. In the meantime, citizens have cut their own hole in the fence. It's not often you get to grocery-shop and play "The Great Escape" at the same time.
---
--By Burl Burlingame, Star-Bulletin

DA KINE
The string's the thing for spring
Spring comes with strings attached, drawstrings, that is.

Drawstrings have always been a big thing in Hawaii. For one reason, the strings made it easy to shed one's street wear and get down to basic swimwear.

The look can be casual or dressy. For the office, you might head to Ann Taylor to check out drawstring pants in dark or light blue linen, for $58, or more fluid rayon-acetate versions in beige or black with polka dots, for $78.

Old Navy is offering long cargo pants in a drawstring style. The pants, made of 100 percent cotton twill come in khaki, olive, pumice and washed blue for $30 adults; $19.50 for kids and $15 for baby.

Drawstring cargo shorts will be in the stores at $22.50 for adults, $15.50 kids and $12.50 baby, beginning March 15.

If you can hold out until Feb. 27 to make your pants purchase, you'll receive a free yo-yo with that pants purchase, while supplies last.
---
Artists of Hawaii sought
for academy show
Artists wishing to display works in the 49th annual Artists of Hawaii 1999 exhibit may apply beginning Feb. 17 at the Honolulu Academy of Arts.

Eligible artists must live in Hawaii; eligible works must be original, created independently in the past two years and not shown before in a juried exhibit in Hawaii.

Deadline for entries is at noon on May 1.

The exhibit will run from July 22 through Aug. 22.

For entries and information, call Cathy Ng at 532-8715 or contact the academy at 900 S. Beretania St., Honolulu 96814-1495.
---
Media grants offered for
Pacific islander programs
Proposals are being accepted for Pacific Islanders in Communications media grants for programs intended for national public television. Documentaries, performance programs, children's or cultural affairs proposals are eligible.

Grants of up to $50,000 are available for works in progress, including production, post-production, marketing and distribution. Those in research and development and scripting phases may receive up to $10,000.

PIC is particularly interested in projects that examine and illuminate the realities of Pacific Islander issues such as diversity, identity and spirituality. Programs less than an hour in length will not be considered, unless it is part of a series.

The application deadline is April 5. For guidelines and an application form, call the PIC office at 591-0059. Or write: PIC, 1221 Kapiolani Boulevard Suite 6A-4, Honolulu 96814. The application is also available at the web site http://www.piccom.org.

PIC will offer a free grantwriting workshop from 3:30 to 5 p.m. Feb. 27 at the Linekona Art Center. Seating is limited. Questions may be directed to programming director Ann Moriyasu.
---
Jazz guitarist Linsky
to perform in March
Award-winning guitarist and composer and former Hawaii resident, Jeff Linsky will perform at 7:30 p.m. March 20 at the Honolulu Academy of Arts' Theatre.

Since leaving the islands in 1988, Linsky, known for his blend of classical and jazz music, has composed and released several critically acclaimed recordings varying from improvised jazz to contemporary jazz-pop, such as "Simpatico" and "Solo."

Primarily a self-taught musician, Linsky studied briefly with Spanish guitar virtuoso Vicente Gomez and jazz great Joe Pass. He began performing throughout the United States, Europe, Mediterranean and Caribbean while he was still a teen-ager.

He has also performed with international artists including Brazilian maestro Carlos Barbosa-Lima and jazz legend Jim Hall.

Tickets are $15 general admission; $12 for academy members, seniors and students. Pick up tickets at the academy front entrance during museum hours, or order by sending a self-addressed, stamped envelope with a check or money order to: Academy Theatre, 900 S. Beretania, Honolulu, HI 96814.

Call 532-8700 for more information.






Click for online
calendars and events.
---
Send WatDat? questions, stories
or any other story ideas or comments to:
Features, Honolulu Star-Bulletin, P.O. Box 3080,
Honolulu, HI 96802 or send a fax to 523-8509
or E-mail to features@starbulletin.com.
Please include your phone number.
E-mail to Features Editor
---
---
© 1999 Honolulu Star-Bulletin
http://archives.starbulletin.com