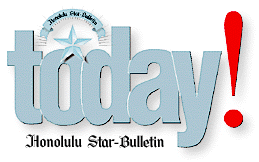 ---
Monday, February 8, 1999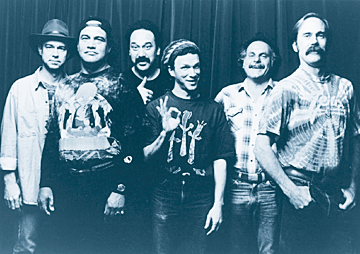 Zero, above, and the David Nelson Band, below, perform
a number of concerts this month on three islands.
---
Zero is more than
a 'Dead' clone

By Burl Burlingame
Star-Bulletin

Now that head Dead Jerry Garcia is a dead Deadhead, it seems every group he jammed with over the years have become "Grateful Dead spin-off bands," as the upcoming Zero and David Nelson Band shows are pitched.

OK, they play meandering, jazzy explorations of whole-chord melodies lifted from country and folk traditions.

OK, the music either lies there like a dead fish or it takes wings and soars thrillingly, like a half-time pigeon release.

OK, Robert Hunter writes some of their lyrics, nascent American street poetry, rife with images of piratical longings, obsessive loves, women like drooping flowers, riding hard under glowering skies.

OK, the melodies are dreamy and slippery and epic, too-easily filed under "psychedelic," when they're actually what happens when imaginative musicians absorb equal amounts of classical music, science-fiction soundtracks and dance-hall grooving.

OK, they wear tie-dye. When they're not wearing plaid, that is.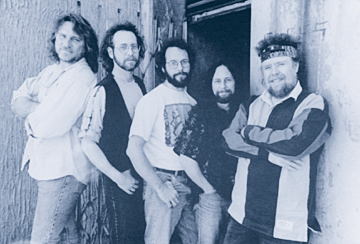 The David Nelson Band.
---
Garcia and the Grateful Dead were part of a peculiar musical community, not the sole practitioners. The goal of most musicians is to define a tune, to nail it down, to digest it and present it in neat pellets, while these "San Francisco sound" guys saw every melody as a new chance to rediscover flight. That's why, despite some dark lyrical content and posturing, this musical community creates music that is, at its core, optimistic, intellectually abstract and healthy. That's why Deadheads keep coming back.

Zero is cut from the same cloth. The members are all veterans of the San Francisco music scene, having played with groups like The Ghosts, Sly and the Family Stone, Heart of Gold, The Tubes. The core is one-handed drummer (and environmental lawyer) Greg Anton and guitarist Steve Kimock, whose gloriously fluid phrasing so impressed Jerry Garcia that he declared Kimock to be his own favorite instrumentalist.

The band also includes bassist Bobby Vega, saxophonist Martin Fierro, keyboardist Chip Roland and vocalist Judge Murphy. Hunter, probably the finest lyricist in America (sorry Carole Bayer Sager!) has been on board most of this decade and now works exclusively with Zero.

Hunter's contribution has been to move Zero away from a free-form gang of instrumental jammers to a band of tunesmiths. Also, like the Dead, Zero has "ZeroHeads" that travel around the country to catch concerts.

The David Nelson Band (no, he isn't Ricky's older brother) also comes out of this country-jamming tradition. Nelson used to play with Garcia and Hunter in the Wildwood Boys in the early '60s, was one of the Dead's early house guitarists and later formed New Riders of the Purple Sage (he sang "Panama Red").

Since then, Nelson was part of Garcia's ongoing acoustic band. The David Nelson Band includes pedal steel player Barry Sless, accordianist Mookie Siegel, bass player Bill Laymon and drummer Arthur Steinhorn.

On stage

Zero and David Nelson Band

Feb. 13: Beach party 3 p.m.at Royal Waikoloan Anaeho'omalu on the Big Island. Tickets $20 advance; $25 at the door. Call 1-(800)-886-6789
Feb. 18: At Lahaina Civic Center, 4 p.m. Call 1-(808)-661-4685
Feb. 20: At Honolulu Zoo, 6:30 p.m. Tickets $21 advance, $25 at the door. Call 926-3191






Click for online
calendars and events.
E-mail to Features Editor
---
---
© 1999 Honolulu Star-Bulletin
http://archives.starbulletin.com