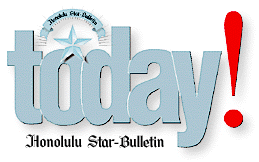 ---
Monday, February 8, 1999


ICM Artists
"Kiss Off Spider Woman" is a Momix number.
---
Dance theater
takes a leap


February offers a wealth of
theatrical dance performances
in the islands

Star-Bulletin

When it comes to dance in this town, it's either feast or famine. This month, there's actually a menu of programs to choose from:

Petronio on the edge

The acclaimed New York Stephen Petronio Dance, filled with speed and risky movement, perform Saturday at Leeward Community College Theatre.

The company will present "Not Garden," a work inspired by Dante's "Inferno," with recorded music by Bach, Gounod and David Linton and vocals by British singer Sheila Chandra and Diamanda Galas.

Petronio was the first male dancer of the Trisha Brown Company, with which he performed from 1979 to 1986. He has choreographed for the Frankfurt Ballet, Lyon Opera Ballet and Maggio Danza in Italy.

A "Meet the Artists" session will take place after the 8 p.m. show. Tickets are $17.50 for adults, $14 for students, seniors and military.

Information: 455-0385.

The company also will perform at 7 p.m. Feb. 17 at the Kahilu Theatre on the Big Island (tickets: 1-808-885-6868) and at 8 p.m. Feb. 19 at the Maui Arts & Cultural Center (tickets: 1-808-242-7469).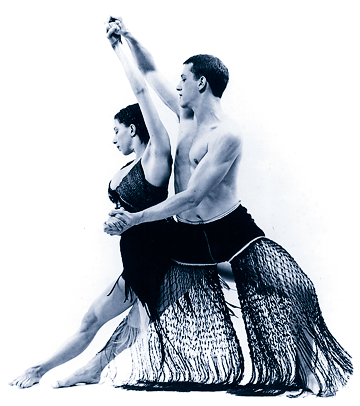 Stephen Petronio Company
Jessica Meeker and Steven Fetherhuff of Petronio
Dance perform "Drawn That Way."
---
American classics

Hawaii-born Bonnie Oda Homsey, former Martha Graham Dance soloist, will be featured in the American Repertory Dance Company performances Saturday and Sunday at Hawaii Theatre.

Also featured will be Nancy Colahan, who danced with the White Oak Dance Project, John Pennington of the Lewitzky Dance Company, and Rise Steinberg, formerly with the Jose Limon Dance Company.

Performances are at 7:30 p.m. Saturday; 2:30 p.m. Sunday. Tickets are $20, $18 and $15 at the theater box office, 1130 Bethel St. Information: 528-0506.

More than illusion

Momix, a company of "dancer-illusionists" founded and directed by Moses Pendleton, formerly of Pilobolus Dance Theatre, is known for dances that create a world of surrealistic imagery.

The company performs at 8 p.m. Feb. 19 and 20 at Hawaii Theatre. Tickets are $30 and $40 at the theater box office, 1130 Bethel St. There is a $5 discount for students, seniors and military. If tickets remain, students and seniors pay half price the day of show.

The concert is part of the theater's "On the Town" series. Information: 528-0506.






Click for online
calendars and events.
E-mail to Features Editor
---
---
© 1999 Honolulu Star-Bulletin
http://archives.starbulletin.com