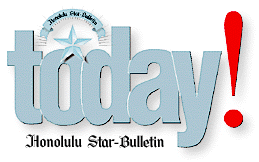 ---
Hawaii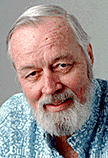 By Dave Donnelly
Monday, February 8, 1999
---
No such thing
as seasonal games

JUST as ESPN has to fill 24 hours a day with sports, so it seems has the entire country. But with the Pro Bowl now behind us, we'll have to wait a while until pro football comes around again. But just last week we had UH college baseball and basketball, plus a men's volleyball match with alums. College and now pro basketball can be found all over your TV screen as well as hockey, auto racing, billiards, bowling, whatever. Of course, spring football is right around the corner. I, for one, don't understand the naysayers criticizing UH for giving a second chance to a troubled California high school football star, Pisa Tinoisamoa, just because others passed on him because of his off-field record. Many pro teams felt the same way about "troublemaker" Randy Moss, everyone's rookie of the year, and they have to be collectively kicking themselves right now for not taking the same chance the Minnesota Vikings did ...

AND while we're on the subject of sports, if we don't soon see the end of sports cliches used in a non-sport setting, like Saturday's column entitled, "Raising the bar for teachers," it's going to send me scurrying back to the bar. And that goes with your level playing field, as well ... Thanks, too, to Ben Wood for his Saturday column mentioning the Hawaii Theatre stir-fry to benefit KHET-TV, and for mentioning the appearance of my son, Brendan, who flew in unexpectedly from Seattle on the same Hawaiian Airlines plane as Bob Sevey, knocking me for the proverbial loop ...

Some 'Toyer'

LOCAL author Gardner McKay is having considerable success with his latest novel, "Toyer," but having less luck with his sense of humor. As a "joke," he wrote a letter to the Advertiser, which printed it, suggesting the best way to handle the Bill Clinton matter was to "kill him." When unamused U.S. Secret Service agents paid a visit to his home, McKay realized that what he intended as satire could be misconstrued. It's like the clown on the airplane who makes jokes about a "bomb" being on board. The FBI usually has a chat with those people too. I recall years ago that Jimmy MacKenzie, the self-styled "Mayor of Waikiki," joked about a bomb on the intercom of his inter-island flight and was met by agents on landing. Of course McKay wasn't serious, but just maybe a nut out there will think he was, and do it. By the way, McKay will be appearing at Hawaii Public Radio's Atherton Performing Arts Studio at 6:30 p.m. Feb. 24 to read excerpts from "Toyer" and talk about storytelling and writing. He hosts a show on HPR, "Stories in the Wind," on Sunday nights ...

IF it's February, that means that Tyrone, the Marquis of Waterford, can't be far away. The retired Irish polo star -- who lives in a massive old castle in Ireland I had the privilege of visiting a couple of years ago -- vacations in the islands each February, and once again he'll be hosted here by Dr. Richard Kelley of Outrigger Hotels, another visitor to the Marquis' castle in Waterford ...

In memorium

YOU may have read here about author Bob Stone dying in Thailand, where he and wife Lola, had relocated. At the time, Buddhist services were held there, but now a memorial service for the prolific Stone is set for 2 p.m. March 14 at at Pohai Nani in Kaneohe ... And former wrestling promoter Ed Francis (father of Russ Francis) turned up at my stir-fry out of the blue. He says Giant Baba, the huge wrestler from Japan (over 7-feet tall and weighing well over 300), died there last week. He wrestled for Francis many times in Hawaii ...

---




Dave Donnelly has been writing on happenings
in Hawaii for the Star-Bulletin since 1968.
His columns run Monday through Friday.

Contact Dave by e-mail: donnelly@kestrok.com.
E-mail to Features Editor
---
---
© 1999 Honolulu Star-Bulletin
http://archives.starbulletin.com