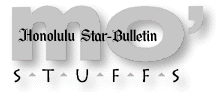 ---
Thursday, January 28, 1999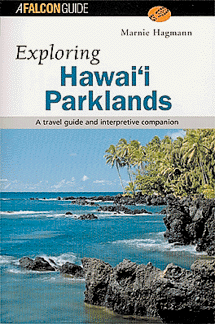 ---
A guide to Hawaii's
great outdoors
---
Exploring Hawaii's Parklands, Falcon Publishing, 212 pages, $14.95 softcover
---
By Cynthia Oi
Star-Bulletin

It's always fun to scan tour and travel books about Hawaii, if for nothing else than to spot errors and weird perceptions about island life.
You'll find neither of these in "Exploring Hawaii's Parklands," a revised publication (first edition, 1988).
The travel guide appears well researched and is written in an entertaining yet informative style. It lists major park facilities on all islands, providing general descriptions, location, size, activities, camping and other facilities, nearest services, safety considerations and maps. Smaller, lesser-known parks are listed also.
The problem with the guide is that it provides just a general overview of Hawaii's parks. If travelers are interested in more details, they'll have to find supplemental information. For example, if you want to hike through Kokee State Park on Kauai, you'll have to find better maps and trail descriptions than those offered here.
An oddity: While parks are the guide's focus, a number of unparklike features -- Iolani Palace, the State Capitol and the USS Arizona Memorial, among others -- are listed. Another: the guide describes Na Pali's coastal forests as "fragrant with hala," which among Hawaii's plant life, isn't among the most strongly scented.
The guide's strong points are its historical, cultural and geological capsules and its "comments" in the listings of lesser parks.
For isle residents, the guide could be helpful when visiting the neighbor islands.
The edition was researched and revised by Jessica Ferracane, who grew up on Oahu and now lives on Maui.
---
Benton back on radio
On Sunday, James Grant Benton returns to island radio.

Benton, aka Bruddah Bruddah, will be the new host of the Krater 96 (KRTR 96.3 FM) Hawaiian music program "Island Sunrise," which airs each Sunday from 6 to 10 a.m.

One of the original members of the comedy trio Booga Booga, Benton has hosted other radio programs, performed as a comedian and written a pidgin adaptation of William Shakespeare's "Twelfth Night." In a press release, Benton said, "I am looking forward to getting back to something I love to do ... play Hawaiian music and interject some Booga."
---
Jazz month at Art Academy
The Honolulu Academy of Arts will host a series of jazz concerts and films in February, beginning with a 5:30 p.m. reception and 6 p.m. performance Feb. 12 and 13 by Russian trumpeter Valery Ponomarev and his band.

Admission to the concert and 8 p.m. screening of the video "Dexter Gordon: More Than You Know" about the saxophonist's life is $25; $22 for academy members.

Other events:

Feb. 26: Jazz Hawaii presents "A Taste of Soul," 5:30 p.m., featuring gospel, R&B and funk performed by local entertainers. This will be followed by the 8 p.m. screening of the films "Art Pepper: Notes From a Jazz Survivor" and "The Soundies." The former is the only film record of legendary alto saxophonist Pepper in existence. The latter chronicles the short musical films produced for visual jukeboxes between 1941 and 1947. Cost is $20; $18 for members.

Feb. 27: "A Taste of Soul" repeats, with a catered reception at 5 p.m. Cost is $20 general; $18 for academy members.
Advance tickets may be purchased at the academy box office or by mail. Make checks payable to Academy Theatre and send to 900 S. Beretania St., Honolulu 96814.
Those who want to attend the films only will pay regular admission of $5; $3 for members. Call 532-8700.
---
Dance along with the oldies
Oldies' Radio 107.9 will celebrate its second birthday at the Sheraton Waikiki's Hawaii Ballroom Feb. 27 with two shows featuring an all-star lineup.

On the bill are Philadelphia's DeeDee Sharp singing "Mashed Potato Time" and "Do the Bird"; crooner Eddie Holman, who made "Hey There, Lonely Girl" a hit; Len Barry, who popularized "The Bristol Stomp" as the lead singer for the Dovells and had a solo hit with "One Two Three"; Cleve Duncan and the Penguins, ("Earth Angel"); Barbara Lewis ("Baby, I'm Yours" and "Hello Stranger"); and Lou Christie singing "Lightning Strikes" and "Rhapsody In the Rain."

Two dance floors will be set up to accommodate those who actually want to do the Mashed Potato.

Shows are 7 and 9:30 p.m. Reserved tickets are $25; Golden Circle tickets are $35. Tickets are available at the Blaisdell box office.

For information call 591-2211.






Click for online
calendars and events.
---
Send WatDat? questions, stories
or any other story ideas or comments to:
Features, Honolulu Star-Bulletin, P.O. Box 3080,
Honolulu, HI 96802 or send a fax to 523-8509
or E-mail to features@starbulletin.com.
Please include your phone number.
E-mail to Features Editor
---
---
© 1999 Honolulu Star-Bulletin
http://archives.starbulletin.com