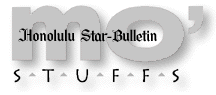 ---
Tuesday, January 26, 1999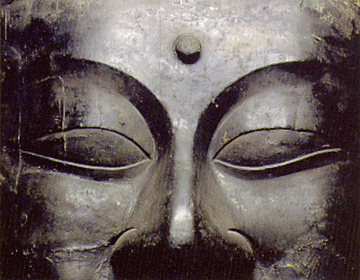 Domon Ken
Domon Ken took this shot of a detail on
the Sakyamuni statue at Asuka-dera.
---
Photos capture
images of Japan
The University of Hawai'i School of Architecture will host "The Beauty of Japan Photographed," an exhibition in two parts, beginning Sunday.

Part I of the show, featuring the work of Japan photographers Watanabe Yoshio, Domon Ken and Ishimoto Yasuhiro, begins with a 2:30 p.m. Sunday talk on Ise Shrine by Willa Tanabe, dean of the UH Manoa School of Hawaiian, Asian and Pacific Studies. The talk takes place in the UH architecture auditorium and will be followed by the exhibition's opening reception in the architecture courtyard. There will be entertainment by the Kenny Endo Taiko Ensemble.

Part I will be exhibited Monday through Feb. 26. Part II will run March 8 through April 9. The show opens with a 2:30 p.m. March 7 talk by architect and UH associate professor Spencer Leineweber, on the Katsura Detached Palace, followed by a 4 p.m. reception.

For more information, call 956-8311.

Preview
Coming to the big screen
Two movies begin their Oahu run on Friday:
She's All That: Cinderella romance with Freddie Prinze Jr. and Rachel Leigh Cook. (PG-13)

Hilary and Jackie: Emily Watson plays musician Jacqueline du Pre and Rachel Griffiths is her sister Hilary in this biographical movie. (PG-13)


Click for online
calendars and events.
---
Send WatDat? questions, stories
or any other story ideas or comments to:
Features, Honolulu Star-Bulletin, P.O. Box 3080,
Honolulu, HI 96802 or send a fax to 523-8509
or E-mail to features@starbulletin.com.
Please include your phone number.
E-mail to Features Editor
---
---
© 1999 Honolulu Star-Bulletin
http://archives.starbulletin.com