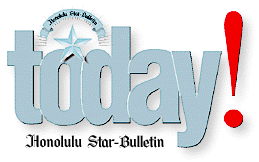 ---
Hawaii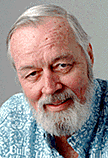 By Dave Donnelly
Tuesday, January 26, 1999
---
Tales of
two Dukes

THE Doris Duke movie that was filmed here brought some interesting observations from at least one crew member, who opined that while Richard Chamberlain, who played the Irish butler, was a joy to work with, Lauren Bacall was a first class, well "witch" will have to do ... Jack Cione, who owned the Clouds on Kapahulu where the billionaire used to hang out with Joe Castro, who played piano there, wasn't even approached about the script ... Kimo McVay was an adviser, however, and said he thought the non-Hawaiian actor brought in to play the young Duke Kahanamoku was a perfect selection. Maybe we can at last bury the stereotype that only actors of the same race as the original are fit for casting ...

MAGICIAN Fred Ball, who performs as "Professor Fun," put in a call to the Smilemaker Co. in South Carolina to order a catalog of props he might use in his act. And it indeed brought a smile to his face to hear a recording that Smilemaker was closed due to inclement weather. So don't let a little rain ruin your Hawaiian parade -- it's worse almost everywhere else in the country. Still, the wind and rain at the Hooters Hula Bowl couldn't have helped Hawaii tourism much ...

Just call them Aces

THIS week was a big one for golf: David Duval became only the third man in a PGA event to shoot a 59. He did it at the Bob Hope Invitational. An even greater accomplishment, in the eyes of Star-Bulletin publisher John Flanagan, was when Flanagan shot a hole-in-one Saturday at the Hawaii Kai executive course. While millions watched Duval on TV, Flanagan's ace was witnessed by -- no one! He was playing alone. But in an informal poll, the Star-Bulletin family believed his story, by a vote of 64-62 ...

CONTINUING to Huli-Huli after going through serious surgery is Ewa Brand Chicken honcho Ernie Morgado. He's back at his desk daily (at the age of 82) and planning his next cruise from S.F. to Alaska and back ... Part-time Kailua resident Joseph Baruch Silver is a multi-faceted man. To begin with, he collects Chinese snuff bottles, on display a few years ago at the Academy of Arts. He has an art collection in Israel where he maintains a home. The man has restored an estate in Ireland and even has a synagogue on the property. So it should come as no surprise that he's designed and donated a new cover for one of Temple Emanu-El's Torahs. It'll be dedicated by Rabbi Avi Magid at Friday's services in memory of Jews and homosexuals killed during the Holocaust ...

LaVell, LaDell & LaVar

WE may have to start calling Utah "La-La-La Land," and not because officials there resorted to serenading the International Olympic Committee to get the Olympic Games to Salt Lake City. First off, we have LaVell Edwards, the BYU football coach. Contemporary with him for a time was the basketball coach there, LaDell Anderson. Now we learn that after 30 years with the Honolulu Symphony, violinist LaVar Krantz is retiring and moving to -- where else? -- Utah! Krantz, who was assistant concertmaster for part of his tenure with the symphony, also is retiring as professor of violin at the University of Hawaii, where he's been teaching since 1968. He and wife Marilyn should feel right at home in an atmosphere where fiddling around is an Olympic sport ...

---




Dave Donnelly has been writing on happenings
in Hawaii for the Star-Bulletin since 1968.
His columns run Monday through Friday.

Contact Dave by e-mail: donnelly@kestrok.com.
E-mail to Features Editor
---
---
© 1999 Honolulu Star-Bulletin
http://archives.starbulletin.com