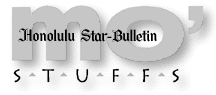 ---
Thursday, January 21, 1999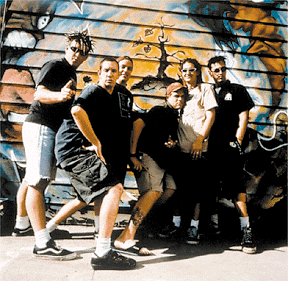 Vans Warped Tour '99
Less Than Jake performs in Waimanalo Saturday.
---
Get yourself to
Waimanalo at warp speed
The normally pastoral Waimanalo Polo Field will get warped this weekend as bands and some of the best-known extreme athletes zoom into Honolulu for the Vans Warped Tour '99.

With its focus on extreme lifestyles and music, the festival's grounding in board sport culture sets it apart from other musical fests such as Lollapalooza and our own Big Mele.

Tearing up the scene Saturday, beginning at 11 a.m., will be pro skaters Steve Caballero, Mike Frazier, Brian Howard, Neil Hendrix and others, plus bands Cherry Poppin' Daddies, Suicidal Tendencies, Less Than Jake, Pennywise, Deftones, 22 Jacks, Hepcat and MXPX.

General admission is $25. Tickets are available at Tower Records-Kahala and Pearl Kai, Tower Video, Hungry Ear Records, Pearl Harbor Bloch Arena, the ITT outlet at Kaneohe MCBH and Schofield, and the Connection, with outlets at the Blaisdell Center box office, Jelly's Market City and Pearl Kai, the University of Hawaii Campus Center and Waikiki Beachcomber Hotel MTI Desk. Tickets may also be charged by phone at 545-4000 or (800) 333-3388.

No coolers, lawn chairs or outside food and drinks will be allowed at the fest. There will be parking on site so no parking will be allowed on the highway.
---
Chris Isaak does
three-island tour
Chris Isaak, perhaps best known for the song "Wicked Game," and its accompanying sultry video shot on the Big Island, will be performing on three islands, Feb. 15 through 17. Tickets go on sale Saturday for these shows:

Feb. 15 -- At Sheraton Waikiki Hawaii Ballroom, 8 p.m. Tickets are $37.50, $32.50 and $25 at Connection outlets, the Blaisdell box office, or charge by phone at 545-4000 or 1-(800)-333-2288. (Ballroom will be set up with tables for 10.) A limited number of $45 VIP tickets are also available in the first three rows. Call 922-4422.

Feb. 16 -- At Maui Arts & Cultural Center, 8 p.m. Tickets are $45, $37.50 and $32.50 at the MACC box office or charge at (808) 242-7469.

Feb. 17 -- At Kona Surf Conven-tion Center, 8 p.m. Tickets are $27.50 in advance from MJS Music-Hilo, Rhythm & Reading-Waimea, Mele Kai Music-Kailua Kona and the Kona Surf Hotel, or pay $30 at the door. Call (808) 322-3411.
---
Creole delicacies and all that jazz
Follow your ears tomorrow and you may just end up at Honolulu Club's Alan T Restaurant for an evening of jazz -- listening and dancing. Follow your nose and you may still end up at the restaurant for a buffet of Creole delicacies and hot and cold hors d'oeuvres. "Hawaii Jazz Stars in Concert," at 7 p.m. tomorrow and Saturday, will feature seven artists in different musical programs each night. Performers will be Gabe Baltazar, vocalists Rachel Gonzales and Azure McCall, bassist Steve Jones, pianists Betty Loo Taylor and Rob Prester, guitarist Danny Otholt, and percussionists Jesse Gopen and Noel Okimoto (left). Art work by jazz artist John Henry Nichols will be displayed and sold, with proceeds benefiting the Conductive Education Center of Hawaii. Tickets are $39 for general admission, $34 for military, and $29 for Honolulu Club members. The buffet is included. Reservations recommended. Call 543-3915.
---
A touch of things Turkish
The Latif Bolat Ensemble will perform Sufi and Turkish folk music at 8 p.m. Saturday at the Unitarian Church.

Educated in folklore and music at Gazi University in Ankara, Turkey, Bolat was originally trained as an opera singer. Bolat taught music in Anatolia before settling in Berkeley, Calif.

Bolat is musical director of the Mevlevi Association of America, a Sufi dance group that gave rise to phrase "whirling dervishes."

During the 13th century, the poor Islamic poet and mystic Rumi (more popular today than he was then) was strolling through the town of Konya, Turkey, when the sounds of everyday life coalesced into the phrase "Allah."

He heard it on the wind, in the barking of dogs, in the ring of blacksmith hammers and the rattle of trees in the breeze. Rumi began to spin with joy down the street, and this whirling dance became a form of worship and the start of sufi music.

Bolat continues to spread the gospel of Sufi musical traditions, which he refers to as "devotional" music. Ironically, he's playing purer Turkish folk than his countrymen back home. Influenced by MTV, Turkish musicians have started adding rhythm machines and electronic samplers to their mix.

The Unitarian Church is at 2500 Pali Highway. Donation/admission is $10; $8 students. Information: 732-7717.

Latif Bolat also performs at 7 tonight at Borders, Waikele, and 4

Burl Burlingame






Click for online
calendars and events.
---
Send WatDat? questions, stories
or any other story ideas or comments to:
Features, Honolulu Star-Bulletin, P.O. Box 3080,
Honolulu, HI 96802 or send a fax to 523-8509
or E-mail to features@starbulletin.com.
Please include your phone number.
E-mail to Features Editor
---
---
© 1999 Honolulu Star-Bulletin
http://archives.starbulletin.com