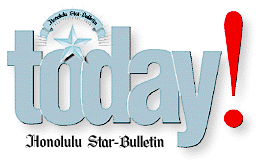 ---
Thursday, January 21, 1999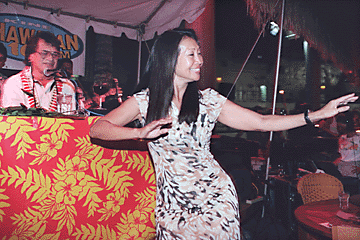 By Kathryn Bender, Star-Bulletin
Former Ho dancer Tina Nomura performs the hula.
---
Don Ho weaves
his old magic

By John Berger
Special to the Star-Bulletin

PRAYERS were answered and dreams came true at Don Ho's Island Grill last night as Don Ho took the stage for several hours of nostalgic musical magic. It's been almost exactly 17 years since the last "Suck 'em Up" late show at the International Market Place in 1981, but even counting the last reunion concert five years ago, Hawaii has been waiting a long time to see Ho once again "sitting on his organ" and calling up one talented guest after another.

"This isn't the Don Ho Show, it's the 'Just Fool Around Show,' " Ho said, but no one directs a show from stage center more effectively. He was excellent last night. It was one of the big events of the year in local entertainment.

One of the brightest highlights was when Danny Kaleikini reminisced with Ho and then sang two Hawaiian standards.

Nephi Hannemann was magnificent as a guest in the late set. Danny Couch delivered a glorious falsetto rendition of "Akaka Falls," a song he was known for even before he worked with Ho as a member of the Aliis in 1981.

By Kathryn Bender, Star-Bulletin
Jesse Rivera joins Don Ho for "La Bamba."
---
Andy Bumatai was a hit in the early set and returned to the stage much later to rebuke an aspiring comic who told a crude joke badly. Bumatai went on to reconstruct the joke, apologize to women in the crowd for the other guy's material, and forge on in the politically correct vein with ethnic jokes "that I don't tell anymore." He was hilarious both times.

Ho included all the best songs off his classic Reprise albums from the mid-'60s. He opened with "Nightlife" and included "Born Free," "Suck 'em Up," "Ain't No Big Thing," "E Lei Ka Lei Lei," "Pearly Shells" and "Days Of My Youth."

Ho's granddaughter, Bianca, was the first of several featured dancers. Her hula to "Hanalei Moon" was exquisite. Familiar guests from Ho shows past and present included Angel Pablo, Colleen Nomura, Taran Erickson, and multi-talented Tokyo Joe.

Tony Bee was acknowledged as one of Don's original musicians from Honey's in Kaneohe and then rocked the house with a sample of that musical milieu. Benny Chong, last of the original Aliis, was on stage with Ho Show veterans Johnny Todd, Nathan Aweau, Wendell "Lau Lau" Ching and Hemingway Jasmin.

Kimo Kahoano sang "Aloha Friday" and danced a vigorous "Boy From From Laupahoehoe" in the early set. Brickwood Galuteria sang "Waikiki."

CNN viewers can anticipate seeing CNN's Carolyn O'Neil and producer Chrisie Porman also singing with Ho as part of a CNN Travel broadcast.

The big question now is when, and how often, Ho will be back. It's no secret that he enjoys entertaining in this type of setting. It's also no secret that thousands of people have been waiting years to see him do a local-style show in such a setting. KINE radio will broadcast live from the restaurant the third Wednesday of each month. Judging by the overflow crowd last night, Hawaii wants Don Ho on stage at Don Ho's Island Grill more often than that.

At Don Ho's

Friday: No Ka Oi, 9 p.m. to closing
Monday: Haumea & Friends, 5 to 7 p.m.
Jan. 28: Barefeet Deep, 5 to 7 p.m.
Admission: Free
Call: 528-0807






Click for online
calendars and events.
E-mail to Features Editor
---
---
© 1999 Honolulu Star-Bulletin
http://archives.starbulletin.com