---
Wednesday, January 20, 1999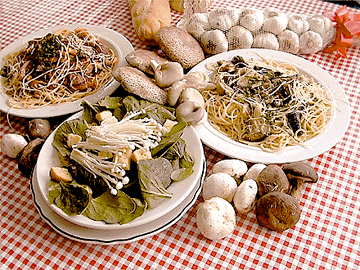 By Craig T. Kojima, Star-Bulletin
Delicate enoki mushrooms are featured in a spinach salad,
one of several mushroom specials at Auntie Pasto's
Mushroom Festival. For reservations call 523-8855.
---
Mushroom mania
If fungus is your friend, celebrate your special relationship at Auntie Pasto's, which is hosting a Mushroom Festival through Jan. 31.

The menu includes Chicken Breast stuffed with Mushroom Risotto, Roast Striploin of Beef with Wild Mushroom Sauce and Wild Mushroom Pasta. Appetizers include Mushroom Pesto and a Black Forest Mushroom Soup.

You'll find portabello, oyster, shiitake, crimini and enoki 'shrooms in these dishes, as well as the good old button.

Here's a sample:
---
Enoki Mushroom Salad
Chef Mark Payne, Auntie Pasto's
1 pound spinach leaves
3-1/2 ounces enoki mushrooms

Dressing:
1 cup demi glaze or brown gravy
1/4 cup sugar
1/4 cup balsamic vinegar
4 ounces bacon, julienned
Salt and pepper to taste
Drain spinach well and set aside in refrigerator. Saute bacon until lightly browned. Add demi glaze, balsamic vinegar and sugar. Simmer gently until well-blended, about 5 minutes. Add salt and pepper. Keep warm, not hot. Place spinach in a chilled bowl. Cut bottom roots off mushrooms and place atop spinach. Drizzle warm dressing over all; garnish with fresh croutons. Serves 4.

Approximate nutritional analysis per serving, without added salt or croutons: 270 calories, 17 g fat, 6 g saturated fat, 20 mg cholesterol, 570 mg sodium.**
---
Star-Bulletin


Click for online
calendars and events.
---
Send WatDat? questions, stories
or any other story ideas or comments to:
Features, Honolulu Star-Bulletin, P.O. Box 3080,
Honolulu, HI 96802 or send a fax to 523-8509
or E-mail to features@starbulletin.com.
Please include your phone number.
E-mail to Features Editor
---
---
© 1999 Honolulu Star-Bulletin
http://archives.starbulletin.com