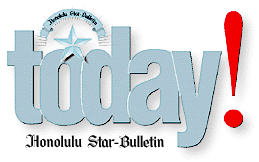 ---
Wednesday, January 20, 1999



Brew up
some jambalaya

Here are the recipes for dishes prepared by Chef Aurelio Garcia of Brew Moon Restaurant & Microbrewery on "Hawaii's Kitchen" this week. The program airs at 5:30 p.m. on Sunday and is rebroadcast at the same time the following Saturday on KHON /FOX2.

Jambalaya

5 ounces diced ham
2 pounds diced cooked chicken breast
1 pound diced Andouille sausage
1 pound diced shrimp
Jambalaya sauce (recipe follows)

Saute meats and shrimp until meats are heated through and shrimps are cooked.

Toss with Jambalaya sauce. Serve over white rice.

Serves 8-10.

Jambalaya Sauce

6 ounces bacon, medium dice
6 tablespoons vegetable oil
1 onion, large dice
3 stalks celery, bias cut
2 green peppers, large dice
1 red bell pepper, large dice
2 ounces Creole seasoning
1/4 teaspoon white pepper
1/2 teaspoon black pepper
1 rounded cup flour
2-3/8 cups chicken & lobster stock, combined
2 tablespoons tomato paste
1 tablespoon hot sauce
1 tablespoon Worcestershire sauce
2-1/4 cups tomato juice (No. 2 can)
3 tomatoes, large dice

Place bacon in a saute pan, add oil, and cook onions, celery and peppers until veggies are medium done. Add Creole seasoning and peppers and cook for 2 minutes. Add flour slowly, stir and cook 2 minutes more. Add stocks and stir for one minute. Add tomato paste, hot sauce and Worcestershire, and bring to simmer slowly. Add diced tomatoes, and slow simmer for 15 minutes.

Apple Smoked Salmon Salad

2 ounces mesclun greens
3 ounces romaine lettuce
4 spears endive
4 leaves radicchio, cut 3-by-4 inches
7 stalks grilled asparagus
1 egg, hard boiled and quartered
4 ounces green beans, blanched, bias cut in 3-4 inch pieces
6 tablespoons cider vinaigrette (recipe follows)
1/2 tomato, cut into quarters
1 tablespoon capers, fried in hot oil until brown and crisp
4 ounces smoked salmon
4 thin slices red onion, in rings
3 Calamata olives, sliced

On a 12-inch plate, alternate radicchio and endive. Place romaine and mesclun in the center. Alternate green beans, egg, tomatoes, asparagus spears, and black olives around the lettuce. Dress with cider vinaigrette. Place salmon on top of greens; then place slices of red onion and fried capers on the salmon. Serves 1.

NOTE: Brew Moon smokes its own salmon. You may purchase smoked salmon, or try the Brew Moon recipe below.

Cider Vinaigrette

1-1/4 tablespoons celery salt
1 tablespoon black pepper
1 tablespoon garlic salt
1 tablespoon onion salt
1 cup apple cider vinegar
1 cup vegetable oil

Mix dry ingredients with apple cider vinegar. Finish with oil. Makes enough for 8-10 servings.

Brew Moon Smoked Salmon

8 pounds kosher salt
8 pounds sugar
1 cup pickling spice
Zest of 3 lemons
1/4 cup crushed black pepper
6 bay leaves
1 teaspoon basil
1/2 cup dried dill
1 teaspoon rosemary
2 teaspoons coriander, crushed
2 teaspoons mustard seeds
12 Juniper berries, crushed
8 sides Atlantic salmon filets, skin on, pin bones out (each fish about 6-8 pounds)

Combine seasonings. Layer salmon in mixture, making sure that filets do not touch. Let sit at room temperature for 5 hours, then refrigerate overnight. When salmon is firm, rinse well under cold water to remove salt residue. Cold smoke with apple wood.

Nutritional information unavailable.




Click for online
calendars and events.
E-mail to Features Editor
---
---
© 1999 Honolulu Star-Bulletin
http://archives.starbulletin.com