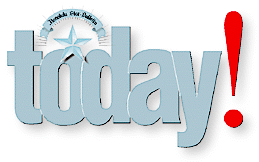 ---
Wednesday, January 13, 1999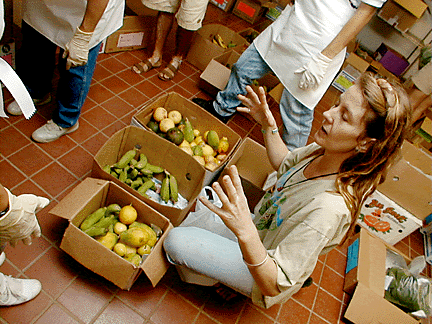 By Craig T. Kojima, Star-Bulletin
Kimberly Clark explains how to distribute fruit for
subscribers who pay for boxes of organic produce every
week. Organic foods are raised using only renewable
resources for insect control and fertilization.
---



A committed crew boxes
up organic produce
straight off the farms

By Betty Shimabukuro
Star-Bulletin

This isn't business, this is personal.

A handful of people work the veggies in a big, bright room that smells of damp cardboard and fresh greens. They'll bag and sort for several hours, then some will haul boxes, drive and deliver.

What they get for their efforts: Proof of their commitment to organic farming -- plus a few bags of surplus vegetables.

What you could get for their efforts: A box of fresh-from-the-fields organic produce ready for pick up weekly.

Leader of this pack is Kimberly Clark, a busy woman building a big idea from small beginnings.

Each week, organic farmers from Maunawili, Waiahole, Palolo and Waimanalo, as well as Maui and the Big Island, send produce to Clark in Waimanalo. Here she and her volunteer "veggie people" pack boxes for 80 or so subscribers who pay $15-$30 for their vegetable fix each week.

Clark has been doing this for a little more than a year, slowly building a customer base for the non-profit enterprise Just Add Water. Money that comes in goes to pay the farmers and to cover such expenses as gas and plastic bags.

For Clark, Oahu coordinator for the Hawaii Organic Farmers Association, this is a natural extension of her commitment to organic foods as better for the body and better for the planet.

"It's sort of sacred, like a ritual," she says of the weekly packing of the boxes. "We try to be really careful, really clean."

The "makahiki boxes" are dropped off on Thursday afternoons in Manoa, Kaimuki, Niu Valley, Kailua and Pearl City, generally at health food stores. Clark is hoping to build toward a network of 400 subscribers, with pick-up points islandwide. She'd especially like to expand to Kaneohe and the North Shore.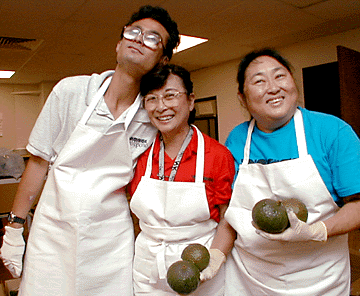 By Craig T. Kojima, Star-Bulletin
Helping pack the boxes are, from right, Sister Marian
Tung and Lorraine Ishikawa, trainers with Ho'opono, a
program of the State Agency for the Blind; and Ho'opono
client Chad, who's receiving job training at Just Add Water.
---
And now for Part 2 of the story: Clark is legally blind. Her eyesight started fading more than 20 years ago, leaving her with only peripheral vision. She can't drive, but does ride a bicycle from her Waimanalo home the short distance to the packing site.

This fact is unnoticeable as she circles the room, dividing cucumbers among the boxes. The labels are color-coded to make them easier for her to distinguish, with large type indicating special customer requests (no taro leaves here, extra tomatoes there).

She spends Thursdays packing boxes, then devotes Fridays and the weekends to her own small farm, where she raises herbs and fruits -- some of which go into the makahiki boxes. Monday the cycle starts again with produce ordering and paper work.

Clark earned a doctorate in agriculture and economics in 1994, with the help of Ho'opono, a division of the State Agency for the Blind, and the KOKUA Program for disabled students at UH. The agencies provided her with equipment and the note-taking help she needed to graduate.

"It really gave me purpose," she says.

Last week Ho'opono sent a disabled client to Just Add Water, for on-the-job training packing vegetables. Clark hopes to offer more opportunities as the business grows. "I feel really good about what I'm doing right now, because I'm giving back to people who helped me."

Among Clark's charter members is Ann Ito, who works at the KOKUA Program and has known Clark since Clark's student days.

"It's always a delight on Thursday afternoons to go and see what's in the box," Ito says. "It's like a magic box."

She's encountered lots of new vegetables and has grown as a cook in learning to prepare them. "It's enabled us to think and live and cook more healthily."

Clark is hoping that as her subscriber count grows, so will the variety in her makahiki boxes. More farmers are willing to commit more produce, she says, once they have confidence that she can provide consistent demand.

Charlie Reppun sells Clark corn, ginger and citrus fruits from his 10-acre farm in Waiahole -- produce normally sold at open markets. Reppun is all for growth at Just Add Water and says he'd consider expanding himself if he had a sure market.

"The more ways there are to distribute produce the better," he says.

Carol Naish, another subscriber, says her daughter in Seattle buys produce in a similar manner, but her supplier is big enough to provide the ultimate in service -- home delivery. Naish says she's paying about the same amount her daughter does, for half the produce, "but that's how it is in Hawaii."

Just Add Water gives her better quality produce than she finds at the supermarket, Naish says, with the added benefit that a makahiki box is more fun.

"It's a long way from being where they are on the mainland, but the potential is just tremendous."

Buy the box

Pick-up points: UH Manoa; Flowers for a Friend, King Street; Kaimuki Health Market; Natural Foods, Hawaii Kai; Hungry Hawaiian, Kailua; Good Health Store, Pearl City; a home in Waimanalo.

Cost: $20-30 per box, with a $5 discount per week for a four-week minimum subscription.

Call: 259-5635

Inside a typical box: Mixed salad greens, baby romaine, oyster mushrooms, an avocado, bananas, a tomato, taro leaves, sunflower sprouts, a lemon or grapefruit, fresh herbs. Also, cooking greens such as chard, kale, bok choi, Okinawan spinach. Occasionally, beets, cucumbers, corn, eggplant, seasonal fruits.

---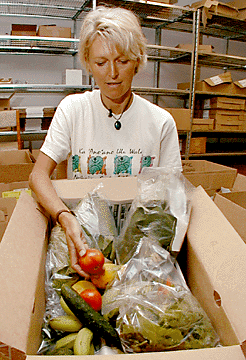 By Craig T. Kojima, Star-Bulletin
Claudia Neely packs up a box of organic produce.
---
Recipes help
subscribers use
what's in the boxes

Star-Bulletin

Among the volunteer "veggie people" helping distribute organic produce through Just Add Water is a chef trained at the French Culinary Institute.

Claudia Neely provides recipes in each food box suggesting ways to use the sometimes unusual foods within. Her aim is to provide a complete package -- recipe with a bag containing all the ingredients -- and eventually to offer prepared foods such as vegetarian laulau to subscribers.

For now, here are a few of her organic recipes:

Sweet Potato Stew

1 tablespoon olive oil
2 medium round onions, diced
4 cloves garlic, crushed
1-inch piece of ginger, crushed
1 teaspoon Hawaiian salt
2-4 Hawaiian chile peppers, seeded and crushed
1 teaspoon ground cumin
1/2 teaspoon coriander
1/2 teaspoon cardamon
6-8 cups vegetable stock, chicken broth or broth mixed with water
4 pounds sweet potatoes, peeled and cubed
2-4 cups cooking greens (won bok, bok choi, choi sum, chard, etc.)
1 cup cooked garbanzo beans

Heat oil in a 4-quart pot and saute onion, garlic and ginger with salt until lightly brown. Lower heat and add chiles and spices, smashing them into the bottom of the pot to release fragrance.

Deglaze with 1 cup of stock, stirring to loosen all ingredients from bottom of pot. Add remaining stock and bring to a boil. Add potatoes and return to a boil. Simmer until potatoes are soft. Add greens and beans. Season to taste with salt and fresh ground pepper. Simmer 10-15 minutes or until greens are soft. Garnish with Chinese parsley Serves 8.

Approximate nutritional analysis per serving, based on 8 cups of broth and 4 cups of greens: 325 calories, 4 g fat, 0.5 g saturated fat, no cholesterol, greater than 1,300 mg sodium.*

Cucumber Salad with Fresh Herbs

1 large cucumber, thinly sliced
1/4 teaspoon Hawaiian salt
1/2 red or yellow onion, thinly sliced
2 teaspoons rice vinegar
2 tablespoons olive oil
1/2 cup plain yogurt (optional)
1 teaspoon fresh herbs (mint, parsley, dill, cilantro and basil work well)

Sprinkle salt over the cucumbers. Mix remaining ingredients, then toss with cucumbers. Serves 2.

Note: Apple cider vinegar and cannola oil may be substituted for the rice vinegar or olive oil.

Approximate nutritional analysis per serving, with yogurt: 200 calories, 16 g fat, 3 g saturated fat, 10 mg cholesterol, 325 mg sodium.*

Curry Vinaigrette

1 clove garlic, minced
1/2 teaspoon Hawaiian salt
2 teaspoons curry powder
1/2 teaspoon grated ginger
1-1/2 tablespoons lemon juice
6 tablespoons olive oil

Combine all ingredients and mix well. Makes 4 2-tablespoon servings.

Serve over mixed salad greens topped with sunflower sprouts and grated raw beet, if available.

Approximate nutritional analysis per serving: 185 calories, 20 g fat, 3 g saturated fat, no cholesterol, 290 mg sodium.*






Click for online
calendars and events.
E-mail to Features Editor
---
---
© 1999 Honolulu Star-Bulletin
http://archives.starbulletin.com